At a Glance
Expert's Rating
Our Verdict
Although recent iPhone models have grown in size, Apple has worked hard to maintain a slender appearance, often at the expense of battery life. As a result, an entire cottage industry has developed for external battery packs capable of charging devices while on the go—but at least one of them can do a few other tricks as well.
Power in the pocket
Measuring 78 x 70 x 23 mm and weighing a hair over five ounces, the Emtec Power Connect U800 is a small, pocket-friendly block of dark grey plastic. Inside is a 5200 mAh Lithium-ion battery capable of supplying 1A output through a standard USB 2.0 port.
For math-averse readers, that's enough juice to power up the 1715 mAh battery inside an iPhone 6s more than twice, or plenty for a single charge with iPhone 6s Plus. You'll have to supply the Lightning cable—a micro-USB cable is included, which charges up the U800 in just under five hours. A green LED power light on front turns red when it's time to recharge.
Although a little heavy for shirt pockets, the curved design glides nicely into pants, taking up little space inside purses or gadget bags. I did notice the bottom left edge of the unit becomes quite warm after a short time when powered on, but didn't otherwise impact performance.
Aside from charging a smartphone, the full-sized USB port can be used to connect NTFS or FAT32-formatted media like portable hard drives or thumb sticks. Content stored in one place can be copied and pasted elsewhere, including the iOS device itself.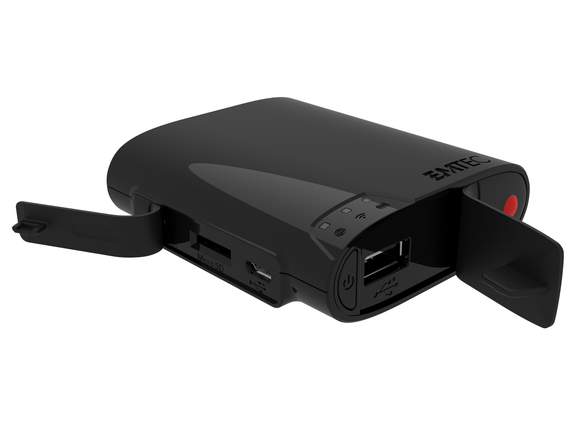 Streaming blues
Emtec includes a 32GB microSD card with the U800, which can be swapped for other compatible NTFS-formatted media, including SDHC and SDXC. When used with the free Emtec Connect app for iOS or Android, smartphone and tablet owners can back up an entire device photo library and contacts in a couple of taps.
The app also provides access to movies, photos, music, or documents stored on the card, supporting the most common image, music, video, and document types. Files that can't be opened directly can be sent to other compatible third-party apps like VLC instead.
Last but not least, the U800 features built-in 802.11b/g/n and 100 Mbit/s ethernet, allowing up to eight devices to connect over an existing wireless or wired network. I had trouble reliably streaming video from even one device—unlike Emtec's more spacious Wi-Fi-equipped portable hard drive (which I reviewed), playback was frequently choppy, regardless of where media was stored.
I tried matching my existing AirPort Extreme settings (configured for faster 802.11n with WPA2 security) and increased the cache used by the app, but neither offered relief on my iPhone 6s Plus or iPad Pro. The issue persisted even when connected to a wired network, suggesting an app or firmware update may be the only remedy.
Bottom line
The Emtec Power Connect U800 is a cost-effective, versatile external battery pack with a few neat tricks up its sleeve, but streaming video was an exercise in frustration with this otherwise slick product.