Free-to-play games often look appealing, but it's difficult to know at a glance whether the business model is insidious and fun ruining, or reasonable and worth pumping a few bucks into. With Freemium Field Test, we'll take a recent free-to-play iOS game, put it through its paces, and let you know if it's really worth your time (and money).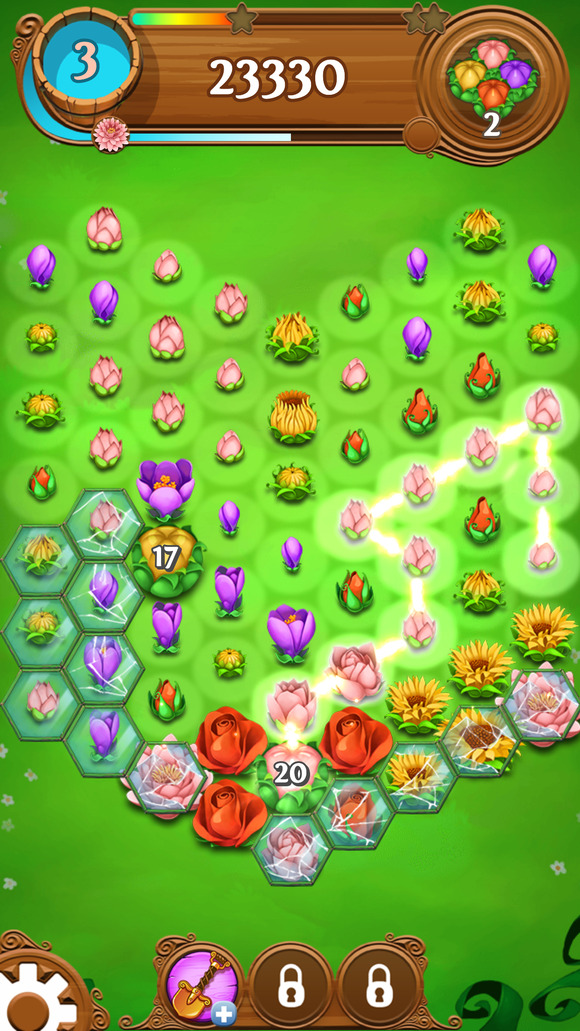 My first 12 hours or so with Blossom Blast Saga, I was totally hooked. I started playing on a lark while laying in bed at night, and ended up staying awake an hour later than planned. After waking up in the morning, I started playing again. And although I had pressing deadlines to meet throughout that day, I kept jumping back into the game for a couple rounds whenever I had time.
The last free-to-play puzzler that I couldn't put down? Probably Candy Crush Soda Saga—and if the naming doesn't ring a bell, both are made by King Games, which just agreed to be purchased by Activision for $5.9 billion. Yes, billion.
King built its fortune (and impending payday) on the back of games like this: Free-to-play puzzlers that are sort of familiar in approach, yet expertly designed to worm their way into your daily routine and ultimately prod you to spend money. It's an admirable craft, to be fair, although the lasting sensation tends to be frustration and regret—particularly if you did invest in extra turns, lives, or boosts. And so it is again with Blossom Blast Saga.
The pitch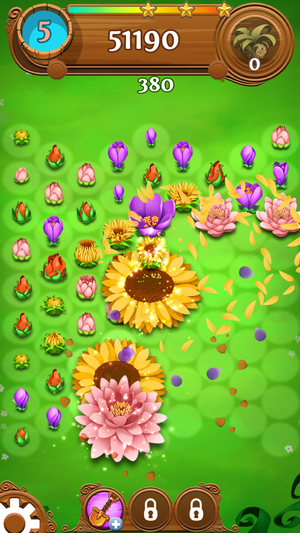 Admittedly, Blossom Blast Saga doesn't feel exactly like the scads of other match-three puzzlers I've played over the years, which might be why it's so immediately endearing. King's latest Saga is all about blooming flowers in a garden, and unlike many genre entries, linking up like-colored plants doesn't immediately clear them from the board. Instead, it pushes them closer to blooming.
And there's a whole system built around levels of blooming. How much each flower blooms with each turn depends not only on how many flowers you string together in a match, but also how fully-formed each of those flowers are. While dragging your finger between adjacent, same-colored flowers, you'll fill up a meter: Hit the marker and the last flower on the chain will bloom, detonate, and disappear. Fill the meter and the match will cause a massive explosion that wipes out several other nearby flowers.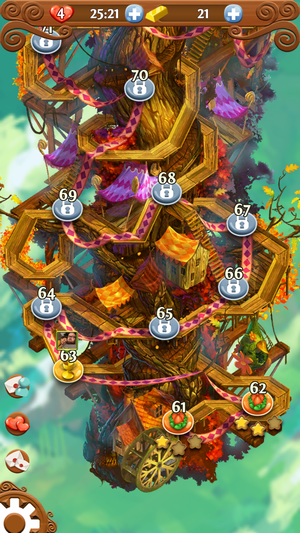 In either case, the hope is for a massive chain reaction that spreads across the board, one flower at a time. Each time a nearby flower blooms, the ones next to it advance a level; get enough matured flowers next to each other and they'll start activating each other until a large chunk of the board is cleared, your score is tallied, and new flowers fall into view. Your goal in each stage is to clear certain big buds, remove weeds from the board, or hit a certain score barrier, for example.
Like the wonderful Peggle, part of what makes Blossom Blast Saga so fun is the visual spectacle of it all. The character and menu designs aren't particularly special, but the bright, exploding flowers are appealing. And despite the chaos, there's an odd sense of calm to the proceedings. But as is customary for these games, the early victories give way to eventual frustration and aggravation.
The catch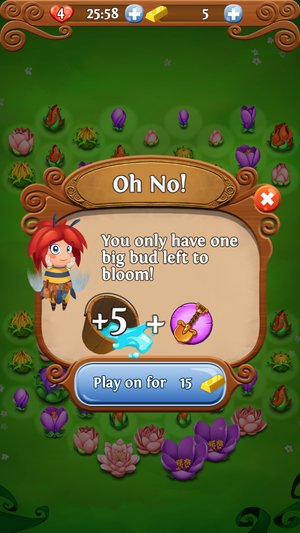 King's immense valuation includes some $25 of my money from Soda Saga, and now another $20 from Blossom Blast Saga. It's like clockwork. Sure, like nearly any free-to-play, you can play without spending—but be prepared to play the same stage dozens of times over, just falling short of victory by a turn or two. That gets old quickly, and King only gives you enough starting gold for a few continues.
That's where the urge to spend comes most consistently: When you've played a stage several times, then finally come close to finishing—and fail. But you're so close, and you don't know how many more times you'll have to play to beat it, let alone get that close again. You can probably finish it in, what… three or four more turns? Spend nine gold pieces and you get five extra turns to play with.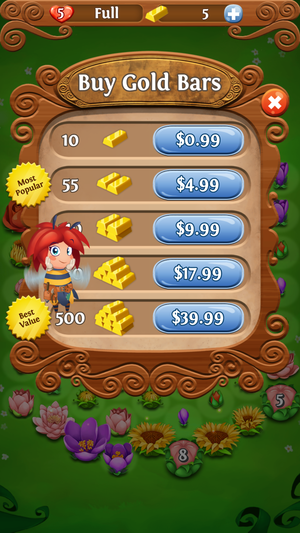 Before long, it feels like part of the ebb and flow of the experience, with many stages seemingly crafted to leave you just short of turns even with a very good effort. A dollar gets you 10 gold pieces, just enough for a continue. Meanwhile, $10 gets you 110 pieces, and $40 earns you 500 pieces. They're also used for expensive power-ups, or for paying to refill your lives if you run out. Like many freemium games, you have five lives to expend, each of which takes 30 minutes to regenerate.
There's one other freemium annoyance here, and it's a huge one: Locked roadblocks between worlds. The first comes after completing level 40 (of 120, currently), and it requires that you bug three Facebook friends for access, spend gold pieces, or wait three days. As in 72 hours of real-life time. For the very first roadblock.
Are you kidding me? No free-to-play game on the planet is worth bothering real humans about, and three days is absolutely egregious. If I hadn't just purchased a gold pack at that point, I probably would've quit right there. But I didn't: I spent the gold. King gave me three options, two of which were downright insulting—but the third seemed less horrible by comparison, and so I paid my way through.
The verdict
It will probably be the last toll I pay. I pushed into the next world beyond that, which thankfully didn't have a gate barring entry, but the level layouts barely change, and the occasional new mechanic doesn't shake up the experience that much. Ultimately, it's tough to look past that sensation that you're playing a puzzle game balanced not to reward skill, but loose spending instead. Especially when you spend that money in the heat of the moment, and then squirm when the receipt comes.
Still, I can't help but like Blossom Blast Saga—for a free diversion, it's colorful and endearing, and the visual feedback with each match feels momentarily rewarding. If you're the type to play a freemium game only as much as it'll allow you without spending a cent, then by all means, enjoy. On the other hand, if you want a game built for strategy and skill above all, find something promising with a single price tag and dig into that instead.