With every holiday season comes a flurry of traditions. From the carols to the stockings, wreaths and Christmas trees, December 2015 looks a lot like it did 10, 20, even 50 years ago. That's part of the joy of Christmas–remembering and reliving the delight of being a child.
But just because we're doing the same things doesn't mean we can't update them for our modern times. Even more than fruitcake and tinsel, our gadgets have taken center stage during the holidays and given the Christmas season a much-need upgrade, as we stuff our iPhones and iPad with enough cheer to last the whole night (and season) through. We use them to play music, film videos and, of course, entertain the kids, as we try to get through it all with a sliver of our sanity remaining.
This year we have a brand-new device to make all new traditions with–and we don't even have to lift a finger (though you will need to slide and tap it). With a fourth-generation Apple TV, you can get your holiday fill without needing to constantly resort to hit-or-miss AirPlay or iPad mirroring. The App Store has turned our TVs into veritable good-tidings bringers, and with a little help from Siri, getting in the Christmas spirit is the easiest thing you'll have to do this season.
Music
It would't be Christmas without hearing "Grandma Got Run Over By a Reindeer" a few dozen times, but whether you're into songs of woe or wonder, Apple TV will happily oblige. If you're an Apple Music subscriber, you have access to just about every carol ever covered. Just tell Siri, "Play Christmas music" for a continuous stream, or ask for whatever tune you're in the mood to hear. You might have to be specific with your request though; asking Siri to play "Rudolph the Red-Nosed Reindeer," for example, brought up the classic Gene Autry version, but requesting "Silent Night" went straight to a selection of Christmas-themed horror movies rather than the Bing Crosby or Miley Cyrus recording.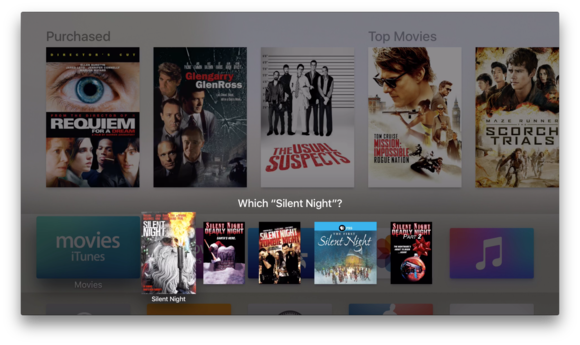 If you don't subscribe to Apple Music, don't worry—-you won't get left out in the cold. As always, you can access any of the holiday classics in your iTunes or iCloud Music libraries, but if you tell Siri that you want to listen to Christmas music, it will start playing from "The Sounds of Christmas" radio station. And Pandora users can simply download the app to make their own personalized station.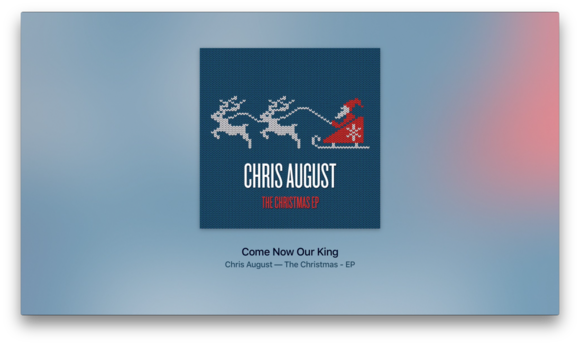 Movies and TV shows
Once you've heard enough versions of "Jingle Bells" to last till New Year's Day, you can move on to movies. Like carols, you can ask Siri to see its hand-picked selections of Christmas movies, but its taste might leave something to be desired. Instead of the classics like It's a Wonderful Life, Miracle on 34th Street or National Lampoon's Christmas Vacation, asking to watch a Christmas movie returned lesser-known titles like Headed South for Christmas, Christmas with the Karountzoses and Up on the Wooftop. Even asking to watch Rudolph the Red-Nosed Reindeer doesn't lead to the Island of Misfit Toys, so you're probably going to have to search the old-fashioned way to find your holiday favorites.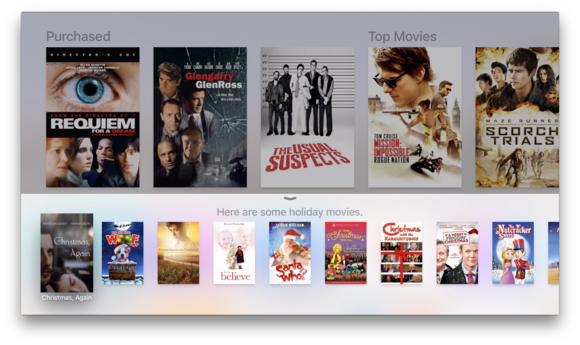 But even with the tedious remote typing (pro tip: be sure your Apple TV is updated so you can use the Remote app), you'll be dashing through the snow in no time. Inside each of the genres inside the TV Shows app you'll find an assortment of holiday-themed fare, with timeless classics from Dr. Seuss and the Peanuts, as well as newer specials from Paw Patrol and Shimmer and Shine. And all of your old favorites are available inside Movies, even if Siri doesn't know they're there. (And if you're dying to see Saved By the Bell alum Dennis Haskin's star turn in Up on the Wooftop, you can find that, too.)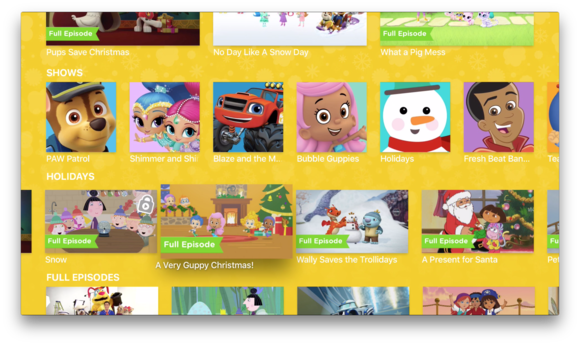 Individual channel apps are a great source for festive entertainment, too, provided you're a cable subscriber. Nick Jr. has a great collection of holiday episodes from its entire lineup of characters. Meanwhile, in the ABC app you can watch I Want a Dog for Christmas, Charlie Brown, as well as holiday-themed episodes and clips of The Chew and Jimmy Kimmel Live. Netflix is another great source, with a deep Christmas catalogue that covers all tastes, whether you're into Frosty or Bill Murray.
Apps
If Siri isn't very useful when looking for Christmas movies, it's absolutely useless when trying to trim your Apple TV with festive apps, since it hasn't been taught how to search the App Store. But Apple hasn't made that very easy for human intelligence either, with neither a holiday category nor collection in the App Store. But there are some good ones to be found if you know where to look.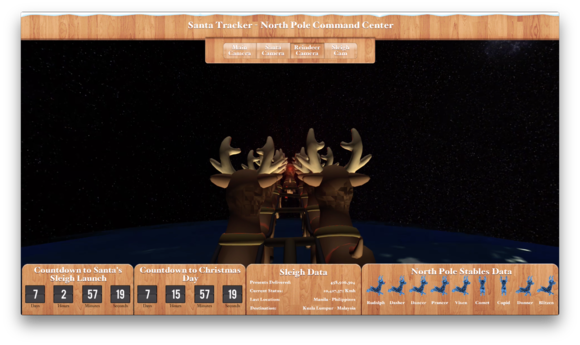 Do a search for Christmas and you'll get a bunch of yuletide-related apps, from wintery landscapes for your screensaver to appropriately themed countdowns and games. Many of them seem hastily put together, but Wee Christmas Puzzles (free) is a good for little kids trying to stay out of trouble. Also, Nickelodeon's Sky Whale (free) has undergone a nice Christmas facelift, with several festive outfits to buy and seasonal goodies to collect. And Santa Tracker ($2.99) is a great way to follow Santa's journey on Christmas Eve.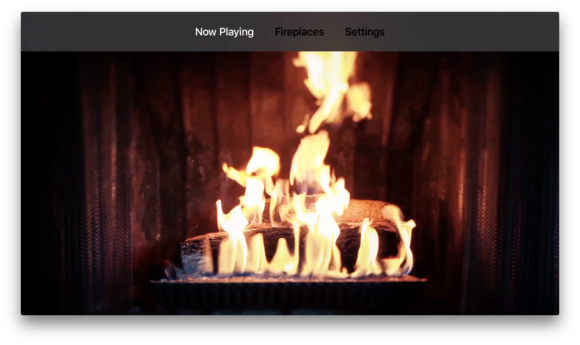 Everyone loves a little kitsch at Christmas, and nothing says tastefully tacky like a digital Yule log. The are several to choose from (and they all pretty much do the same thing), but Magic Fireplace ($0.99) might be the best. Not only does it have 14 fireplaces to choose from and a super-cool slo-mo mode, it was actually built with Metal, the same API used to power the tremendous graphics in Shadowmatic.
If you need help cooking, the Yummly app (free) will get your guests' mouths watering with a selection of unique dinners and seasonal desserts, like the decadent Nutella-stuffed snowball cookies and loaded Christmas cowboy cookies. Also check out the Tastemade app (free) for all things foodie, including holiday how-tos and instructional videos on how to make eggnog fudge and roasted butternut squash soup.
But for App Store classics like A Charlie Brown Christmas you'll still need to rely on AirPlay mirroring. While it boasts some 2,000 apps in its catalogue, Apple TV's tvOS platform is still in its infancy and developers will no doubt be working harder than Santa's elves to have a bounty of apps and games for next Christmas.