If you open Facebook and YouTube on your phone every month, you're certainly not alone.
Facebook is the most popular app of the year, according to a new Nielsen report, with over 126 million monthly users. Meanwhile Google's suite of mobile apps—think YouTube, Google Maps and Gmail—have overtaken our smartphones, claiming five out of the top 10 spots in Nielsen's list of the most popular apps of 2015. Google-owned YouTube is the second most-used app in the U.S. with over 97 million users.
In addition to claiming the top spot with its flagship app, Facebook also has a few apps in the top 10. Coming in third, Facebook Messenger saw the biggest year-over-year growth to over 96 million users, a 31 percent jump from 2014. Instagram came in at number 8 with over 55 million users.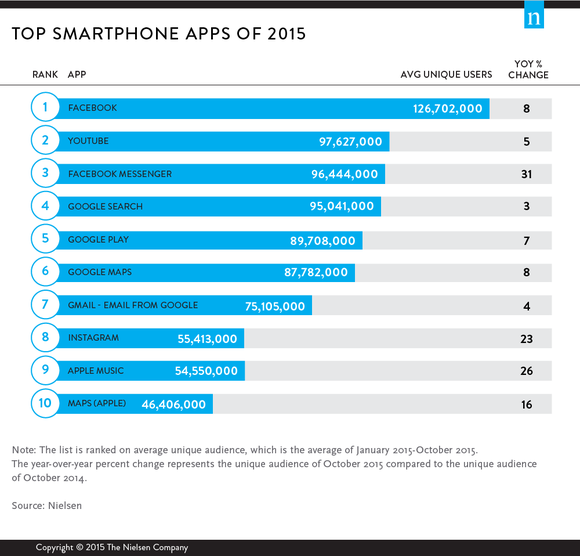 While Facebook and Google apps seemed to dominate the mobile world, two Apple apps rounded out the top 10. Surprisingly, Apple Music became the most popular Apple app of 2015 with over 54 million users, according to Nielsen. To be clear: this is referring to the app, not necessarily the music subscription service. The Apple Music app (available on both iOS and Android) can still be used to simply listen to purchased downloads from iTunes without activating the $10/month streaming service.
By comparison, the Apple Music subscription service has about 15 million users, according to Tim Cook, with 6.5 million of those already paying for the service. The Apple Music service starts off with a three-month free trial. According to Nielsen, the Apple Music app saw a 26 percent increase in users since 2014, previous to the launch of Apple's built-in music streaming service.
The second Apple app to make the list is Apple Maps with over 46 million users. Google Maps is much higher on this list, at number 6 with over 87 million users. During WWDC, Tim Cook claimed that Apple Maps was used three times as often as Google Maps, but that was just on iOS devices.
Why this matters: Even though Apple's iPhone seems to be the most popular smartphone on the market, a majority of U.S. smartphone owners use an Android device to access these apps. According to Nielsen, Android devices count for 53 percent, while iOS users count for 43 percent. That might help explain the ubiquity of Google's mobile apps on the Nielsen list. Apps like YouTube and Google Search are popular on both platforms, while Apple has very limited options in terms of Android apps, just Apple Music, a Beats Pill app, and a Move to iOS app.