Third-party apps are finally integrating the animated Live Photos that can only be taken using the iPhone 6s.
On Monday, Facebook began adding support for sharing and viewing Apple Live Photos inside its iOS app. According to TechCrunch, this integration is rolling out slowly, however, and most Facebook app users won't be seeing it until early 2016. In the meantime, you can use these other apps to share Live Photos almost anywhere on the web, including Facebook.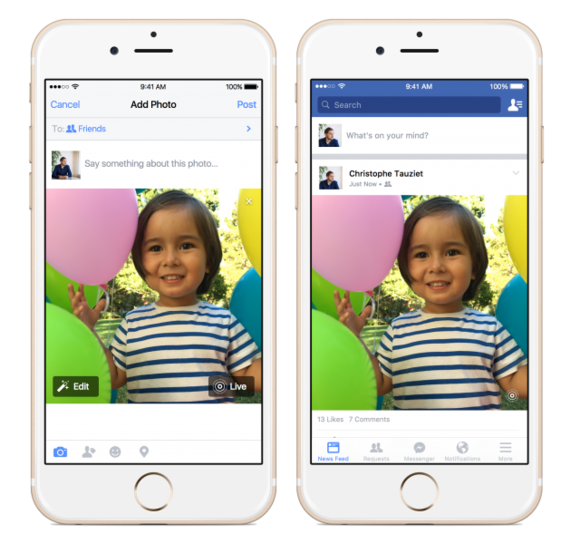 Sharing a Live Photo on Facebook is almost identical to sharing a still pic, but you have to click on the "Live" icon on the bottom right to upload the moving image. When enabled in the iPhone 6s camera app, Live Photos capture the 1.5 seconds before and after you press the shutter.
Once posted to your Facebook News Feed, Live Photos look like still images and you have to press down on the "Live" icon to see it moving. Anyone with the latest version of the Facebook app and running iOS 9 will be able to view Live Photos.
Why this matters: Even though Live Photos debuted with the iPhone 6s back in September, it's taken third-party apps a few months to fully integrate them into their services. A few weeks ago, Tumblr became the first photo-sharing app to offer support for Live Photos. Now that Facebook has jumped into the fray, we suspect that support for Live Photos should be arriving shortly to other Facebook apps like Facebook Messenger and Instagram. And while social apps seem to be eager to integrate Live Photos, photo-storing services like Dropbox and Google Photos are still lagging behind.