There's nothing worse than your phone switching orientations on you at random, just because you tilted it slightly too far in one direction or another.
OK, there are things worse than that, but hyperbole aside, the above example is still enough to make you grumble at your phone. To prevent this sort of annoyance, look no further iOS's screen rotation lock feature: With the tap of a button, you can prevent the contents of your screen from rotating with your device—useful if you're trying to use your phone while lying in bed, among other things.
To get to this magical toggle, wake your iPhone if it isn't already, then slide your finger up from the bottom edge to bring up Control Center. Tap the Orientation Lock button—it's a lock icon with a circular arrow surrounding it—so it turns white. Slide the Control Center pane down again to hide it, and your screen's contents should no longer rotate as you turn your device on its side.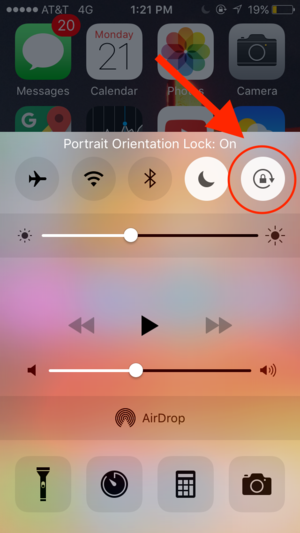 To turn off the rotation lock, simply repeat the steps above.
The rotation lock works pretty much the same as this on the iPad, but with an added caveat: You can switch the Mute button toggle on the left side of the device to function as the orientation lock switch instead. Go to the Settings app, tap General, then tap Lock Rotation under the "Use side switch to:" heading. When you switch the side toggle to function as the rotation lock, the Mute function moves to Control Center (though you can just hold down the volume-down switch for a couple seconds to mute your iPad's audio).