I love Evernote, but it's mainly become a second brain for storing little scraps of paper, reference photos of household items bought too infrequently to remember, or documents that hit the shredder after being converted to digital form. Evernote's apps have become too bloated with new features for simple note-taking, so I'm always on the lookout for an alternative that's easier to use—and may have just found one.
A friendlier Evernote
Best described as a more whimsical take on Evernote, Whink is a note-taking app equally proficient at handwriting and typing. The universal app features fast, automatic backup and sync via iCloud, so notebook content is available from whatever iOS device you happen to be using at the moment.
Upon first launch, the app provides a thorough, interactive walkthrough of everything it can do. In addition to writing and typing, Whink can annotate PDF files or photos, attach stickies, and create shapes or new audio recordings alongside notes with an optional free in-app purchase. (There's currently no way to import existing audio files, however.)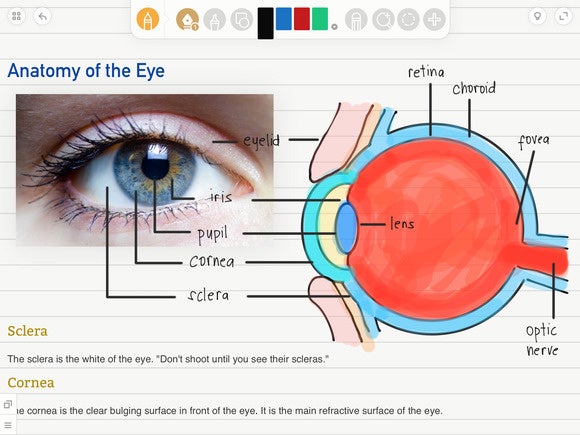 Whink is modeled after a real-world notebook—or rather notebooks, which are represented by a grid of thumbnails when the app is opened, along with the option to start from scratch using one of ten cover themes. New documents can include plain, ruled, or grid paper, but there are no per-page settings, so you can't change or mix paper types for existing notebooks.
Pages can be added, rearranged, or deleted with one exception: The cover page, which is always at the head of the document and can't be removed; cover pages can be omitted when exporting as a PDF file, however. You can also spruce up the cover with your own images, mark it up using the included tools, and change the document title.
Write, Type, Read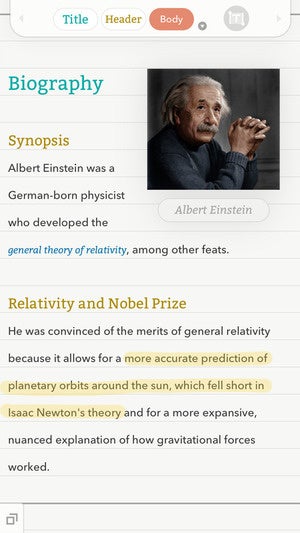 Whink consolidates the available tools into a single menu conveniently located at the top of the screen. The app can be used in three ways: Write, Type, or Read. The first mode fully supports Apple Pencil with the latest version, but because that accessory remains as elusive as Bigfoot and neither of my Adonit stylus pens were compatible, I wasn't able to test it on my iPad Pro.
However, I'm happy to report Whink does an excellent job writing with just a finger, offering pressure sensitivity on 3D Touch-enabled devices, which worked pretty great on my iPhone 6s Plus. Typing is equally fast and fluid—tap anywhere on the page to start writing outlines and lists with bullets, numbers, or checklists. A handful of predefined typestyles are included, but size, font, and color can be independently adjusted.
Whink's third and final mode strips everything away to provide a clutter-free reading experience, retaining only search and highlighter tools. 3D Touch is also supported on two other fronts: Quick Actions on the home screen, and peek and pop for documents previews. The app is optimized for iPad Pro (including Split View multitasking) with handy pop-up tool tips, an option unavailable on the iPhone version.
I'm impressed by how quickly the developer has adopted Apple's latest technologies, but there's still work to be done—buttons on the iPhone version are a little small, for example. Whink lacks extension support for marking up images from the Photos app, a Notification Center widget, and the ability to send web pages directly to the app; companion versions for web or Mac would also be a welcome addition.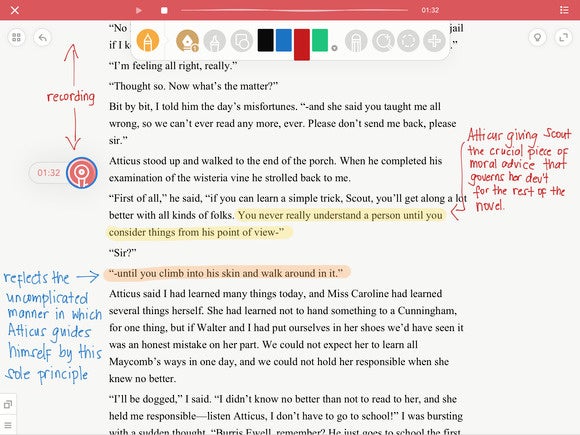 Bottom line
Nearly as versatile as Evernote but without the feature bloat, Whink is a versatile, well-designed app for writing or typing stylish notes with minimal effort.