Virtual personal assistants are ubiquitous across all three major smartphone platforms: iOS has Siri, Android has Google Now, and Windows Phone has Cortana. But while there's some overlap, only Apple has all three now that the good folks in Redmond have ported their Windows-only service to both iPhone and Android.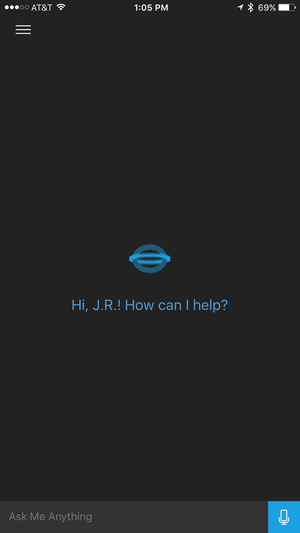 While there are subtle differences, all of them essentially do the same thing: Make it easier to get information and find stuff with your voice. A hybrid of Siri and Google Now's card-based concept, Cortana 1.3 has a few interesting tricks up her sleeve, but is there any compelling reason to choose this app over what's already baked into iOS?
I spent a week with Microsoft's newest iPhone app in an effort to definitively answer this question, and the answer appears to be no, at least for now—Cortana is simply too limited in its current incarnation, although PC users will benefit since the service is also on Windows 10.
Hey, Cortana
The youngest of the three intelligent personal assistants, Cortana is derived from a popular character of the same name in Microsoft's Halo videogame franchise. Although its roots as an internal project for the company's Speech division date back to 2009, Cortana's first appearance came at the annual Build developer conference in mid-2014, and wasn't available to the public until this year.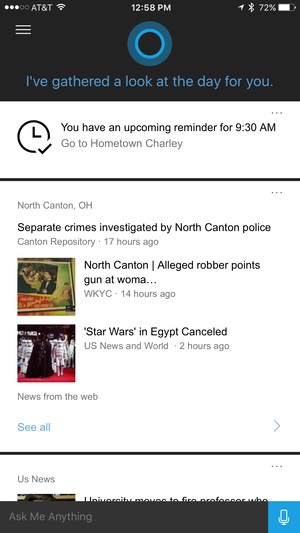 Before I launch into a breakdown of what Cortana does, it's important to note what it can't do: Namely, perform the same kind of device-wide magic Siri can with a press of the home button. That's because Cortana is just another app, and can only access what Apple's APIs allow—mostly push notifications for reminders right now.
Since this is a shortcoming Microsoft is unlikely to circumvent any time soon, the next best way to initiate Cortana would be from a Notification Center widget—but sadly, there's none to be found here. Cortana can't even be summoned from other Microsoft apps like Outlook, and travel directions open in a mobilized web version of Bing, rather than the native app. (Yuck.)
On Windows, users can summon Cortana by saying "Hey Cortana," but—you guessed it—the iPhone version can't perform this hands-free trick. (It's available for Android users outside the US, but only from the home screen or when Cortana is open.) Last but not least, Cortana can't be used to open other apps or fiddle with iOS system settings like it can on Windows.
Make note of this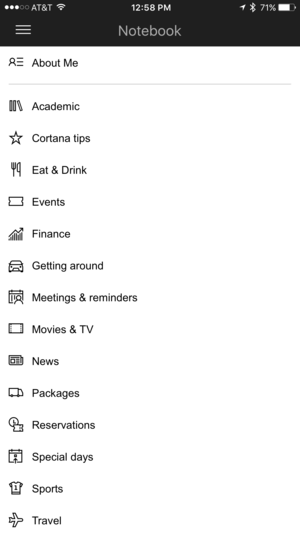 These limitations aside, Cortana does offer one unique feature: Notebook, a cloud-based hub where personal information is stored and referenced. Notebook features 15 different categories, ranging from Finance to Movies & TV and Travel. This is also where users toggle off notifications from topics they have no interest in (in my case, Sports).
A few categories require a bit of customization for best results, although Cortana doesn't do a particularly good job of letting users know this. The Eat & Drink category, for example, includes a variety of personal preferences such as Ambience, Cuisine, and Distance to help cater search results to your particular taste.
Cortana can also track packages en route to your home or office, although these numbers must be entered into Notebook manually, kind of defeating the purpose of a personal assistant. My first attempt failed with a "not a valid tracking ID" error, despite copying and pasting a tracking number straight from the FedEx website.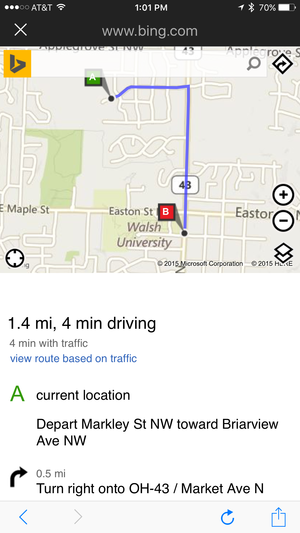 Finally, there's About Me, where you can view favorite places Cortana has remembered, or change how she refers to you (a clever nickname like J.R., perhaps). There are additional options for managing your profile under Settings, but this simply opens a web link to Bing, the Microsoft search service at the heart of Cortana.
Cortana vs. Siri
When launched, Cortana pulls up cards for the weather at your current location, as well as quick previews of relevant local and national news. Tapping an item opens the complete article using the in-app browser; from there, you can also send directly to Safari. You'll want to get used to looking at these cards, because a lot of the time, Cortana is little more than a silent shortcut for web searches.
One big advantage over Siri is that you can type questions as well as speak them, using the Ask Me Anything field at the bottom of the screen. (If you've ever felt silly speaking to your iPhone, this one's for you.) Tapping the blue microphone icon at right initiates Siri-style voice queries instead. In my tests, Cortana was fast and exceptionally accurate at voice recognition, but limited to a single female voice in English or Chinese; she also isn't nearly as sassy or fun to use as Siri, who currently speaks nearly 30 different languages.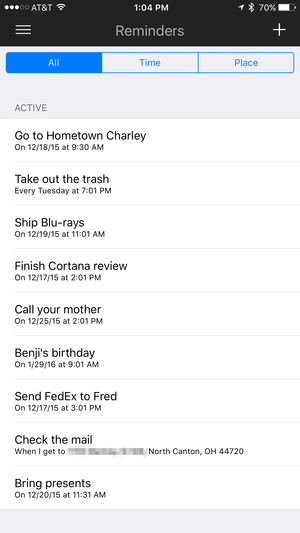 To put Cortana to the test, I fed both assistants identical questions and compared responses. Questions like "How old are you?" produced similarly cheeky answers: "I've been around longer than 'crowdsourcing' has been in the dictionary" (Cortana) and "I am not allowed to answer that question" (Siri). But a lurid "talk dirty to me" request returned a blunt "No thanks" from Cortana, while Siri maintained her sense of humor with "The carpet needs vacuuming."
Both assistants are equipped to schedule reminders; Cortana's are located in the sidebar, completely isolated from iOS Reminders, but synced to Cortana for Windows or Android. I understand why Microsoft made this decision, but it further impedes the utility of having Cortana on the iPhone to begin with.
Bottom line
If you own a Mac and rely on Siri to be your personal assistant on iPhone and/or iPad, Cortana currently offers little incentive to switch. Most of the time she remains strangely silent, and lacks some of the personality we've come to expect from virtual assistants.
For those who call Windows 10 home but prefer an iPhone to Windows Phone, the situation is a little different: Cortana provides a way to tap into your Notebook while away from the desktop, even if the experience is a limited one for now.