Greeting cards are something of a lost art in the era of social networking. After all, it's far easier to snap a picture with your smartphone, upload it, and share instantly with friends or family than it is to order physical cards, lick and address envelopes, then go broke paying for postage to mail them.
If the social media approach feels too impersonal and you dread standing in line at the post office, there's an OS X application to help bridge this divide. Whether you want to design and print your own cards at home or create an impressive collage to share online, veteran Mac software maker Chronos makes it not only possible but downright easy to do.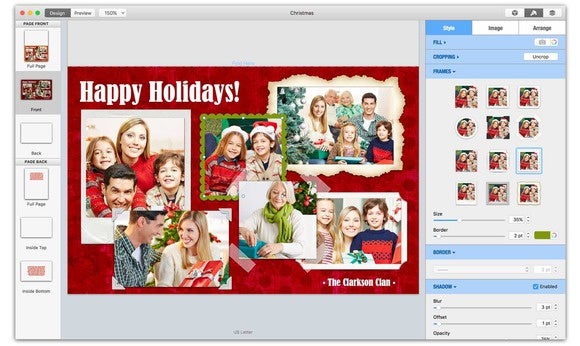 Third time's a charm
Greeting Card Shop is one of the fastest and easiest ways to create customized cards for any occasion, and the latest version 3.0 improves that experience with further refinements to the already well-designed user interface. If you've used other Chronos titles like PrintLife or Apple's iWork software, you'll feel right at home here.
Although the slightly more expensive PrintLife also includes a selection of greeting card and invitation templates, that software is really a jack of all trades for a variety of different print items. As the name implies, Greeting Card Shop 3 focuses specifically on events, ranging from anniversaries and birthdays to holidays, thank you cards, or special occasions like graduations.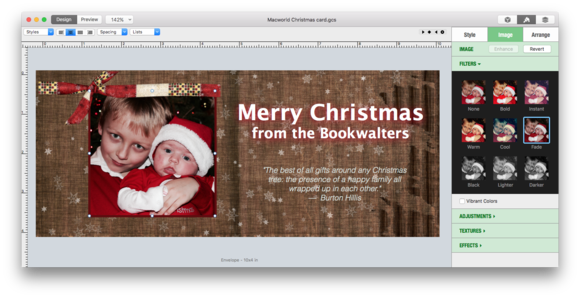 When the software is launched, a template chooser appears with thumbnails for the included greeting card, invitation, photo card, and envelope designs. Chronos provides additional templates on their website in U.S. or metric sizes, which can be downloaded free of charge. The photo card layouts are primarily Christmas themed, but other templates offer a wider variety.
Version 3.0 ditches the floating Smart Inspector pane, consolidating it into a multi-tabbed design sidebar on the right-hand side of the main window. As a result, there's nothing to get in the way of your design, which remains front and center at all times. If you have a large screen or multiple displays like I do, the software retains the option to float the Objects, Design, or Canvas panels in a separate window as well.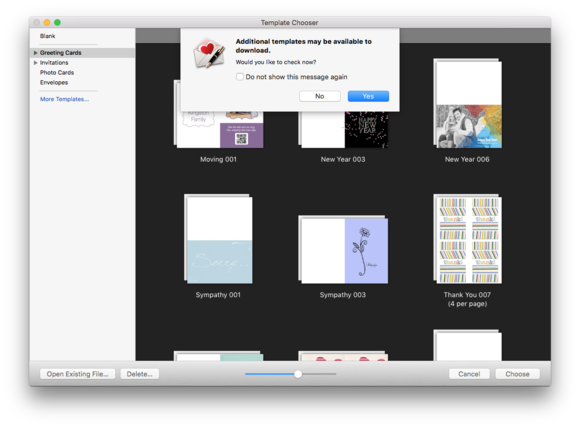 Tightly integrated
In terms of new features, photo frames are the big news with Greeting Card Shop 3. With a single click, users can now spice up any design in 12 different styles ranging from simple borders to the virtual equivalent of real-world frames such as Polaroid, tape, old-school photo corners, or burnt edges.
Chronos managed to slip in a couple of other new features that offer tighter integration with OS X El Capitan 10.11, which is required to install the latest version. The first is the ability to add standard, satellite, or hybrid maps from Apple Maps, a nice addition when creating party invitations; maps can also include optional routes, marker pins, or points of interest.
Greeting Card Shop also borrows a number of features introduced with PrintLife 3 this year. In addition to texture overlays, photo effects, and one-click auto enhance, the software is also now integrated directly into Photos and iTunes. While the former makes complete sense, the ability to extract song titles and album covers from iTunes playlists is less useful, unless you happen to be planning a party with a specific musical theme.
When added to existing features including attractive, well-designed templates, support for Avery cards and envelopes, 3D headlines, and QR codes, Greeting Card Shop 3 adds up to a solid upgrade; existing users are eligible for discounted pricing starting at $25.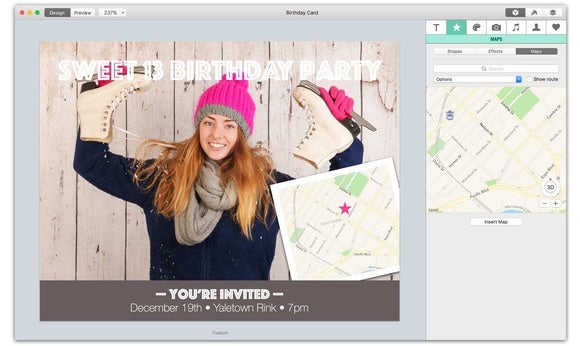 Bottom line
Greeting Card Shop 3 isn't a revolutionary upgrade, but polishes the already slick user interface while loading up on convenient new features to make your designs shine.