Going around stores for some last-minute Christmas shopping might not be the wisest idea, but thankfully sending a gift can be as easy as sending a text message.
E-commerce site, AhaLife, has released a new iOS app perfect for the holidays: the free Aha app ( iTunes) lets you pick a thoughtful gift and send it to anyone in your iPhone contact list. All you need is their phone number or email address, and the recipient will fill out their physical address of where they would like their gift to be delivered.
Before sending, you get to personalize the gift with a digital card, and the gift will arrive fully wrapped to the recipient's door. The actual gift might take a few days to arrive, but sending a digital card and notification that the gift is on the way can be done in less than 60 seconds, according to Aha.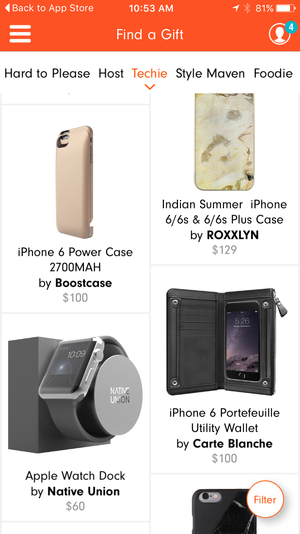 The Aha app has a organized a ton of gift options into different themed collections, so you can easily find a gift for a "techie," "foodie," "active yogi," and even a "wellness guru." Most gifts on the app cost the same as on other retailers and vendor sites. For example, the Apple Watch Dock by Native Union is $60 on the Aha app, Ahalife.com, Amazon.com and NativeUnion.com. However, sometimes you can find the same gift for a little bit cheaper on Amazon, but forwarding an Amazon purchase confirmation email to a friend doesn't seem as thoughtful.
The impact on you: Simply texting a friend that you got them a gift or emailing them a digital gift card can be impersonal, sure, but what really sets Aha apart is that the recipient plays an integral role in the gift-giving. Once you select a gift and compose your card, you can send it to the recipient via text or email. You will only be charged for the gift if the recipient accepts it. (Maybe he or she already has that Apple Watch Dock, or doesn't even own an Apple Watch to begin with.)
If the recipient accepts the gift, he or she will then be asked to input an address where the gift should be shipped. With Aha you won't ever have to send those awkward "what's your address?" texts again, or force your friend to track their gift if you accidentally sent it to an outdated address.
Aha is helpful all year round, not just during the holidays. Once you enable Aha to access your Contacts or connect via Facebook, the app will pull up and store any birthday information. You can then choose to get reminder notifications whenever a contact's birthday is coming up.