Photographers have been drawn to the iPad since the first model, hoping it can provide a mobile workflow when they're away from their computers. The iPad Pro pushes the boundaries of tablets in interesting ways as a general-purpose laptop replacement, but how does it change the photography game?
Editing photos, especially with the addition of Apple Pencil support in some apps, is a definite improvement, though limitations in iOS keep the iPad Pro from achieving its full potential as a photographer's mobile companion.
Photo editing
It's impossible to ignore the beckoning light of that brilliant 12.9-inch Retina screen, and the promise of nearly desktop-class processing power. Plenty of apps let you edit photos, such as standouts like Google's Snapseed, Adobe's Lightroom mobile, VSCO, and of course Apple's own Photos app.
Support for the Apple Pencil, though, adds another level of editing. Adobe's Photoshop Fix senses pressure and angle using the Pencil for precise adjustments. For example, when you need to lighten just one area of a person's face, or discreetly erase some age wrinkles, you don't need to wait until you're back on your Mac. ( Pixelmator also supports the Pencil, though in my tests that applied more to drawing than retouching.)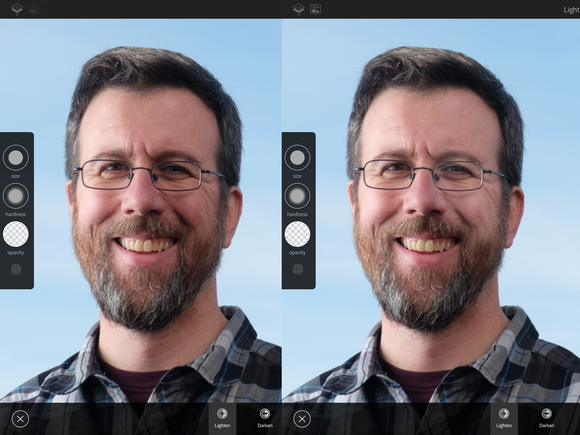 The ability to multitask in apps that support it can also be helpful. Lightroom mobile and Adobe Fix can run side-by-side, and they can both access the same libraries via Creative Cloud Sync, enabling you to send an image from Lightroom mobile to Fix to perform some spot healing, a feature missing in Lightroom mobile.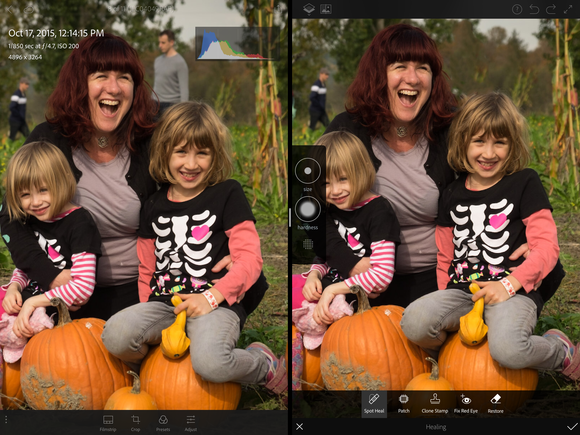 It's still a RAW deal
One shortcoming for photographers is unchanged: there's still no system-level support for RAW formatted images. (If your camera doesn't shoot in RAW mode, or you shoot only in JPEG formats, this point won't hold you back.) The RAW files transfer to the iPad, but any edits you make are applied to the thumbnail preview the camera creates to display on its LCD. So, when you edit on the iPad, you're not taking full advantage of the editing possibilities RAW formats offer. (If you do plan to edit, I recommend shooting in RAW+JPEG mode to work with a higher-resolution original.)
The closest to a seamless experience is shooting raw and using iCloud Photo Library. You don't edit the raw image itself on the iPad, but changes you make are applied to a JPEG version the Photos app creates and saves with the original. That edited version shows up as the image on your Mac and other devices—it's not a separate copy, which is created when you edit in other apps. However, that JPEG becomes the edited version; if you were to continue editing it in Photos on the Mac, for example, you'd be working with the JPEG version, not the RAW version.
Another thing to keep in mind, although it's not a surprise, is that the iPad Pro doesn't offer color management or alternative color spaces—you get sRGB and that's it. (This has been the case with all iPads.)
Organizing
I'd hoped that the iPad would be a great field photo-triage tool: import photos directly, sort and rate the images, and assign keywords—basically, handle a lot of the less-exciting tasks of managing one's photo library during the downtimes before you get back to a home or office Mac.
But for a variety of reasons, the iPad isn't part of most workflows at that stage. A poll I ran on my iPad for Photographers site revealed that people aren't bothering to assign keywords or ratings to images on the iPad; the prominent apps that enabled this, Photosmith and PhotosInfoPro, are no longer being updated. When you import images, they're saved in the Photos app, where you can only mark shots as favorites and move them into albums.
If you primarily use Lightroom on the desktop as your editor of choice, it's more common to flip the model around: Import photos into Lightroom CC on the Mac, sync them using Creative Cloud, and then work on rating and editing the images using the Lightroom mobile app on the iPad at your leisure. The edits apply non-destructively, and Lightroom bypasses the RAW issue by converting RAW images to Adobe's DNG (Digital Negative) format during sync.
The bright spot here is Apple's new Lightning to SD Card adapter, which supports USB 3 speeds when transferring images from a memory card to the iPad. In the past, I must admit, I'd almost given up on importing via the Lightning port, because even loading thumbnails before importing is agonizingly slow. Now, it's much faster: in one test I performed, bringing in just 40 RAW+JPEG photos totaling 1.5 GB took 30 seconds with the new adapter, compared to 2:20 using the old adapter. (The USB 3 speeds apply only to the iPad Pro; the adapter achieves USB 2 speeds on other recent iPad and iPhone models.)
A developing story
As with many things about the iPad Pro, the superior hardware is waiting for the software to catch up. Gradually, third party developers are adding Pencil support for image retouching, which is a welcome jump forward. And all image editors benefit from the speed gains enabled by the iPad Pro's faster processors. But the lack of RAW support in iOS hinders pro and enthusiast photographers from developing workflows that avoid duplicating work or depending on a Mac to get started.
Granted, iOS has always been designed for the broadest possible audience, and even in a device labeled "Pro" that same foundation applies. Now that the iPad Pro is released, I'm holding out hope that Apple will take action to help it fulfill its potential.