Is the Apple Watch a fashion statement?
Unless you can shell out for pieces from the Hermès Collection (pictured above), not really. I know a lot of people say it's good-looking for a smartwatch, but that's the thing. It's good looking… for a smartwatch. But it's not particularly good looking for, well, a watch. Would I wear my Apple Watch if it didn't track my steps and buzz whenever I got a text? Probably not.
But there are ways to make the Apple Watch more fashionable: Third-party bands! You're not stuck with traditional-looking bands in traditionally boring colors. I tried out nine third-party bands, including a couple of double-wrap bands and rhinestone-studded bands, over the course of several weeks to see how they feel, look, and hold up. Let's take a look!
Case-Mate Turnlock band
Case-Mate's $35 Turnlock band is perfect for fashionistas on a budget—this unique-looking bangle-style band is made of flexible elastomer and costs $14 less than Apple's cheapest "official" band ( the Sport band). The Turnlock band comes in black and shocking pink, and is only available for the 38mm Apple Watch.
The Turnlock band is a single piece of elastomer molded to look like it's made of chunky, oversized chain links. The links are flat on the top and bottom (and they aren't actual links), so the band is fairly comfortable to wear. The Turnlock band's adapters are also made of elastomer, so they don't blend seamlessly into your Watch when connected.
Because the Turnlock band is a single piece, you don't connect it to the Watch like you would one of Apple's bands. Instead of sliding both ends of the band into the Watch's grooves, you will need to connect just one side, wrap the band around your wrist, and then connect the other side.
Putting it on isn't too difficult, but taking it off is, since you need to push the little metal button on the inside of your Apple Watch to release the band from the adapter groove. This button is not easy to press—especially when your Watch is on your wrist. The Turnlock band isn't incredibly tight, but taking the band off is still almost impossible to do alone.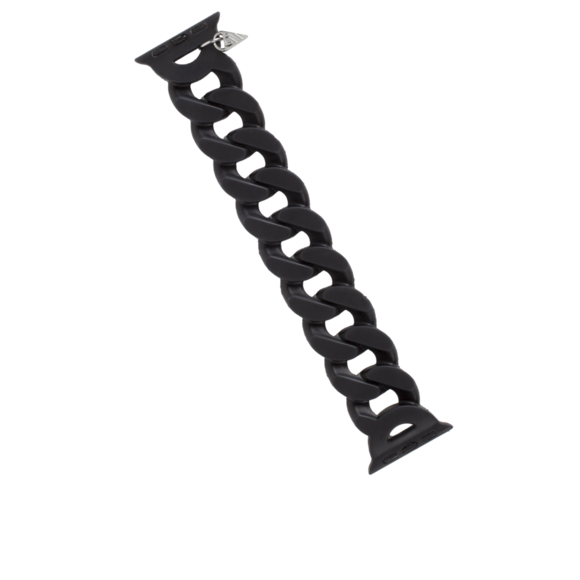 Unfortunately, because the band isn't very tight, the Watch's heart rate monitor doesn't really work reliably all of the time, since the sensor needs to be snug against your skin. This is a downside, but luckily, it almost makes up for that shortcoming in overall aesthetic: It looks very stylish for a $35 band. The band fits wrists up to 7.75 inches around. My wrist is barely 5.5 inches around, which means that it was a little loose on me—but in a cool, bracelet-type way, of course.
Case-Mate x Rebecca Minkoff: Double Wrap Leather and Silver Snakeskin bands
Case-Mate isn't just relying on its own designers to make fashion-forward tech accessories—the company is also venturing into the real fashion world, teaming up with designer Rebecca Minkoff to offer a cool collection of fashionable Apple Watch bands (and other accessories). I tested the $80 Silver Snakeskin band and the $100 Double Wrap Leather band from the collection.
The Silver Snakeskin band is a two-piece snakeskin leather band with a shiny but slightly distressed metallic silver finish. It comes in just one color (silver) and is only available for the 38mm Watch. I like how slim this band is—it starts out at about 0.93 inches wide at the top (near the Watch face) and tapers down to just half an inch wide about halfway down. The longer piece of the band is about four inches long and has seven adjustment holes.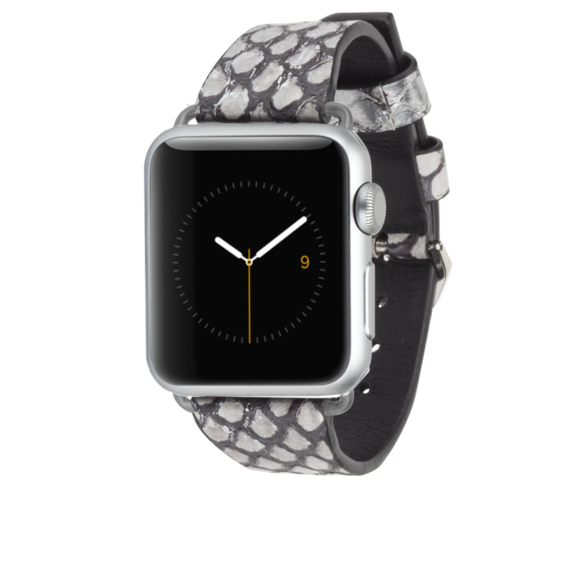 The Silver Snakeskin band is a pretty typical leather watch band, style-wise, with two leather loops for holding the adjustment end in place and a shiny gunmetal watch clasp. This band only comes with one color of adapter—sort of a dark matte aluminum that is just slightly off-color when compared to my Watch Sport's aluminum finish, which might be a little jarring if you have a gold or rose gold Watch. That said, a gold or rose gold Watch will probably clash with the silver to begin with, so the adapter clash is probably the least of your issues. This leather used in this band is very soft and comfortable right out of the box, and the snakeskin's texture means that you won't notice any warping for a while.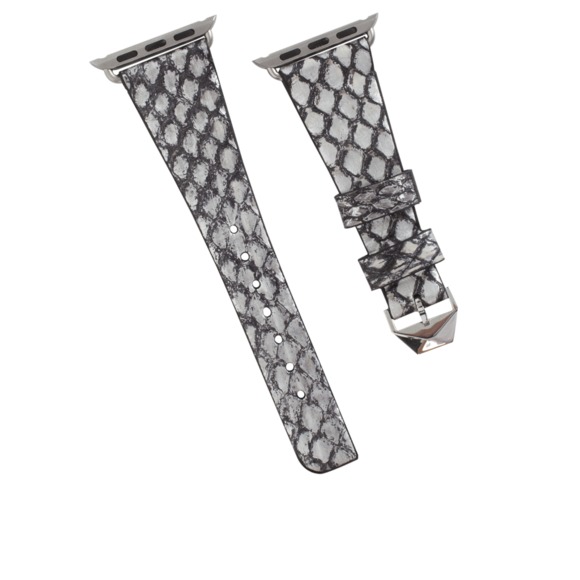 The Double Wrap Leather band is subtly cool and edgy (and this silhouette is all the rage right now—thanks, Hermès!), with an extra-long strap that wraps around your wrist twice instead of just once. The Double Wrap band is made of thin, flexible leather and has all black hardware—black dome stud accents, matte black adapters, and a shiny black angular buckle.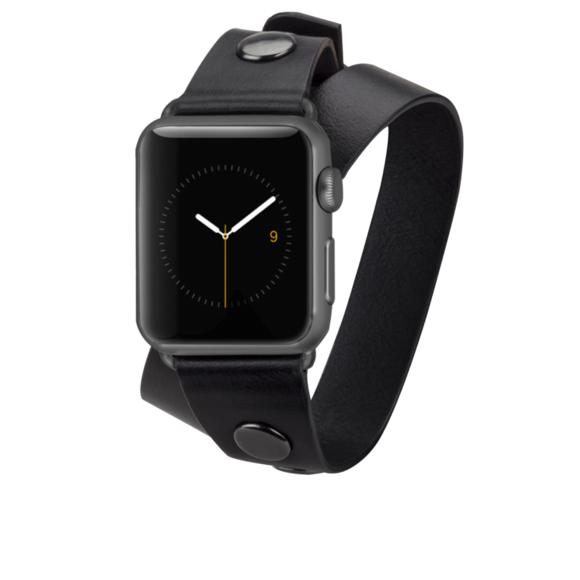 My only real issue with the Double Wrap Leather band was how it was packaged. The band comes folded over itself in order to fit in the case—understandable. But it's folded so sharply that there's a huge, noticeable crease in the otherwise smooth leather of the band—and that crease just happens to fall right on top of your wrist where the band wraps around the second time. Considering this band costs $100, this is pretty disappointing.
If you ignore the crease, the Double Wrap Leather band is very stylish. The thin leather is comfortable and molds easily to your wrist, and the button stud accents give the band a little extra oomph. As usual, the band is a little too long for my wrist, though it does fit me relatively well on the last (smallest) hole.
Incipio Reese Double Wrap Leather band
Incipio's $60 Reese Double Wrap leather band is simple and comfortable, yet undeniably stylish. It's not the Hermès Double Tour, but it's close enough (and less than a tenth of the price). I tried out the Reese Double Wrap in soft black leather (with a beige-colored suede backing), but the band also comes in red, caramel, and beige.
The Reese Double Wrap is a two-piece band—the shorter piece (with the buckle) is about three inches long, while the longer piece is almost 12 inches long. The band is designed to wrap around your wrist twice, so you end up with a stylish leather-bracelet-slash-watch-band look. The Reese is made of the same ultra-soft leather that makes up Incipio's Premium leather band. This soft leather is perfect for a double wrap style band, and the Reese is incredibly comfortable right out of the box. Also, unlike the Rebecca Minkoff Double Wrap leather band, the Reese is not sharply folded in its packaging and therefore doesn't have an obvious crease when you first open it—which is why I'd recommend this band over Rebecca Minkoff's.
The Reese Double Wrap just fits me (on the smallest hole), but anything past the fifth hole (there are 10 adjustment holes) looks kind of comical, because the Reese only has one loop to hold the loose end in place. If you have a smaller wrist, you'll most likely need to cut this band if you want to wear it without the loose end flapping about and looking ridiculous.
Aside from this minor issue, I'm a big fan of this band. The all-black simplicity is especially stylish (the adapters and the buckle are both matte black, though other colors may have different hardware options), and Incipio's lay-flat buckle is sleek and unobtrusive.
Fashion Copilot: Sheer Elegance and Touch of Sparkle bands
Fashion Copilot is a small, Michigan-based accessories company that makes replacement bands for the Apple Watch and the Fitbit Flex. The company's motto appears to be "all bling, everywhere," because all of their leather bands are studded with Swarovski crystals. I checked out a full, crystal-studded band from the Sheer Elegance collection, as well as a subtler style with just three crystals on each strap from the Touch of Sparkle collection.
The $130 Sheer Elegance bands come in a variety of colors and are available for both the 38mm and the 42mm Watches. My review unit was bright pink with iridescent crystals, but the band also comes in black, white, and red, with a variety of different crystal colors (Fashion Copilot is a small business, so I assume that the colors vary with stock). The band has is fully studded with crystals on both strap pieces, with a sliver of crystal-less leather where the adjustment holes are. The longer strap measures approximately 4.25 inches long and has 12 adjustment holes. The shorter strap is 3.25 inches long (including buckle), and has one free-moving leather loop for holding the loose strap in place.
I love crystal-studded tech accessories, but the Sheer Elegance bands look a little cheap. The rhinestones on this band aren't individually placed (which can look gorgeous)—they're on an adhesive sheet. On one hand, this is actually a good thing—because there's much less of a chance that you'll lose a stone. On the other hand, this makes the band look like you should be paying $30 for it, not $130. Don't get me wrong—the band looks nice and sparkly from afar, it's just not worth the price.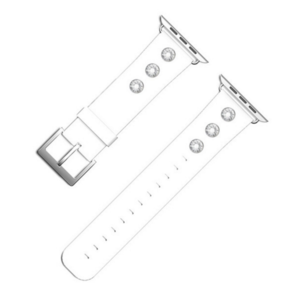 But all is not lost! The $55 Touch of Sparkle bands look better, and are much cheaper. This leather band comes in black, white, gray, pink, red, blue, and mint green, and is available for both the 38mm and the 42mm Apple Watch. It features three crystal studs on each side of the strap (and these are actual studs, which go all the way to the back of the band). The band is the same make as the Sheer Elegance collection bands—sturdy, slightly stiff leather with 12 adjustment holes and shiny silver hardware. The studs in this band can be felt when you're wearing your Watch, but I didn't find them to be particularly uncomfortable.
Fashion Copilot bands aren't for everyone, but they definitely fill a niche. I wouldn't call these premium leather bands, but the leather is very durable and showed just a little warping after a week's worth of solid wear.
Ullu: Premium Leather, Cowlick, and Stingray bands
Ullu's bands feel custom-made, right down to the hardware color (your choice of stainless steel, space black stainless steel, aluminum silver, or aluminum black). They offer five different materials: Premium leather, hand-colored leather, ostrich, stingray, and alligator, which cost between $99 and $399 (the alligator being the most expensive option) and an array of truly gorgeous color options. All Ullu bands are available for both the 38mm and the 42mm Watches. For my tests, I tried out the Premium Leather strap in navy blue and "cowlick," and I also wore the Stingray band in tangerine.
The Premium Leather and Hand Colored Leather bands cost $99, and they're definitely worth it. These are some of the prettiest bands I've seen—the colors are beautiful and bright, especially on the hand-painted bands. The Premium Leather band comes in 19 different colors, while the Hand Colored Leather band comes in 10 different shades.
The Premium Leather band in navy is actually not navy at all—it's a light blue camouflage pattern with a soft, suede-like finish. The band itself is thick but pliable; it's a little stiff when you first put it on, but it softens up very quickly (within an hour). The longer strap is a little more than 4.5 inches long, with eight adjustment holes, and the shorter strap is 3.5 inches long (including the buckle) and has two leather loops to secure the loose end.
Although both the navy and the cowlick band are part of the Premium Leather collection, I tested out both because the cowlick band is…very different. The cowlick band is also made of thick, flexible leather, but its finish is not leather—it's pony hair. (For those of you who don't know what pony hair is, it's basically the hair side of the cow leather.) The pony hair is two-toned, brown and white, and looks really funky when it's not on your wrist. This band was definitely a favorite of mine—until I put it on.
Here's why: Pony hair has a very obvious grain. This band is a two piece band, and it's made so that the grain of the hair goes away from the adapter—which means that the grain is going the opposite direction on each piece. This isn't a problem when you're not wearing the band, but it's definitely a problem when you try to put the band on without messing up the hair too much. Sliding the buckle over the strap and sliding the loose end of the strap through the loops on the band messed up the hair a lot (and the hair on this band is pretty long), which resulted in a very messy-looking band. I love the cowlick band in theory, but now I see why there aren't more pony hair watch bands in the world.
The $249 Stingray band is breathtaking. I don't even like orange, but the tangerine color is so vibrant that I instantly fell in love. The Stingray band comes in 10 colors, including "Indian Pink," "Turqish Delight" (turquoise), and "Knight Rider" (black). The band is made of thick but very soft leather—it needed no breaking-in period, and was comfortable right out of the box—and has a shiny, pebbled stingray leather finish. One thing that's nice about stingray leather is that it's extremely durable, so I didn't feel like I was going to scratch it or mess up the grain or anything like that.
Ullu's bands aren't cheap, but they're comfy, durable, and they're incredibly pretty. If you're only going to buy one third-party band for your Watch, an Ullu band is worth the splurge.