It's the holiday season, and it might be that like me you're spending it away from your family. And it might be that like me, you are planning a series of video calls with them as a way of keeping in touch even though you're hundreds of miles away. It's not perfect, but it's better than nothing; it's better than a phone call.
These days—and what glorious days they are—we think nothing of holding up an iPhone and starting a FaceTime call, or launching Skype on a Mac and getting connected in seconds with full-screen, relatively smooth video, but this is because for ages now, or at least so it seems, every laptop, desktop, and mobile device has had a front-facing camera in it. The cameras embedded even in the current, top-of-the-line Macs are frankly ridiculously substandard, as my friend Peter Cohen wrote earlier this year at iMore, but they're there.
Of course, this was not always the case. For most of the history of the PC, if you wanted a webcam, you bought one afterwards and plugged it in. These things were usually pretty crappy, in part because the sensors were just a bit rubbish but also because they were often preposterously ugly things.
That last part, at least, changed on June 23, 2003, at WWDC, when Apple introduced the iSight.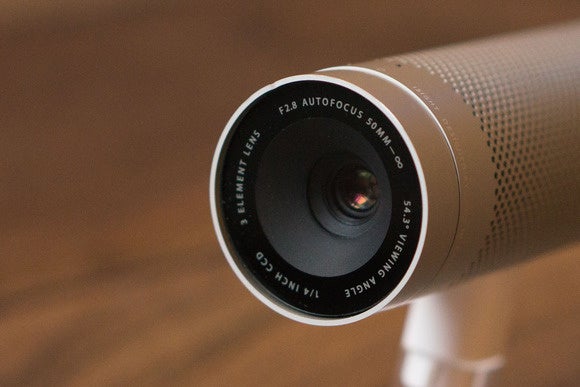 Echoing the design language of the Power Mac G5 which also made its debut that month, this thing was gorgeous. Hell, this thing is gorgeous. It's emblematic of a certain kind of product we occasionally get from Apple, something that has had entirely disproportionate amounts of love lavished on it, producing something that is not only beautiful but which feels, however wrong this may actually be, like it's unnecessarily good.
Like, while most webcams had a fixed focus or at best manually focusable lens, the iSight's three-element lens autofocuses from 50mm to infinity. While most webcams were jittery, low-framerate messes that connected over USB, the iSight was full 30fps, and connected over FireWire. And while those few webcams that had a manual shutter for privacy featured a simple, clumsy cover, you twisted the ring at the front of the iSight to iris-in a three-part shutter behind the glass.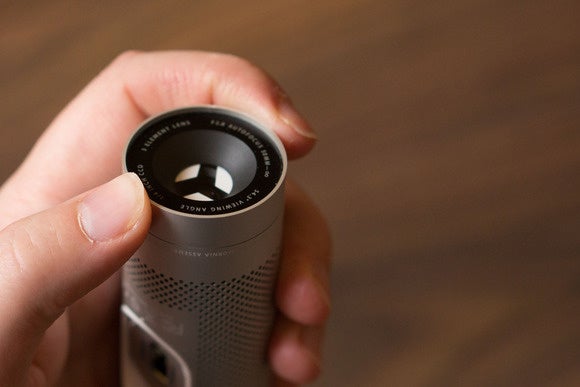 The microphone was noise cancelling, it came with a little plastic pot for protecting it as you carried it in a bag, and you adjusted the direction it pointed using a ball and socket joint on the bottom, which also doubled as the point where you connected the camera using FireWire.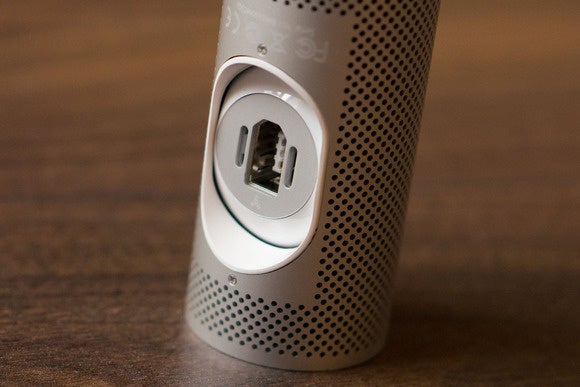 And the stands! Oh, the stands. Again, painfully over-engineered, but all the more wonderful for that. As well as the stand you see at the top of the page, designed to be stuck, once you'd removed the white backing paper, to the top of a CRT such as an eMac, you also got one with a little tightening thumbscrew that you hooked to a laptop screen, and one stubby little white one that attached magnetically to an iMac G5 or display.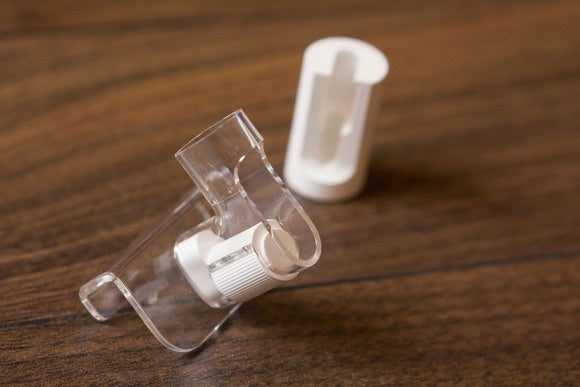 It was a fiddly process: picking the mount, adding the little cable adapter, threading everything together before ultimately, inevitably realizing you'd got something the wrong way round. But it looked so neat and lovely once you'd done it. Here's mine perched atop one of my 20-inch Cinema Displays.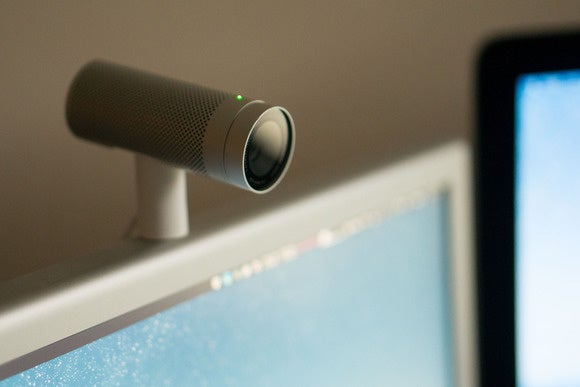 And although I don't really use it—preferring an external Logitech model if I'm on my Mac, and, naturally, the FaceTime HD camera if I'm using my iPhone—there's something obstinately hardcore about having an iSight camera peering down at you from above your display, something that says "I am important and I need to participate in important video conferences with Beijing and Munich." It's nonsense, of course, but harmless enough.
For an idea of quite how sleek the iSight was, here's another FireWire webcam from around the same time, the Unibrain Fire-i.
No autofocus here; to focus it, you have to rotate the ring around the lens. And as if that wasn't bad enough, take a look round the back at its mounting stand, which is basically a bulldog clip with delusions of grandeur.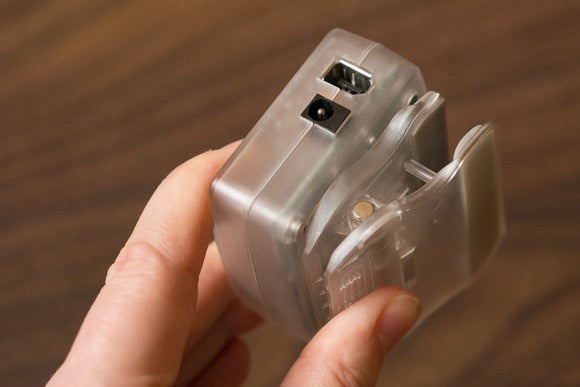 So what, you might think. It looks a bit rough and ready, but who cares if the images it produces are good? Fair enough, except…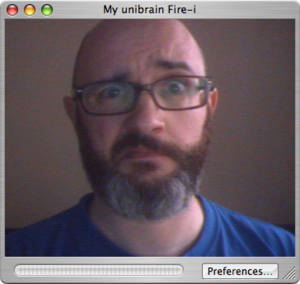 …they aren't. Noisy, washed out, smeary and just generally grotty. Or perhaps it was just way ahead of its time, pre-Instagramming everything years before Instagram was a thing.
But before I get too carried away in my praise of the iSight, it's worth remembering that by today's standards, even by the standards of the pretty atrocious webcams built into modern Macs, the quality of even its sensor was hardly what you'd call awesome.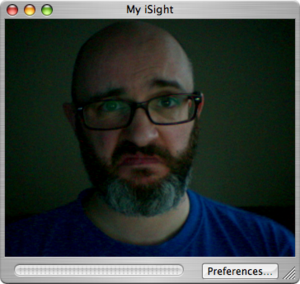 Hell, compared to the ropey webcam built into the 2006 MacBook I took the above grabs on it looks like I'm using it in Mirkwood. Here's the MacBook's internal iSight camera.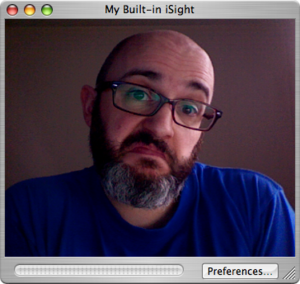 Back in 2003, however, you couldn't buy a Mac with a built-in webcam, and boy did I want an iSight. They cost $149—although I remember a colleague who attended that WWDC getting one, Oprah-style, under his seat in the auditorium—and for "2003 me," $149 may as well have been $1,490. And besides, who would I call?
2015 me, though, bought this one on eBay for a few bucks, and I could call pretty much anyone I know.
I think I'll call my mom. Happy new year, everyone!