Christina Farr, a health and technology senior writer at Fast Company, had an unexpected bit of coal in her end-of-year stocking: A bill for cell data overage charges. But, she noted on Twitter, she takes care in staying on Wi-Fi and not using the cellular network. Most of her usage was at home or a Starbucks.
The culprit? Wi-Fi Assist. This feature added in iOS 9 is intended to make your Internet experience more consistent. When you're on a Wi-Fi network that has erratic service, such as Internet connection dropouts, Wi-Fi Assist uses the cellular network as a secondary data source.
Apple notes on its site that Wi-Fi Assist has a lot of options to prevent excessive data use. It only engages for foreground apps, not background tasks; it doesn't kick in for third-party audio and video streaming apps; and email attachments aren't automatically downloaded.
But clearly, in the right circumstances, you can burn hundreds of megabytes to gigabytes, as Christina did. While many cellular plans include multiple gigabytes or even (with T-Mobile or grandfathered AT&T) unlimited-then-throttled or truly or effectively unlimited service, several carriers have less-expensive low-usage plans.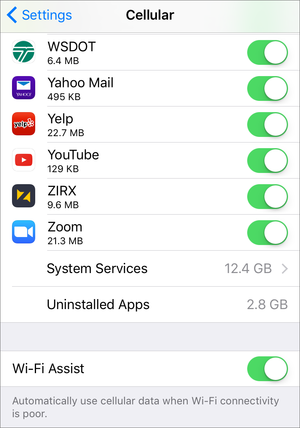 I'd recommend most people disable Wi-Fi Assist, which Apple turns on in iOS 9 by default. Go to Settings > Cellular, and scroll what can be way way way down at the bottom to find Wi-Fi Assist, and tap it off.
If you find your iPhone or cellular-enabled iPad has connection problems on Wi-Fi networks after disabling it, you can turn it back or switch intentionally to a cellular network. Either:
Disable Wi-Fi: Swipe up from the bottom for Control Center and tap the Wi-Fi icon to disable it, or use Settings > Wi-Fi to tap Wi-Fi to the off setting. (Some location and other features may not work or work poorly with Wi-Fi disabled.)

"Forget" the problematic Wi-Fi network: In Settings > Wi-Fi, tap the tiny info "i" icon to the right of the currently connected network, then tap Forget This Network and confirm. That will remove the network information (and delete its password on your device and across all iCloud Keychain synced OS X and iOS devices, too).
And if your home Wi-Fi network or that of a café you frequent is having such Wi-Fi problems that Wi-Fi Assist engages a lot, fixing the network or letting the café's owners know about the problem may be a better long-term solution.
Ask Mac 911
We're always looking for problems to solve! Email yours to mac911@macworld.com including screen captures as appropriate. Mac 911 cannot reply to email with troubleshooting advice nor can we publish answers to every question.