These days, keeping up with games can be a full-time job. So how do you separate the signal from the noise, the wheat from the chaff, the Temple Runs from the Temple Jumps? Allow us to help by regularly selecting a game You Should Play.
There's a fine line to walk, and it goes against everything we typically assume about video games—but frustration can not only be fun, but also funny. Games that intentionally muddle your control and make it difficult to perform typical gaming tasks can generate fantastic laughs in the process. Surgeon Simulator is a prime example, but the granddaddy of the genre may well be QWOP.
That amazing Flash game challenged you to run even a few meters as a professional sprinter while separately controlling his thighs and calves. It's nearly impossible, which is also why it's absolutely, gut-bustingly hilarious. And Octodad: Dadliest Catch surely owes QWOP a debt of inspiration (it's even subtly referenced at one point), even as Young Horses' game takes that idea to brave new extremes.
Dadliest Catch puts you in the uncommon scenario of controlling an octopus trying to navigate dry land. Terrible, right? Except he's not a newly-stranded sea creature, but rather one that has been posing as a human being for a decade, complete with a loving human wife and two perfectly human kids. And if you want him to maintain his well-crafted, suburban illusion, you'll need to figure out how to keep this wobbly-limbed creature upright and inconspicuous in social settings.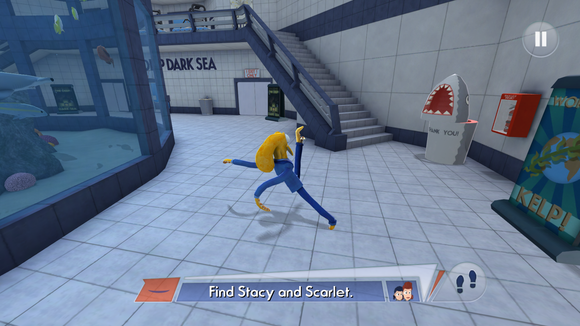 Good luck with that. Octodad delivers fumbly fun and plenty of chuckles, whether you're playing on iPhone, iPad, or Apple TV—and with or without a dedicated gamepad, as well. Up for this zany campaign? Here are three reasons to take up the goofy quest.
Cumbersome can be fun: As an octopus, how do you pose as a human for several years? Well, you wear a three-piece suit and quickly deflect all suspicious queries with gibberish—but more importantly, you walk upright, don't continuously bump into people, and avoid demolishing every room you step into. That's hard enough for most real-life humans, and sure enough, it's a tricky challenge for your cartoonish cephalopod.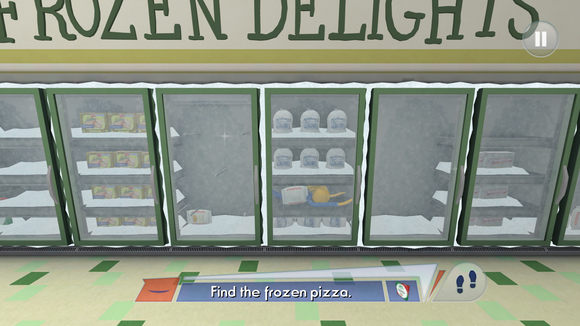 You'll individually control two tentacles as legs and two more as arms as you walk through your backyard, the supermarket, an aquarium, and other locales, all while completing tasks obviously not suited to your frame. Flipping burgers? Chopping firewood? Sneaking around guards? You'll have to find a way to get them all done without causing too much of a ruckus—but there's plenty of fun in failure here as you try to get a hang of the controls.
It's hilarious: Octodad derives humor not only from its interactions, but also its script and characters, delivering plenty of strong laughs throughout. The tone is set from the start, as you guide Octodad through his wedding day: An usher opens your dressing room and is shocked at what he sees. Because you're actually an octopus? No, because you're not dressed. The fact that everyone remains oblivious to the truth—even your journalist wife—is one of the best parts of the experience.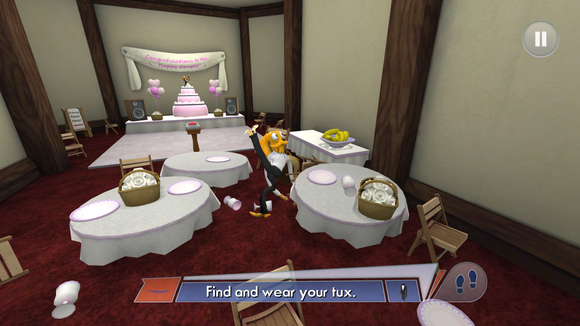 But the game isn't afraid to mine slapstick jokes, as well. For example, one tense escape from a cleaver-wielding chef is made immediately, joyfully silly when your path is lined with carefully-placed banana peels. And all the loopy spills along the way just add to the fun.
Play it anywhere: Launched the same week as the new Apple TV, Octodad: Dadliest Catch is fully universal, which means you can buy it once and play on iPhone, iPad, or the set-top box. And that ended up being one of my favorite aspects of the experience. My two-year-old fell in love with the game, so I played a large chunk of it on the Apple TV as he watched in total amazement and sung the theme song. But there were times when I wanted to make quick progress on the go, so I could grab my iPhone and pick up at the exact spot I left off on the TV.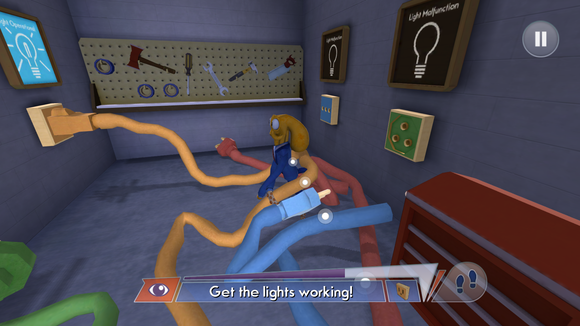 Whether on the Apple TV or an iOS device, I do recommend enjoying Octodad with a gamepad. Frustration is part of the experience, but it can also… well, frustrate you at times when you can't seem to make the tentacles work exactly as desired. The iOS touch controls and Apple TV's Siri Remote inputs are solid and workable, but I always felt a lot more confidently in control using the gamepad. And speedier, too.
Octodad: Dadliest Catch is a delightful and smartly compact treat: It lasts a few hours (including the bonus levels), but that's just the the right amount of time for a game that hangs on the razor's edge of irritating and enrapturing. Luckily, it stays on the right side of that balance more often than not.
Developer: Young Horses Platform: iOS (Universal) + Apple TV Price: $5