A reader—my father, in fact—asked why, after upgrading to iOS 9.2, his iPhone's battery started to drain rapidly. Was there an issue with the update? Not that I knew of, but I've seen many times, including a few instances recently, that iOS gets itself into a battery-draining mode that can't be explained.
iOS does report the percentage of power use by app in Settings > Battery. This feature is a nifty way to see if anything has run amok. You can toggle between Last 24 Hours and Last 7 Days, which helps see if any particular app's usage has spiked. Tapping the clock icon toggles between showing the way an app uses the battery other than in the foreground (Audio and Background Activity), and a display of the amount of time the app was in use on screen in the foreground and handling activities in the background.
This can be a clue as to whether something's gone amok, especially if you see heavy background time use for an app you're not aware has much or any background activity. (It can also reveal your habits, like Twitter usage.)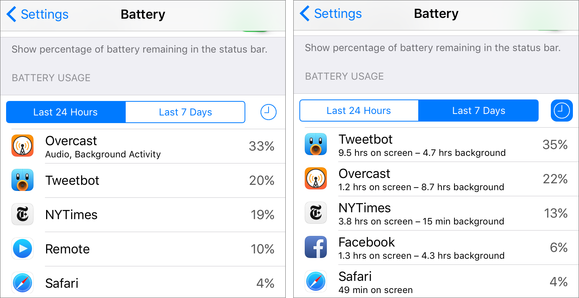 For whatever reason, I've found restarting an iPhone that is draining its reserves faster than usual—like 20 to 40 percent in a matter of hours without heavy use—often resets whatever internal state is at fault. This worked for me a couple of times recently, and I went back to going through a full day on an iPhone 6s without needing to top up.
In some extreme cases, I've both seen myself and heard anecdotally from many colleagues that a full backup and restore is all that will fix whatever setting has gone rogue. I suggest if possible making an iTunes encrypted backup (via USB), and making sure all the copies of the app on the computer with iTunes are up to date as well; this speeds up the process tremendously over an iCloud backup. Follow Apple's instructions carefully for backing up and restoring.
Ask Mac 911
We're always looking for problems to solve! Email yours to mac911@macworld.com including screen captures as appropriate. Mac 911 cannot reply to email with troubleshooting advice nor can we publish answers to every question.