Carrying an extra cable just to charge the Apple Watch when traveling can be a bit of a pain. The Apple Watch Magnetic Cable is longer than a Lightning cable (easier to get tangled) and the magnetic puck can sometimes get caught inside your tightly packed luggage.
On Monday Griffin Technology unveiled a new Apple Watch charger that's designed to sole this very problem. The Travel Power Bank is a tiny portable battery with 800 mAh of power to fully charge your Apple Watch four times. When the Travel Power Bank runs our of power, it can be recharged with a built-in micro-USB cable. This portable battery/charger hybrid has a keyring attached to it so you can clip it to your keys or to your luggage for easy access.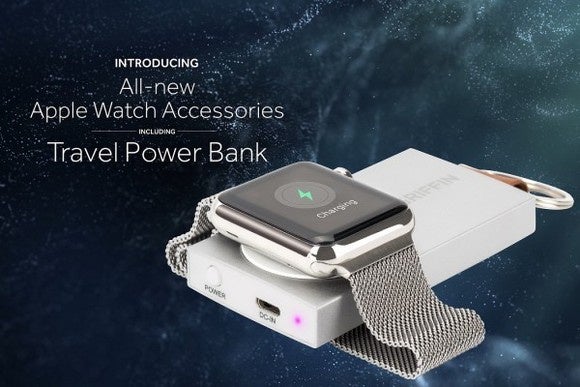 "Our new Travel Power Bank is the Apple Watch accessory users have been waiting for," Griffin's Power Products Manager Andrew Biddle said in a statement. "With our compact, all-in-one battery and charging cable on hand, users can leave their Apple Watch charging cable safe at home with no worries about running out of power." The Travel Power Bank will cost $70 when it arrives in the second quarter of this year.
New Apple Watch bands too
In addition to the Travel Power Bank, Griffin Technology also released two new bands for Apple Watch. The Uptown Leather Band is a double-wrap band for the 38mm Apple Watch made from genuine leather and stainless steel. The Uptown Leather Band comes in four color combinations: toffee/gold, black/silver, ecru/rose gold, and sea foam/silver. This double-wrap band costs $60, making it a stylish yet affordable alternative to the Apple Watch Hermès collection, which starts at $1,100.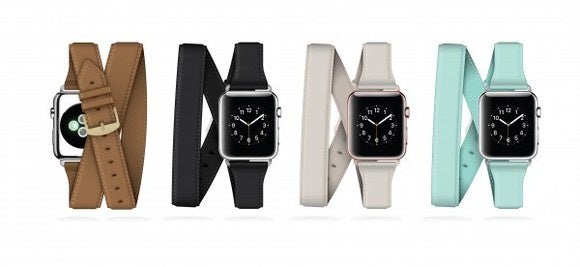 Griffin also released a watch band for a more active lifestyle. The Trainer Watch Band is a sweatproof band for the 42mm Apple Watch made with silicone and stainless steel. This band also has a "notched post" at the end of the band so that any extra length gets secured tightly during vigorous activity. The Trainer Watch Band is available in black, white, red, or blue. Griffin will sell this band for $40. By comparison, the official Apple Watch Sport Band costs $49.

Griffin's luxe leather band and sweatproof sports band will both be available for purchase in the third quarter of 2016.