At a Glance
Expert's Rating
Pros
Easy to set up
Notification system is discreet and efficient
Cons
Looks cheap
Style won't suit everyone
Our Verdict
As a wearable, the Ringly is awesome. But as a piece of jewelry? Not so much.
I love the concept behind Ringly: A Bluetooth-enabled notification ring that connects to your smartphone and keeps you in the loop about incoming texts, calls, and emails via colored LEDs and vibrating patterns. And I love the fact that Ringly is clearly trying to make "smart" jewelry attractive enough to be worn as, well, jewelry.
After taking the Ringly for a spin over the past two weeks, I even love the way it works as a tech product. It sets up in seconds, customizing the device via its companion app is a breeze, and it comes with a cute ring box-shaped charging case that charges the ring inductively (and holds a charge of its own, for up to 10 days).
But I don't love the Ringly as jewelry, and that's kind of a big problem. I mean, the point of the Ringly is to combine tech and style—if it's not going to do that, I may as well buy a smarter, less stylish tech product.
This is not the next 'It Girl' ring
The Ringly currently comes in eight different variations, which range in price from $195 to $260, depending on the type of stone used. The most expensive variation, "Into the Woods," sports an opaque, cushion-cut emerald and a matte 18-karat gold-plated base. All Ringly rings have roughly the same rectangular shape, but some stones have different cuts. My review unit was the "Opening Night" Ringly—a cushion-cut black onyx stone in a shiny, gunmetal-plated brass setting.
At first glance, the Ringly is pretty unimpressive for a piece of jewelry that costs $200. It's not particularly stylish, nor does it look or feel like a weighty, expensive piece of costume jewelry. I'm not a huge fan of onyx to begin with, but the cushion-cut stone looks a little plasticky, while the gunmetal plating is cool but very prone to fingerprints. I spent a lot of my time with the Ringly cleaning it off with my shirt. The Ringly is water-resistant, but not waterproof, which means it should be fine getting wet when you wash your hands (just don't immerse it in water).
The Ringly is an interesting, sort of in-between size. It's not small and delicate (gotta put the tech and battery somewhere), but it's also not that big—certainly not big enough to make a style statement. This is really going to come down to personal taste, but I like my cocktail rings to be big enough to cover my entire finger—and I have relatively slim fingers (my largest finger is a size 5). The Ringly's stone awkwardly almost covers my finger, but doesn't quite make it.
The Ringly isn't something I can see fashionistas lusting after, and it's certainly not something I'd look twice at on a shelf. But that doesn't mean that I don't like what the Ringly does, even if it's not going to revolutionize runways.
…But it's much more functional than expected
It may not look the part, but the Ringly does a lot of things right. For one thing, it's super comfortable. The band is slim, which is a little cheap-looking, but incredibly easy to wear (if you've never worn a ring with an uncomfortably thick band, consider yourself lucky). I'm easily distracted by uncomfortable jewelry on my hands and wrists, and I found myself forgetting about the Ringly as I went about my day. The Ringly's band is sized (and I'm assuming you can't take this to a jeweler to get it resized), and comes in sizes 5, 6, 7, 8, and 9.
The Ringly has a pinprick-sized LED light on one side, which emits five different colors (blue, green, yellow, red, and pink/purple) for notifications. The Ringly also has an internal vibrating motor, and the Ringly app lets you customize your notifications using the five colors and four different vibrating patterns.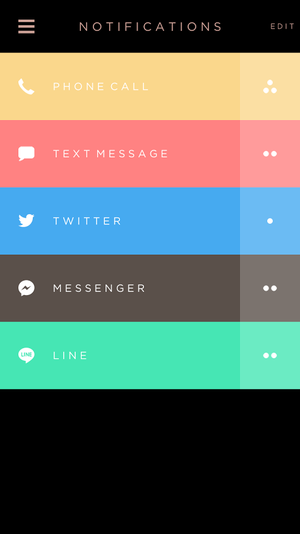 For example, you can set up your Ringly to vibrate once and flash pink for a new email, but vibrate twice and flash pink for a new text. Or vibrate three times and flash blue for Facebook, but vibrate three times and flash yellow for Twitter. This sounds a little complicated, but I found it very easy to get the hang of. Ringly works with more than 80 different apps, including Line, Gilt, Uber, Instagram, and Tinder, and can also be set up to notify you when you get a text or phone call from a specific person.
All Ringly does is notify you—if you want to respond to a text or answer a phone call, you'll need to pick up your phone. It's definitely not an Apple Watch, functionality-wise, but it works well if you're waiting for someone to call or text and you're in a social setting (such as a bar or club) where you can't constantly be checking your phone. For the most part, a quick buzz to your finger is all the information you need if you're waiting for a friend to show up.
Because of its size, the Ringly doesn't have amazing battery life—the ring will last 24 to 48 hours on a single charge, depending on how often you use it (how many notifications you get). But the Ringly does come with a cool charging ring box that acts as a dock. The charging box is charged via microUSB cable, and will last about one week (and be able to charge your Ringly during that time) before it needs to be plugged in. The charging box is inductive, so all you have to do is place your Ringly in the slot and it will start charging. The box appears to have magnets in it as well—if you put your ring in backwards, it will pop out. The Ringly takes about four hours to fully charge.
Bottom line
The Ringly has the potential to be awesome. Tech-wise, it's great—it offers just enough functionality with its customizable notifications that it's worth putting on your finger, but not so much functionality that you'll need a manual to figure it out. It also moves smart jewelry off of your wrist and onto your finger, which is awesome for those of us who like to wear regular jewelry on our wrists. The Ringly doesn't force you to choose between tech and style like smartwatches do. If you wear an Apple Watch, you can't exactly wear another watch—but if you wear a Ringly, you can easily wear other rings.
If the Ringly looked as cool as its price tag, I would own six. But it looks more like a $10 ring I picked up a Nordstrom Rack than a $50 ring—let alone a $200 ring. It's not bad-looking, it's just basic and boring. The only attention I got while wearing it was when it flashed a notification light.