Photos are among our most prized possessions, so when you realize your entire family photographic history exists in one vulnerable—and in my case, tornado-riddled—place, spread across dozens of envelopes and stacks of albums, you've got to put your scanning boots on. (Besides, how else can you use those pictures in projects you make on your Mac?)
You can mail your beloved mementos to a scanning service, but the fulfillment you get from doing it yourself and reliving all those memories is huge. While a giant scanning project can feel overwhelming, all you really need is patience, a scanner, and these essential scanning tips.
Buy a $70 scanner
Scanners used to be huge, heavy and costly but today's desktop scanners are small, inexpensive, and highly intelligent. How is this exciting? Let us count the ways. For example, you can pack the Epson Perfection V19 into your laptop case so you can take it with you to Grandma's house (it's barely thicker than a 15-inch MacBook) and at $70 it's a steal.
Today's scanning software is super smart: it can detect individual photos on its glass, automatically remove dust and specks, and restore color to seriously faded photos. This particular Epson model also has a scanning resolution of up to 4,800 x 4,800 pixels per inch (crucial for printing), a removable lid for scanning bulky stuff (handy when you can't extract the picture from the album), and it's powered by a USB cable (no cumbersome power brick required).
Clean the scanning glass
It may sound obvious, but be sure to clean the scanner's glass often. If there's dirt on the glass, it winds up in your pictures.
Spray a lint-free cloth—not the glass!—with glass cleaner (if you spray the glass, liquid may seep under it and drip into the scanning mechanism). If you have a can of compressed air, give the glass a good spray between scans to eliminate dust.
Scan everything
It takes far less time and far fewer brain cycles to simply scan everything you find rather than deciding what's worthy and what isn't. You can trash bad images later.
Always use the scanning software's preview feature
Most scanning software includes a Preview and a Scan button. While it's tempting to immediately click Scan, clicking Preview gives you a rough approximation of the scan you're about to make. This lets you confirm if you've set the software to scan in grayscale or color (it's best to use grayscale for black-and-white shots) and if the scanner is going to mistakenly scan several photos together into a single image file (the fix is to move them farther apart or rotate them slightly on the glass).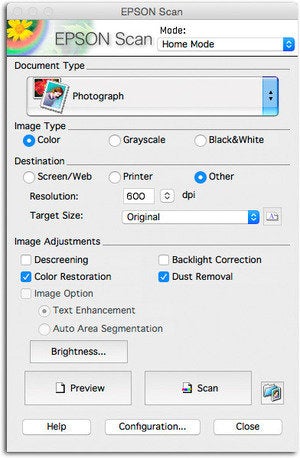 Group several pictures onto the scanning glass
Scanning a single photo takes 1 to 2 minutes yet scanning several takes between 2-3 minutes. To save time, group several photos onto the glass with a bit of space between them.
Why does it take so long? Because the software also separates all the pictures into individual image files, straightens them, removes dust, and restores the color in each individual picture. While you can try to scan a whole page from a photo album, it often results in a single image file instead of individual files for each picture, plus the scanner's color restoration feature doesn't tend to work as well.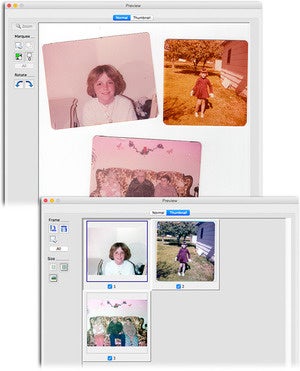 Let the software fix colors and dust
Even if you fancy yourself a Photoshop master, it's best to let the scanning software correct color and remove dust because it was precisely engineered for this job.
Your scanner's color restoration feature is especially powerful because printed photos fade in predictable ways that the scanner can identify and (in most cases) reverse. For example, photos printed during the 1960s and 1970s are often badly faded due to defects in the papers and chemicals used at that time. Color restoration can also miraculously reclaim details that your eye can't see in the original print, as shown below.
There is one caveat: If the picture has a white border around it, the scanning software may mistake the border color for the true white in the picture. If that happens, you won't get accurate color. The fix is to adjust the scanning rectangle so it's inside the image area, thus cropping out the white border. That way the software ignores the border in its color correction analysis (the difference can be dramatic!).
Don't skimp on resolution
Scanning is a time-consuming affair and you only want to do this once, so be sure to scan at the proper resolution. Try using a resolution of 600 dpi for prints that are 6 x 4 inches or smaller, and 400 dpi for prints that are 7 x 5 inches or larger. (If the 7 x 5 print is especially valuable, scan it at 600 dpi.) Even if you plan to re-print the photo at a larger size (or crop it) these settings should be sufficient.
A scanned 6 x 4-inch print results in a 3.5MB file when scanned at 600 dpi and saved as a maximum quality JPEG, which means you can archive more than 1,000 scans onto a blank single-layer DVD that costs less than a buck. If a 3.5MB file is too big to email or post online, remember both Apple's Mail and Photos apps offer to reduce image size when you send or share it.
Save as highest-quality JPEG format
While scanning software typically offers several file formats for saving your files, stick with JPEG. It's convenient, it produces manageable file sizes, and you won't lose any noticeable detail if you set the compression level to maximum quality or lowest compression.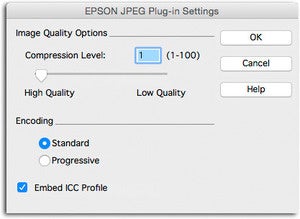 Use intelligent file names
If your scanning software offers, let it name your files something meaningful. Using the settings shown here, each new file is named "SniderAlbum1-" followed by an ever-increasing three-digit number.
If your software doesn't have this feature (or if you forgot to use it), you can save time by renaming files en masse using an app such as Rename It or Renamer.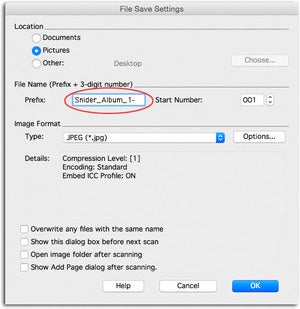 Use the Preview app to rotate and trash images
Some of your photos are bound to be rotated sideways or upside-down. The quickest way to correct the orientation of a bunch of photos is to open them all in Apple's Preview app. Just drag them onto Preview's icon to see them as vertically scrolling thumbnails. To quickly rotate a picture, click to select it and then tap Command-L to rotate left or Command-R to rotate right as many times as necessary. Press Command-S to save the file with its new orientation and then press the down-arrow key on your keyboard to move to the next photo. Repeat until you're finished.
While your images are open in Preview, you can toss bad photos into your Mac's trash by selecting them and pressing Command-Delete. (For more Preview features, see this column.)
When you remove photos from an album, don't stack them on top of each other
Some photo albums are easy to work with—the adhesive stripes on each page let you easily remove and then replace a picture when you're finished scanning. However, in many cases you'll have to pry pictures from each page using brute force—a letter opener works well—leaving traces of adhesive clinging to the back of the picture itself. If you then stack a sticky photo on top of another photo, the adhesive ruins the picture underneath. One solution is to use index cards or thin pieces of paper to separate them in a stack and then plop the whole stack into a small box.
It's a lot of work overall, but try to enjoy the process. Play your favorite music, sip your favorite beverage (but don't spill it!), and realize you're preserving precious history. (For even more scanning ideas, check out this column.) Until next time, may the creative force be with you all!