Just because it's a new year doesn't mean that iTunes problems and questions have gone away. If anything, I get more emails around the holiday season as lots of people get new iPhones, iPads, and iPods. In this week's column, I look at an issue with iCloud Music Library and unwanted downloads to iOS devices. I explain what happens when an Apple Music subscription ends. I tell you how to see play counts in your playlists. And more.
Too many downloads
Q: I'm an iTunes Match subscriber, and I've recently noticed that every time I add new music to my iTunes library, it downloads to my iPhone. I do want all my music to appear on all my devices ready for streaming from iCloud Music Library, however I don't want it to be automatically downloaded to the devices. Is there any way to turn this off?
Interestingly, just after I noticed this behavior on my iPad and iPad touch, I received several emails from users who were wondering why this was happening. I've written this up extensively on my website, but here's the skinny on what's happening.
For some reason, apparently since the release of iOS 9.2, iOS devices that use iCloud Music Library now download every new track you add to your iTunes library. Tracks added from Apple Music don't download, only those you physically add to the library (by adding files downloaded from sources other than iTunes, or ripped from CD).
This is problematic for several reasons. First, it uses a lot of bandwidth. I found, last weekend, that my two iOS devices each downloaded about 4GB of music that I had added to my iTunes library. Second, if you haven't turned off cellular downloads for the Music app (in Settings > Cellular), because you may occasionally want to download a song or an album when you're using your iPhone, you may find that you've burned through your monthly data cap. Some users are already reporting high charges from their phone companies for exceeding their data caps by downloading several gigabytes of music files. (And you may have a data cap on your home Internet too; in my case, the two devices downloaded 8GB.) Finally, it's conceivable that your iPhone will fill up quickly if you add a lot of new music to your iTunes library.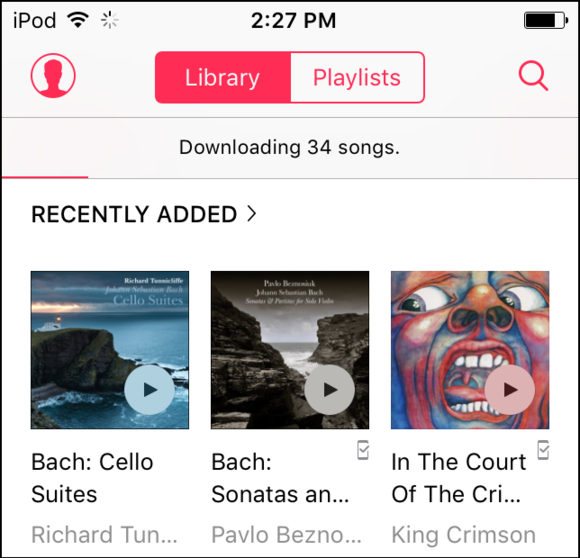 I've found that if I add new music to my iTunes library, it downloads to my devices. But if I delete that music on the iOS devices—go to Settings > General > Storage & iCloud Usage > Music, and then swipe each artist name to delete their music—it doesn't re-download to the device. Nevertheless, I shouldn't have to do this. This is clearly a bug, and I hope Apple fixes it quickly, because it is an annoyance, and it's costing many users a lot of money.
What happens when it's over?
Q: If I add songs from Apple Music to my iPhone, when my subscription is up, will these songs disappear, or will I be forced to pay for them?
Those tracks will disappear; you won't be billed for them. You may get a reminder that you can resubscribe to Apple Music; the service is too new to know how aggressive Apple will be in trying to bring former users back into the fold.
Playlist length
Q: Since updating to iOS 9.2, I no longer see the total playlist length in the Music app on my iPhone. This is a huge loss for me since I rely on that feature as a fitness instructor. Is there a solution other than using a calculator?
Alas, no. However, if you create playlists in iTunes, you can name them accordingly. For example: Playlist 1 to 30 min, Playlist 2 to 15 min, etc. It's cumbersome, but it's the only workaround I can think of.
Where are my play counts?
Q: In iTunes 12.3.2 my play counts no longer display. I know they are available when I select a track and press Command-I, but I want to see the play counts in lists. There's no customization of the information in playlists any more. Is there anything I can do to restore it?
It sounds like you're using Playlist view, which only shows limited information about the tracks in your playlists. You want to switch your playlists back to Songs view. I cover the different iTunes views in this article.
When you're in Songs view, you can add columns from the View Options menu (press Command-J), or by right-clicking any column header, and selecting one of the columns in the contextual menu.

Have questions of your own for the iTunes Guy? Send them along for his consideration.