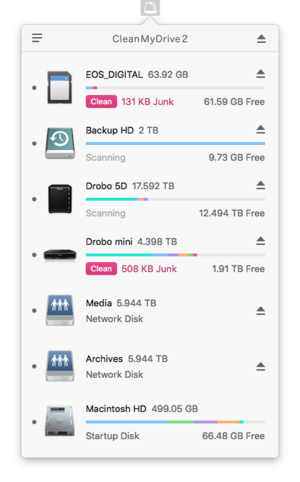 For years, I've used a small Mac utility called BlueHarvest to keep hidden OS X metadata off my network-attached storage, USB thumb drives, and other removable volumes. These unwanted files normally don't take up much space, but over time can become bloated or corrupted, especially for volumes that frequently move between Mac and Windows systems.
This so-called "service junk" includes invisible system files with befuddling names like .DS_Store, .Spotlight, and Thumbs.db, as well as unnecessary resource folks and files that have been moved to trash but haven't been emptied yet. In most cases, your Mac will simply rebuild these files as necessary, so there's no harm in removing them.
If you're too cheap to pony up $15 for BlueHarvest or are just looking for an easier to use alternative, the folks at MacPaw have just released a second major update to a utility that performs most of the same tricks—and a few new ones—absolutely free.
Purge thy junk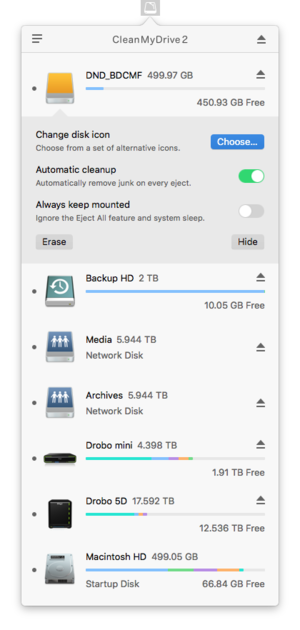 CleanMyDrive 2 is a small (6.8MB), lightweight application that lives in the OS X menu bar. Unlike MacPaw's all-encompassing CleanMyMac 3, this utility is designed for three specific purposes: Clean hidden junk from removable drives, copy files, and make it easier to eject volumes with a click of the mouse, rather than traditional drag-and-drop.
At first launch, CleanMyDrive requests permission to access mounted local volumes, a one-time step necessary to circumvent Mac App Store sandboxing requirements. Clicking the blue "Grant Access" button takes only a moment, then the software scans each disk and displays content as a thin rainbow of colors.
Hovering the cursor over any fuel gauge color displays the file type—Apps, Audio, Movies, Photos, or Other—and how much space it's taking up; remaining free space is also shown. But this is strictly for your information; CleanMyDrive can only act upon files in the Junk category, which shows up in pink and can be purged with a click of the Clean button.
There are a couple of notable exceptions: Network drives and Time Machine volumes, which appear in the list but can't otherwise be cleaned. In the case of the former this is by design, while the latter avoids potential corruption of backups. Network drives lack a fuel gauge and Time Machine volumes display everything in the Other category, but both media types can be ejected.
Eject all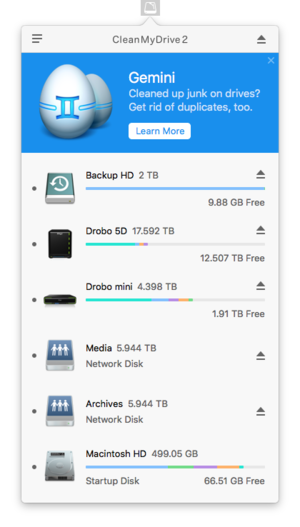 One volume type that can't be ejected is the startup disk, although this and other volumes can be individually hidden from CleanMyDrive's view by clicking the gear at left. Other drive types have additional options, including automatic cleanup, one-click erase, and keep volumes mounted, which ignores any eject commands.
In addition to the Eject All button on the main CleanMyDrive window, users can record a custom shortcut in Preferences, or choose to eject connected disks when your Mac is put to sleep. The application displays notifications for each volume mount or eject, which can be disabled via Preferences; there's also an option to restrict scanning to smaller drives. Last but not least, files and folders can be dragged onto CleanMyDrive for faster copying than the Finder alone.
While all of the aforementioned functionality is free, one optional feature requires in-app purchase: Change Disk Icon, which offers a set of eight pink ("Noble Flamingo") or green ("Mint Chameleon") icons for $3 each. This is a somewhat curious decision considering custom icons can easily be pasted into the Get Info window, but if you love these custom designs, it's a small price to pay.
Although lacking the robust features of BlueHarvest (notably the ability to clean network drives), CleanMyDrive looks great and does what it promises. Fair warning: You'll see an occasional ad for other MacPaw software, but once it's dismissed, it won't appear again in the future. (I'd prefer some way to remove them entirely, such as an in-app purchase.) The software also has a dark theme available, but it only works when "Use dark menu bar and Dock" is selected from the General pane of System Preferences.
Bottom line
Featuring a completely redesigned user interface, CleanMyDrive 2 is back and better than ever at ejecting or cleaning hidden junk from external drives in a snap. I'd prefer some way to disable the occasional in-app ads, but otherwise it's hard to complain about a free utility that delivers on what it promises so well.
Editor's note: Updated on 1/19/16 to correct the product's name and revise how ads appear on the software.