When Photos 1.0 for OS X shipped, it was clearly a work in progress. Now, under El Capitan, it's up to version 1.3, and some features have shifted. Veteran reporter and colleague Rob Pegoraro and I were recently trying to sort out just how this worked in dealing with screen captures, and it's distinctly different than at launch.
In iPhoto, you could export Original (unmodified source files) or Current (files with any image or cropping modifications) via the single File > Export menu item.
Photos for OS X has similar items: Choose File > Export > Export X Photos or File > Export > Export Unmodified Original [for X Photos]. The former option exports processed images, with the option to reduce file size or use the full resolution, but only as JPEG, PNG, or TIFF. The latter option simply copies out the image you originally imported, including in raw file formats, like ARW.
That's all well and good, but what was troubling Rob and I was the change in behavior from Photos 1.0/1.1 to 1.3. In those older versions, dragging one or more photos from the app to the Desktop would not just convert the selection to a JPEG file, but also downsample it. I can't find official documentation, but my recollection in testing with iOS screen captures is that the size shrunk to 1024 by 768. Holding down the Option key bypassed downsampling, maintaining the full resolution, but—again, there is no old documentation—not keeping the original format.
In Photos 1.3, at least, that's changed:
Drag one or more images to the Finder, and the resolution will remain the same, but the file is converted to JPEG, compressed slightly differently, and its colorspace converted.

Option-drag images to the Finder, and the original parameters are entirely preserved.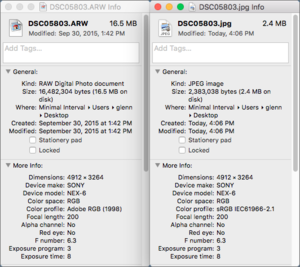 With one iPhone 6s photo I took, the original and exported dimensions remain 3024 by 3024. However, the drag-no-Option-key export is 1.68 million bytes, while the original picture is just 1.47MB. Go figure! A more sensible example occurred in testing a raw file that's 16.5MB and 4912 by 3264 pixels (and using Adobe RGB) when Option-dragged, and just 2.38MB as a JPEG (with sRGB) when dragged to the Desktop.
Ask Mac 911
We're always looking for problems to solve! Email yours to mac911@macworld.com including screen captures as appropriate. Mac 911 cannot reply to email with troubleshooting advice nor can we publish answers to every question.