Free-to-play games often look appealing, but it's difficult to know at a glance whether the business model is insidious and fun ruining, or reasonable and worth pumping a few bucks into. With Freemium Field Test, we'll take a recent free-to-play iOS game, put it through its paces, and let you know if it's really worth your time (and money).
Kim Kardashian: Hollywood made Glu Games (and Kim Kardashian, of course) a boatload of money, so it's little surprise to see the developer turn that celebrity-centric template towards another huge star. And this time around, in Katy Perry Pop, it's a different kind of entertainment industry that you'll try to infiltrate and dominate.
Katy Perry's claim to fame has come from smash pop hit after smash pop hit, which are in turns empowering, eccentric, and suggestive in nature, but almost always irresistibly catchy—and her vibrant personality serves as a nice backdrop to Katy Perry Pop. But is this ride to the top of the charts really worth taking?
The pitch
Like Kim's game before it, Katy Perry Pop is all about tapping your way to stardom by following a twisting path through the music industry. You begin as a barista in Santa Barbara, stepping up to the open mic for a coffee shop jam session just as—improbably enough—Katy Perry herself comes in for a cup of joe. She quickly takes a liking to your sonic stylings and signal boosts you on Twitter, turning you into a star-in-the-making.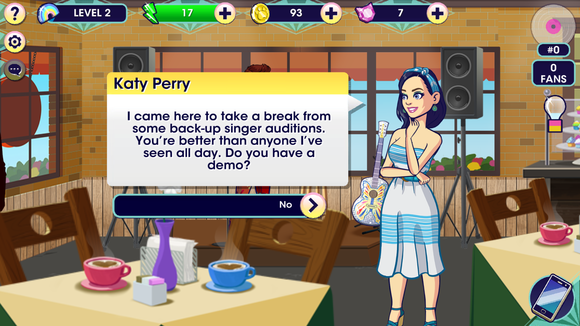 From there, the game throws a steady array of tasks your way: Record a new song in your mom's basement, shoot an artistic video, pass out fliers at clubs and concerts, perform live for adoring fans on the beach, get into the good graces of a manager, and so on and so forth. You'll pop between cartoonish renditions of Californian hotspots, and eventually fly out to the likes of Tokyo and Rio de Janeiro, too.
Unfortunately, every big mission plays out almost exactly the same way: Once you start recording a song or video, or performing in a club, you'll just tap the icons on the screen until you run out of energy. The buttons claim to be for different tasks—like a guitar solo or networking—but the result is the same: Little currency icons spill out onto the floor for you to tap, and you'll repeat until you've filled a meter of musical notes… or time runs out.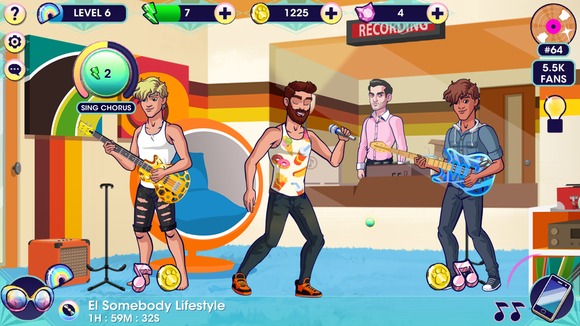 While there's zero depth to the interactions here, at least the world of Katy Perry Pop is properly infused with her spirit. Perry herself appears in video interludes early on, and more frequently as an avatar offering advice and direction. You'll also meet notable characters from her pop life, such as Kitty Purry and Left Shark, plus you're granted magic glasses that turn each environment into a trippy wonderland full of odd sights. Kudos to Katy for keeping things slightly weird—it makes the stale, freemium-heavy gameplay a bit easier to stomach.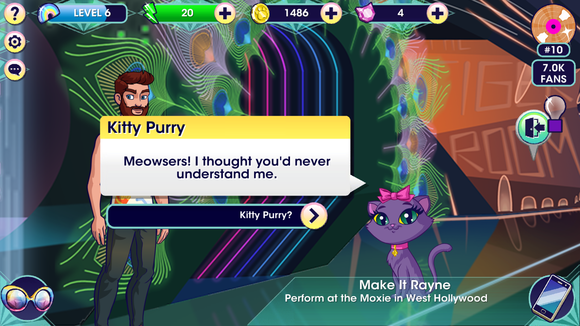 The catch
For a while, at least. Katy Perry Pop is not only staggeringly superficial in design, but also very limiting in how much you're allowed to experience in any given stretch due to its stringent energy system. Case in point: If you start a mission, whether it's recording a song or playing a show, you'll probably breeze through your entire energy meter in two minutes, tops. And then it could be a couple hours before it fully regenerates.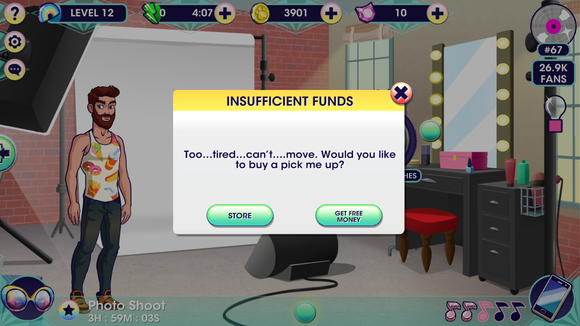 Each action—like passing out flyers or adding an impromptu jam to a show—typically requires several energy points, which you'll quickly dish out like a stack of cash at the club. And then what? Well, you either wait for the meter to slowly regenerate, spend money to purchase premium currency to fill it back up, or watch video ads or agree to special offers to avoid spending real money.
Both Katy Gems—used to purchase energy boosts or skip delays elsewhere—and Katy Cash, which can be spent on clothes and gear, are sold in bundles up to $100 apiece. And it's easy to blow through those piles of imaginary money. I dropped $10 to buy 105 Katy Gems and was tapped out after just three or four energy meter refills. In other cases, I watched 30-second video ads to gain an extra energy point here and there, but progress comes slowly.
Elsewhere, video ads pop up during gameplay at times with no warning, hijacking your device in the middle of a mission. And what's especially disappointing is that Katy Perry Pop doesn't offer much in the way of freebies—where you could count on picking up currency from tapping on icons in the neighborhoods in Kim Kardashian: Hollywood, there's little of the sort here. The energy restrictions are just too tight to let you have much fun without spending a ton.
If you still plan to push through, a word of advice: Turn off notifications. They are incessant and come in waves, with three or four coming within 15 minutes in some instances. Unless you're trying to eagerly push through missions in a hurry—particularly if you're not spending money—it's not worth the frequent intrusions.
The verdict
Colorful and engaging as Katy Perry Pop's cartoonish aesthetic may be, Glu didn't bother building much of a game here—nor are you allowed to experience much of what is on offer when you try. Gameplay is limited to tapping your way through busywork missions, but the energy restrictions are so tight that you'll have to come back every couple hours just to nudge the progress along a tiny bit.
At least Kim Kardashian: Hollywood budged enough on the freemium limitations to let you enjoy a little more of the game with persistent play and exploration. No such luck here. Who knew the pop star life could be such a drag?