After four decades, Microsoft is at an interesting crossroads: Windows isn't the cash cow it once was (they're finally taking a page from Apple and giving away Windows 10!), Office faces increased competition from free productivity software, and Internet Explorer (now Edge) is no longer the web browser of choice. Even the once-mighty Xbox gaming platform has lost some of its dominance, shipping half the number of units during the third quarter as Sony's PlayStation 4.
What's a former technology giant to do? Apparently use some of its dormant innovation to find other untapped revenue streams. Microsoft's Computational Photography Group has been working quietly behind the scenes for more than 20 years but appears ready to show the world what it's been up to all this time.
One such product is Hyperlapse, a fancy name for a technique that combines first-person videos like those shot on smartphones or GoPro action cameras with traditional time-lapse plus motion stabilization. The result is a breathtakingly smooth visual that turns otherwise boring footage of a skiing trip, bike ride, or walk through the park into something unforgettable.
Not to be confused with Instagram's largely forgotten iOS app of the same name, Hyperlapse launched earlier this year on Windows, along with mobile versions for Android and Windows Phone. Curiously, there's still no iPhone app (trademark issue, perhaps?), but at least Mac users can now join in the fun by speeding up the pace of their smartphone videos.
Interface quirks
Available for the first time on OS X, Hyperlapse is easy-to-use software that produces quality results with a minimum of effort. The trial version is free to download from Microsoft's website, but adds a watermark to the processed video; purchasing the Pro license eliminates this restriction.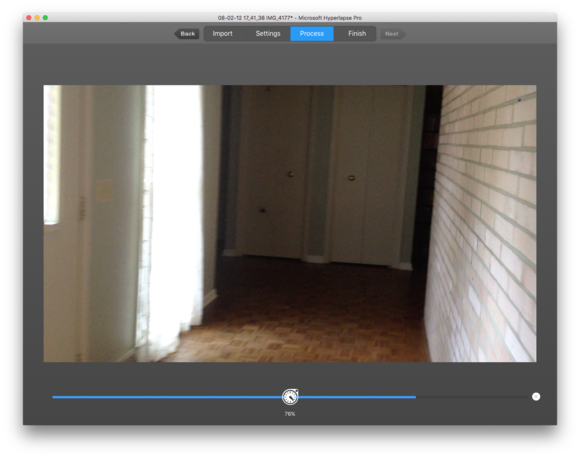 Creating a Hyperlapse movie is simple: Import a movie, tweak a few settings, then wait as the software processes the results into a new file. Videos can be trimmed at the head and/or tail prior to processing, and speed can be adjusted in 1x increments all the way up to 25x, giving longer clips a sense of urgency and ultimately a more thrilling experience.
Although it's hard to argue with the impressive results, the actual software feels half-baked. On the opening screen used to start a new project or open an existing one, there's a blank Twitter feed on the left side that never loads, this after the previous version had a similar issue where the social media team apparently neglected to give engineers a heads-up they were changing accounts. (Yes, really.) Version 1.5 has at least fixed a couple of similar issues under the About and Options menus, where grey blocks formerly appeared in place of buttons.
Neither UI glitch detracts from using the software, and thankfully, the latest update addresses an issue where Hyperlapse was being finicky about processing videos shot with my iPhone 6s Plus held a certain way—with the volume buttons facing up, which has been the Apple-approved method for several years now. In the previous version, no matter how I imported these files to the Mac, videos shot this way displayed properly at first, only to appear skewed to the right and vertically flipped on the Settings tab, or when processed. I'm happy to report this is no longer an issue with version 1.5.
Super speed
The Settings tab is where most of the action happens: In addition to the Speed Control slider, users can manually select the type of camera the clip was shot with. This setting is used to help smooth motion, making it feel more like floating through the scene rather than the shaky handheld look.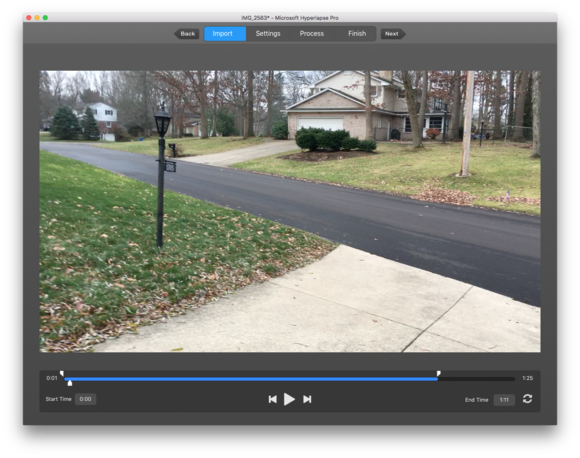 There are two Smoothing options: Standard offers faster processing with average videos, and it's the only option available unless you first select the type of camera used. Advanced works best with action cam footage, but in my tests produced more fluid, results at the expense of much longer processing time: A 30-second clip in Standard mode completed in three minutes, for example, while Advanced added another 14 minutes to the process.
Users can also manually configure output frame rate and resolution, and in version 1.5, the software engineers corrected an earlier issue where the Settings labels appeared swapped. (The frame rate pulldown menu was labeled Resolution, and vice-versa.) I also tested Hyperlapse with 4K video shot on the iPhone 6s Plus, and to my surprise, the software offered native export resolution alongside a 1080p HD downscale option.
Although the Pro upgrade removes watermarking from processed videos, both versions of Hyperlapse are limited to saving MP4 files. I was able to import higher-quality ProRes video—which at first appeared blank on-screen until I fiddled with the trim controls to refresh the thumbnail—but there's no way to save content out the same way, let alone any other QuickTime format.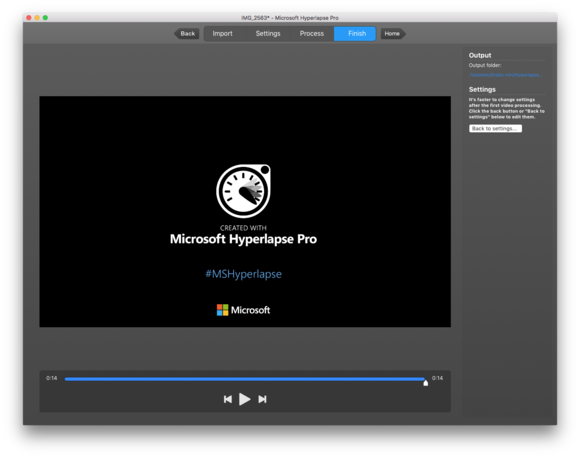 Bottom line
Microsoft Hyperlapse Pro creates smooth, stabilized time-lapse from first-person videos shot with smartphones and action cams, but the software feels rushed to release without the quality control team getting a good look at it first.