Henry Albert writes in with a puzzle related to using AirPort Utility to configure his network's Apple base stations:
On my MacBook Pro and my iPhone, the access points appear correctly, just not on [my wired] iMac. What's different on the iMac? It's wired to the network. Its Wi-Fi is just lurking—on but not connected to any access point. The other gadgets are using Wi-Fi.
Henry might be suffering from an interface selection problem. Most people probably never click on the Other Wi-Fi Devices menu in the upper-left corner of the AirPort Utility overview. When you do, it shows other configurable base stations—but also reveals network interfaces if more than one is active.
On my main office computer, a Mac mini, I'm connected via both Wi-Fi and ethernet to the same network. I'd prefer to use just ethernet, and have that set as the top network interface in the Network system preference pane, so it's used preferentially over Wi-Fi. But I can't disable Wi-Fi or Continuity features that require Bluetooth and Wi-Fi won't work; nor will AirDrop.
In Henry's case, with his Wi-Fi adapter not connected but active, AirPort Utility may not show his network unless he's changed the selection in the pop-up menu to ethernet.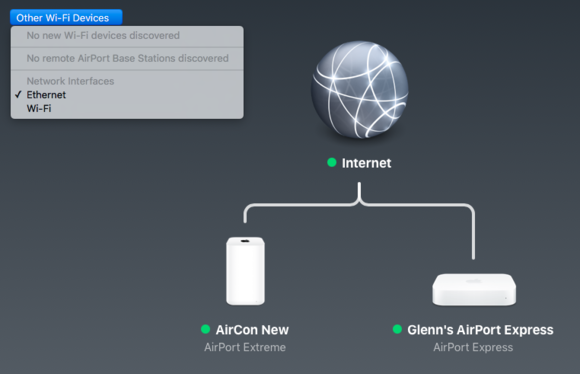 Ask Mac 911
We're always looking for problems to solve! Email yours to mac911@macworld.com including screen captures as appropriate. Mac 911 cannot reply to email with troubleshooting advice nor can we publish answers to every question.