You remember the photo app Enlight, the mobile Photoshop-style editing competitor that last year took the iOS app world by storm?
A new update, released by Lightricks on Thursday, makes your favorite images viewable to many more eyeballs in a wider scope of venues. Version 1.2.5 kicks off a partnership with Kite.ly, the U.K.-based photo printing startup, that now lets you use your Enlight images to decorate a host of popular consumer gift and collectible items: mugs, iPhone cases, t-shirts, wall canvases, photo books, stickers, and other collectibles, all from within the Enlight app's Print command.
Kite.ly, whose Kite SDK was featured at the Mobile Photo Connect conference last year, provides developers a way to let mobile apps offer in-app personalized printing on demand for some 250 products. Its worldwide product fulfillment and distribution network promises to deliver orders quickly to users in more than 57 countries.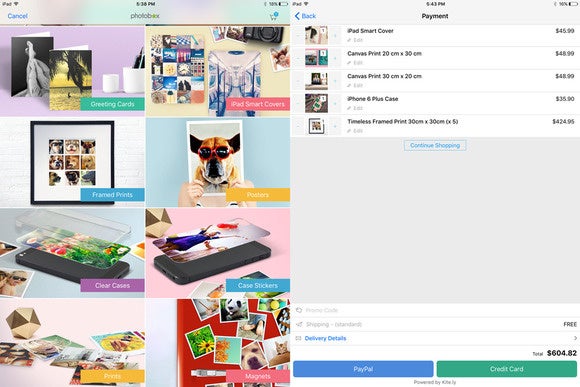 When you're finished editing your image, tap the Share button and then tap Print. That leads you to the Photobox module, where you can order your poster, greeting cards, magnets, framed prints or other items. Just follow the on-screen prompts to build your creation. For every item I entered, shipping was free. Payment options included PayPal or credit card.
In addition to split screen support for the iPad, the upgrade also brings higher resolution editing capabilities for both iPhone and iPad, including up to 50 megapixels without downsampling—for the iPad Pro. You can now edit images of up to 35 megapixels on iPhone 6s models, the iPad Air 2, and the iPad mini. For the iPhone 6, 5s, 5, 5c, iPad 3 and iPad mini 2, image editing is now available for images up to 19 megapixels, again without downsampling.
Enlight is available in the App Store for $4.
Why this matters: The vast proliferation of mobile photography seems to work in inverse proportion to actual photo viewing. Enlight's expanded capacity to create new ways to view and use photos, coupled with its ability to work with higher resolution images, widens potential viewing opportunities for all photos in your Camera Roll.