On Thursday, Microsoft released a laundry list of improvements to its Office apps for the Mac and iOS, focusing on inking as well as giving Mac users a sneak peek of what's coming down the pipe.
In response to Apple's launch of the iPad Pro and the Apple Pencil, most of Microsoft's improvements focus on inking, specifically for the iPad and iPad Pro. But Microsoft also announced the first iPhone, iPad, and iPad Pro versions of Morph and PowerPoint Designer, two intelligent tools for creating PowerPoint presentations that had previously only been available for Windows.
Mac users will also be eligible to join the Office Insider program, where they can beta-test new Office features before they're released to the general public. If nothing else, this should give Mac users the warm, fuzzy feeling that they're now on the inside track, having been left out in the cold by the Office team for years. To join, you'll need to opt in to the Office Insider build from the Microsoft Auto Update (MAU) tool on your Mac.
Why this matters: Apple clearly envisions a future where more and more is done on mobile devices, especially tablets—a belief Microsoft has pushed forward with its Surface devices. Both tablet platforms now have active styluses, which makes it even easier to keep the iOS version of the Office apps up-to-date with their Windows counterparts.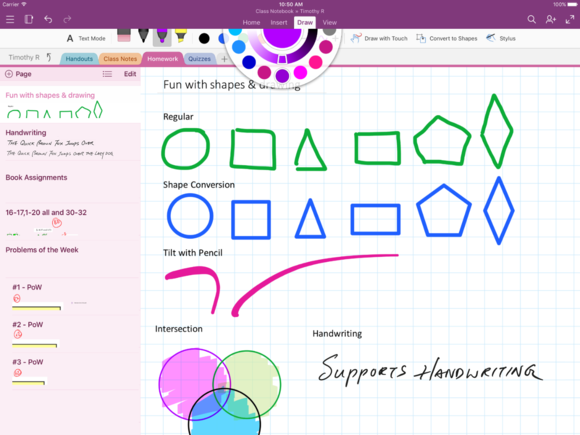 Inking improvements
The inking improvements Microsoft made to the Office apps should be immediately noticeable; when an active pen approaches the iPad, you'll be able to instantly write on a document on an iPad (or Windows). And a new Draw tab has been added to the ribbon, complete with a full palette, different pens, and an object select capability. That tool also allows you to convert drawn shapes to their "true" counterparts—transforming a hands-drawn circle to something that looks a bit more professional.
The new inking capabilities— see the full list here—don't require iPad Pro and the Apple Pencil—any Office 365 subscriber can use them in the Office for iPad apps, using an Apple Pencil, regular stylus, or even a finger, although active styluses like the Pencil will be auto-detected.
Microsoft has also brought its Morph and and PowerPoint Designer tools from Windows to the iPhone, iPad, and iPad Pro. Originally launched last year for Windows, Designer automatically pops up a sidebar on the right-hand side of the PowerPoint window with a handful of design ideas when an image is selected. And, as the name suggests, the Morph tool adds subtle transitions between slides—no flying text or bouncing images here.
Microsoft said all of the updates should be available today, via updates to the Office apps for the iPad and iPad Pro. For specifics, you can also follow Microsoft's new @OfficeInsider account on Twitter.