These days, keeping up with games can be a full-time job. So how do you separate the signal from the noise, the wheat from the chaff, the Temple Runs from the Temple Jumps? Allow us to help by regularly selecting a game You Should Play.
Exploration. Crafting. Soul-eating demons. All in a good day (and night)'s work.
That's the appeal of Terraria, a 2D sandbox game by Re-Logic. Though initially released in 2011, Terraria initially slipped by under the radar. To my surprise, the game holds up surprisingly well—the pixelated open world exploration and core crafting mechanics are still compelling features that are comparable to more modern sandbox titles like Don't Starve. Here are three reasons why Terraria will be the next game you download for your iOS device.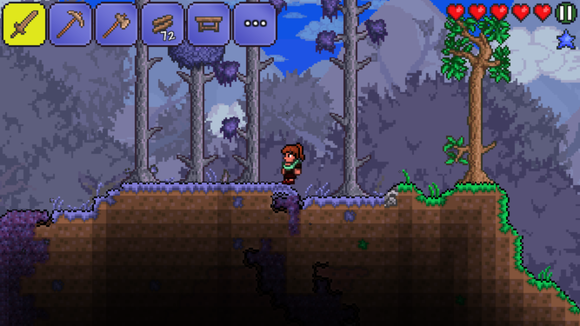 Vast world, varied terrain: Terraria is partly randomly generated, meaning no two worlds are alike. I can attest to this, having spent a few hours in a game with a deep network of caves to my left and then, in another game I started, found that area instead home to a bleak purple forest. Though reminiscent of 16 bit games, the world is surprisingly detailed, with flowers, sand, water, flora and fauna, etc. Each area has its own craftable materials, enemies, treasures, and aesthetic. Nearly everything in the world can be chopped down, mined, or killed. You can spend hours exploring the deep water caves or digging holes through mountains, looking for important ore.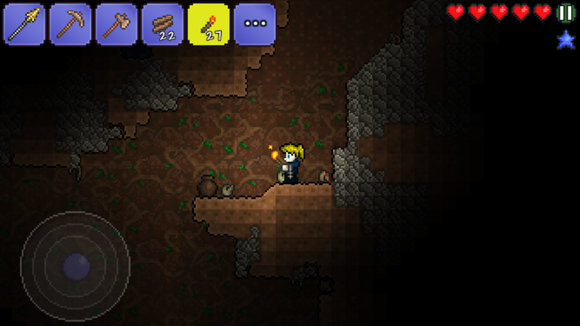 Ore you can just craft: Nearly everything in the game also can be utilized to craft better materials. You'll chop down a tree to collect wood and build a house. Later, you'll collect iron to build a sawmill or upgrade your armor. Once you construct the workbench, you can make tactical decisions about pouring your resources into weaponry and armor or build better defenses for your home or even build other constructs that will open up new, more advanced items and constructions. Of course, all of this building isn't just for show: The world may be rife with friendly sunflowers and acorns, but also home to some nightmare-inducing enemies.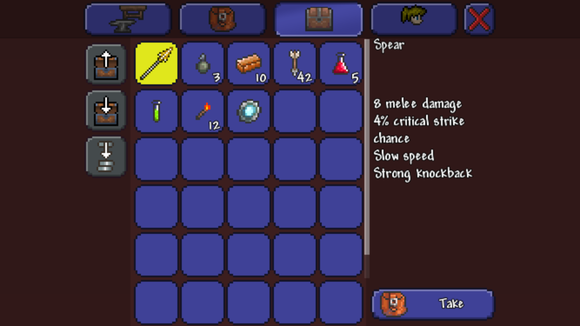 Stay by the light to survive the night: Terraria is also a survivalist game. While not as hopeless as Don't Starve, the danger is just as real. The game operates on cycles of day and night and during the night, zombies, flying demon eyes, and other beasties spawn with the intention of killing you. So building that wooden house with secure walls is a pretty important venture. As you explore the landscape, you'll find that you'll often find yourself far from your cozy home and therefore have to improvise a quick shelter to survive another night. Terraria does a good job of encouraging exploration by planting loot throughout the world (throwing knives, potions, rare materials) while also infesting the landscape with enemies that only grow more ferocious the longer you survive.
Terraria is very much what you make of it: Your character is customizable, as is your play style—explore as a well-armored soldier or hole up in a stone fortress, watching your enemies fruitlessly knock into your walls. For the sandbox gamer who wants something a bit more approachable than Minecraft but not as bleak as Don't Starve, there's Terraria.