Your Instagram videos are getting the augmented reality treatment thanks to a new mobile printer.
LifePrint can print instant photos directly from your iPhone, Android phone or GoPro via Bluetooth. It uses Zink film and its thermal printing technology so it does not require ink or toner. In that aspect, LifePrint is very much like Polaroid Zip Instant Mobile Printer. In fact the two mobile printers are nearly the same price. LifePrint is $129 and Polaroid Zip is $129.95. Except that LifePrint can print Apple Live Photos, GIFs, Vines, Instagram videos, and GoPro clips. And you can use the LifePrint app to see these how these printed images move, loop, and rewind.
LifePrint's app for iOS and Android connects to your camera roll and social media accounts (Facebook, Vine, Instagram, YouTube and Twitter) so you can quickly select which image you'd like to send to the printer. If you want to print a video or a moving image—like a Vine or Live Photo—then you get to select the exact still frame you'd like to have printed. Moving images that get printed as a still photos are referred to as HyperPhotos. You can use the LifePrint app's augmented reality viewfinder to bring these HyperPhotos back to life.
Here's how it works: When LifePrint prints a HyperPhoto, it adds a special code to the picture that's not visible to the eye. Meanwhile, the LifePrint app uploads the associated raw image file to the LifePrint cloud. When you want to view the moving photo, the app uses photo recognition technology to pick up the invisible code and matches it to the raw file of the moving image. The app then pulls up the raw file from the LifePrint cloud and plays it instantly, along with any audio. You can watch the video above to get a better idea of how LifePrint works.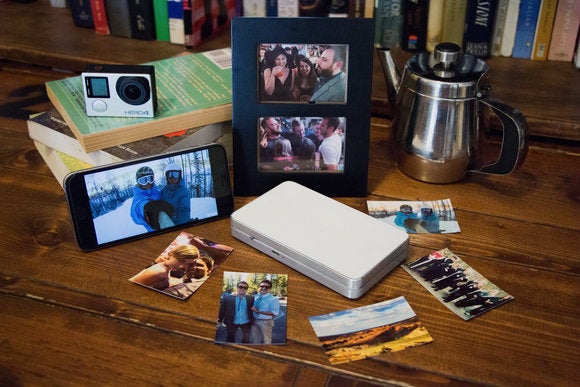 LifePrint takes about 30 seconds to print a picture, whether it's a regular still image or a HyperPhoto. The printer takes about an hour to charge and you can print up to 15 photos on a full charge. Even though you won't need to refill it with ink nor toner, Zink film costs about $0.50 per photo.
You can pre-order LifePrint now for $129 and get it shipped to you in August. After initially raising over $200,000 on Kickstarter, the LifePrint team is now using Indiegogo as a pre-sale platform.
AR photos are the next social surprise
In addition to including an invisible code, LifePrint also adds a watermark to the corner of your HyperPhoto so you can tell which images are equipped with this augmented reality technology. There's also an option to remove the watermark altogether.
LifePrint doesn't require you to print a still frame taken directly from the moving image if you want to create a HyperPhoto. In fact, they can be completely unrelated so you can pull off an amusing bait-and-switch. For example, you can print a still photo of a sexy model that will play a clip Rick Astley singing "Never Gonna Give You Up." Think of it as "rickrolling," augmented reality style.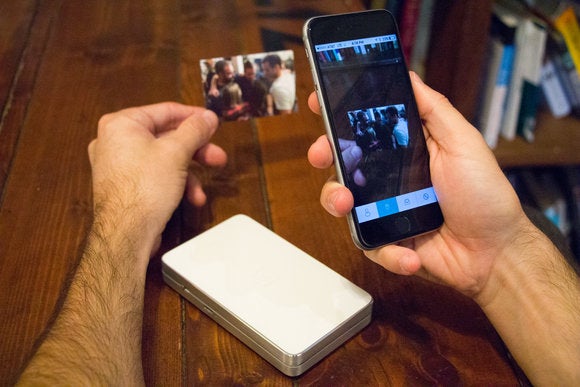 HyperPhoto clips can last up to 15 seconds, the length of an Instagram video. However the LifePrint team is hoping to increase the length to two minutes so in the future you might be able to watch an entire music video or movie trailer by viewing a HyperPhoto with the LifePrint app.
In the future, LifePrint also hopes to bring this AR photo-viewing capabilities to the masses. LifePrint-made movie billboards, for example, would play an exclusive movie clip, and pop stars might want to send photos to their fans that play their latest music video. Bringing QR code-scanning to a more visual realm is something other mobile companies are starting to tap into. Last month, song recognition app Shazam partnered with RCA Records to send music fans a postcard of their favorite artist. These fans were then able to use the Shazam app to view the postcard and unlock an exclusive song.
Connected printers do photo-sharing IRL
AR technology is not the only thing that differentiates LifePrint from the Polaroid Zip. The LifePrint app also has your standard social features: adding friends, liking photos, and posting comments. But with LifePrint, you can do photo-sharing in real-life and even remotely.
Once your friends pair their LifePrint printer to their LifePrint profile, you can use the app to send them a photo to have printed remotely on their LifePrint printer. You can even send a photo to all your friends at once. Your friends will then get a notification on the LifePrint app where they can choose to print the photo or ignore it. If they choose to have the photo printed, they can go back to the app to add a digital "like" or comment.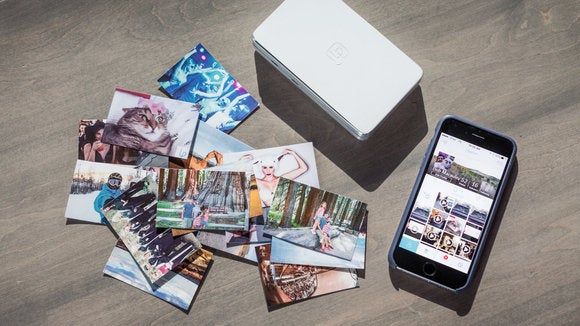 LifePrint is hoping that social media stars and celebrities with a lot of followers might want to mass-send a HyperPhoto to all their fans with a LifePrint printer to unlock promotional content, similar to the Shazam and RCA Records stunt.
For normal folks, LifePrint's connected printer network might also be a fun way to send party invites, greeting cards, or family holiday pictures. Of course, this relies on all of your friends having a LifePrint printer at home.