A previous iPhone model could be making a comeback.
According to 9to5Mac, Apple will introduce an iPhone 5se this March with curved edges and Live Photos capabilities. Its predecessor, the iPhone 5s, was first released in 2013 but it's currently still on sale.
This report comes amidst rumors that Apple has been prepping to release a smaller version of its current generation iPhone, potentially a 4-inch 6c version. Turns out, however, that the 4-inch iPhone 5se is set to be the smaller alternative that Apple is launching this year, according to 9to5Mac.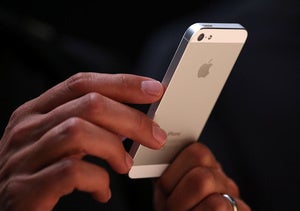 The iPhone 5se will mostly retain the original 5 design, including the headphone jack, except it will have iPhone 6-style curved glass edges. This model will also take some key specs from the most recent iPhone line, like an A8 chip, an 8-megapixel camera, and an NFC chip for Apple Pay.
In addition, the iPhone 5se will be able to take Live Photos and will come in Silver, Gold, Space Grey, and Rose Gold. Even though this model will support Live Photos, the iPhone 5se will reportedly lack 3D Touch.
According to the report, Apple employees have been told that the "se" stands for either "special edition" or "enhanced" version of the iPhone 5s. 9to5Mac also reports that the current iPhone 5s will most likely be discontinued.
The iPhone 5se is expected to be introduced during Apple's March event, in time for a late March or early April launch.
Why this matters: Even though phablet-sized smartphones are starting to take over, there are still people who prefer having a phone they can fully hold in their hands. By resurrecting a smaller iPhone model, Apple is betting that there is enough interest to create a line of different-sized iPhones. With the iPhone 7 most likely coming in the fall, it'd be interesting to see three different iPhone sizes (and generations) on the market at the same time.