The News app on your iPhone might start giving you access to more paid articles from paywall sites like The Wall Street Journal, The Economist, and The New York Times.
According to Reuters, Apple is planning to make paid-subscription content available on its News app for iOS 9. This would entice subscription-only publications to offer more content to News readers. Right now Apple News does have a few paywall sites in its roster, including The Wall Street Journal, but these publishers have to either offer their content for free or share only an excerpt that drives readers to the publication's website. By incorporating access to paid subscriptions, readers would be able to go through the paywall and read the entire article without leaving the News app.
"Ensuring subscription mechanisms in our off-platform distribution partnerships is critical," Katie Vanneck-Smith, chief customer officer of Dow Jones (The Wall Street Journal publisher), told Reuters. The WSJ currently posts just a handful of free articles on News every day.
Details on how this subscription mechanism might actually work were not revealed. One option is that Apple would support paywall credentials from different publishers, meaning that readers would have to sign in individually to access their subscriptions. Apple currently does something similar to this with its Apple TV platform, making viewers authenticate their cable subscription each time they sign in to a different channel app.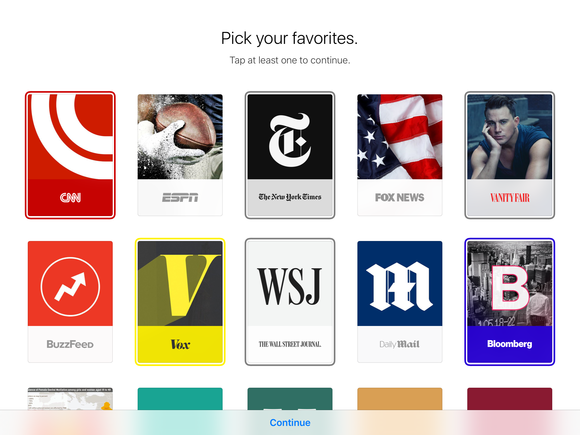 Apple might also offer a way for new subscribers to sign up to read subscription-only articles via App Store billing and take a cut of the subscription fee. Apple currently supports this subscribe-via-App Store option with services like Netflix, Spotify, and HBO Now, taking the standard 30 percent cut each month.
Apple has said that 100 publishers have signed up to be a part of News, lured by the potential reach of the app that comes preinstalled on the iPhone. But according to a WSJ report, publishers weren't impressed with the number of readers that Apple News was delivering. Apple attributed the low figures to a glitch that may have been underestimating the number of News readers—but because of the glitch, Apple has no clue how many readers use the app on the regular.
Why this matters: By focusing on premium quality over mass quantity, Apple is hoping this change will distinguish its News app from competing editorial products by other tech giants. Facebook Instant Articles, for example, does not offer subscriber-only content, and Google's Accelerated Mobile Pages might load an article instantly from the search results but that doesn't help at all if the article is still hidden behind a paywall.
One way Apple could distinguish its product is by creating a bundled subscription package to News so that readers could access several paywall publications for a set monthly price paid to the App Store. Although this would differentiate News the most, becoming a platform for premium content, it's also the least likely, since Apple has been trying (and failing) to pull this off with TV networks for years.