If you walked into a store selling Apple computers in the spring of 1997, you might have been greeted by the above screen on the Macs that were on display. Actually, given that acid orange, "greeted by" doesn't do it justice. "Stopped in your tracks by," possibly, or maybe "smacked right in the kisser by."
What you're seeing is the main menu of the Consumer In-Store Demo CD-ROM, made by a company called 25ème Heure for Apple Computer Europe, designed to let you explore all the amazing things you could do with a Mac. And it is a thing of beauty—so long as you define "beauty" as "something that reeks of the '90s but that you have a sneaking love for because it's so evocative of a particular time in your life". I mean, get a load of this drop-shadow.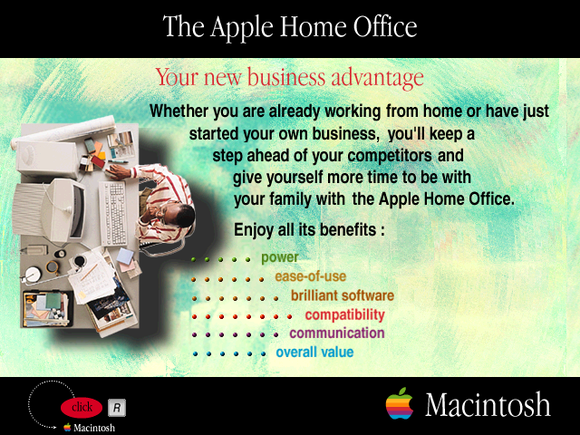 Or of this globe-hugging kid with the oversized hands.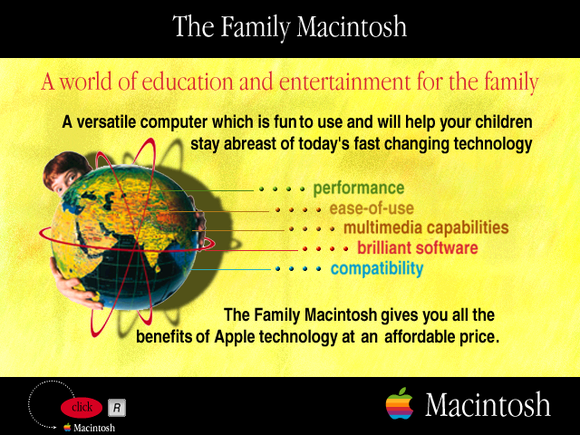 Or of this green, a hue which ceased to exist at midnight on December 31st, 1999.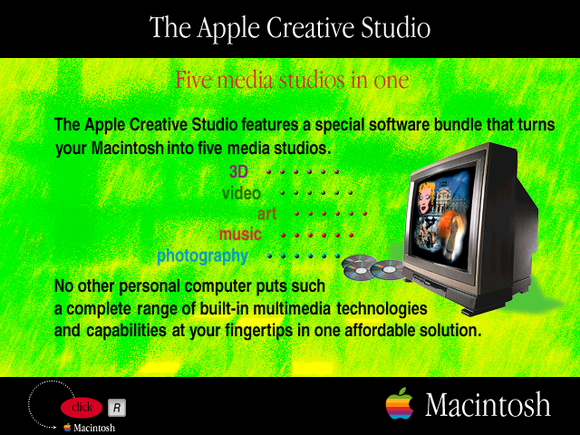 At a technical level, mind you, this was actually quite a smart system. You couldn't quit the demo without a (configurable) password, it "programs the Macintosh to automatically turn on at 9:30 every day even in the case of a power failure", puts an alias in the Startup Items folder but ditches all the others in there, cuckoo-like, and as well as disactivating [sic] the network on launch (and reactivating on quit) to ensure QuickTime movies aren't slowed down, "the message 'this Macintosh has not been shut down correctly…' is disactivated to avoid blocking the computer at start-up."
But it's the sheer '90s-ness of the CD-ROM that I want to celebrate today. Let me draw your attention, for example, to this crime against typography.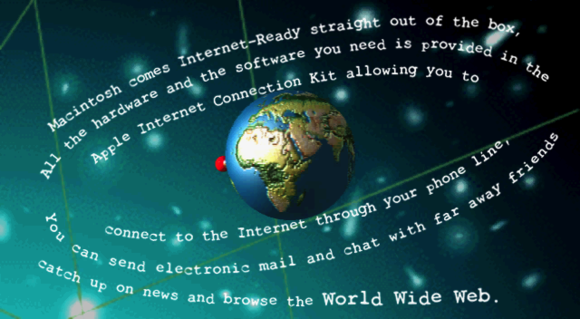 It gets better, because it's actually a movie.
I'm not sure what the color-changing orbiting dot is supposed to represent. Possibly it's a metaphor for the designer, coked to the eyeballs, feeling an immense sense of possibility and promise as he surveys his workspace, and oscillating between periods of euphoria and deep despair.
The internet—which, remember, was really only a couple of years old at this point—provides fertile ground elsewhere for some truly magical videos. Witness this one, where what I can only describe as a folder with a face invites you to see "an example of what it's like to take a trip on the information superhighway" with a spiffing English accent.
Lest you find the above demo too desperately exciting, take heed of the admonition at the left of the screen that "This is only a simulation." The internet can't possibly be as viscerally intoxicating as that.
Then we come to this video, which showcases not only the Mac's telecoms tools but also every possible animation and filter preset on its creator's computer. And some funky beats to boot.
Can we take a moment to talk about how we're shown a fax being sent to Sherlock Homes? This is perplexing, in part because the fax wasn't invented till 80 years after the great detective first made his appearance, and in part because that's not how you spell his name. The latter might seem like a mere typo, but earlier in the video we see a cover page info page for the sender: Terry Holmes. This raises more questions than it answers, however; are we to understand that there is a third Holmes brother? What's wrong with him that he got shipped off to New York? And what befell his parents that after "Sherlock" and "Mycroft," the best they could muster was "Terry"?
Scarcely less pressing questions abound elsewhere. Take this video for Adobe PhotoDeluxe—whose existence I has mercifully expunged from my memory until today—for example. More specifically, take its soundtrack, for which someone could apparently only afford 1.8 seconds of music.
Or take this video, which prompts the question "Has there ever been a soundtrack which is more excited about duller engineering models?"
Or this one, which mostly prompts the question "Can we really not get out of going to Bob's Birthday Beach Bash tomorrow?"
Or, finally, this one, the pre-roll introductory video, which doesn't so much prompt any one particular question, but basically all the questions all at once. It starts off sane enough, but, well, just watch it.
There's nothing I can add to that.