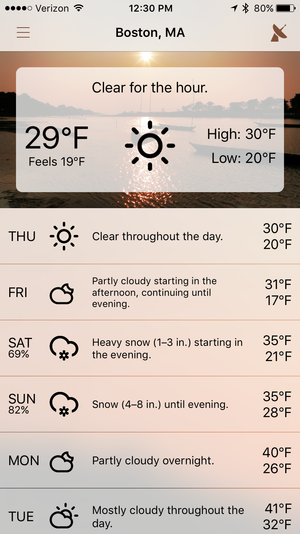 Forecast Bar may be the most inevitable app ever created for the iPhone. When it launched last year for the Mac, it brought the flavor of iOS to OS X, putting a sleek weather forecast in your menu bar (hence the name). Everything about it was heavily influenced by iOS, from the at-a-glance interface to the hidden charts and animated icons, and it was refreshing to see a mobile-minded developer bring their vision to the Mac first.
But anyone who used Forecast Bar knew it wouldn't stay locked on the Mac forever. It would be doing the app a disservice, and besides, weather apps and the iPhone go together like peas and carrots. So when I saw that Real Casual Games had released a version of Forecast Bar in the App Store, I rushed to download it.
Just as I expected, Forecast Bar feels right at home on iOS (despite it not actually being a bar). Launching it brings up a screen that will be instantly familiar to users of its Mac app. At the top, you'll find a quick summary of the current conditions—temperature, real-feel, highs and lows, and a brief sentence explaining what to expect over the next hour.
Tapping anywhere within the box leads to a beautiful page with expanded data, including time of daylight, visibility, moon phase, dew point, and humidity. There's a good amount of information here, but Forecast Bar keeps it all under control, utilizing tiny meters to add a bit of visual flair and boost its glanceability. It's so good, I wish there was a setting to make it the main screen.
Returning to the main page, you'll see a seven-day forecast below the today box, with icons and temperatures accompanied by a brief but useful text summary. Tapping on a day expands it to show a chart displaying one of four details: precipitation, wind speed, humidity or UV index, along with cloud cover and temperature. Once again, Forecast Bar shines here, packing an array of information into a small space without it feeling cramped or cluttered.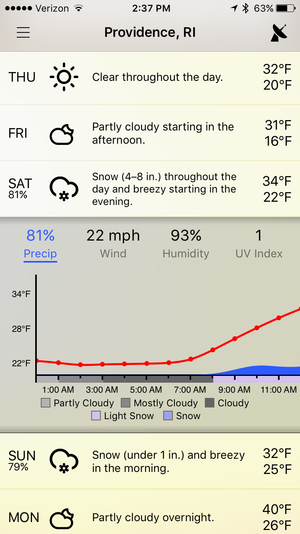 Radar love
Like the Mac app, Forecast Bar for iPhone is powered by Forecast.io, which means it delivers super-accurate data and also features the same gorgeous radar map found in the Dark Sky app. Tap the satellite button in the top right to see a 10-day moving stretch of radiant blues, pinks, and yellows. Sadly, you can't span the globe for precipitation without visiting the settings to change your location, but watching storms form and dissipate in a single place is no less mesmerizing.
Equally enthralling is its implementation of Forecast.io's Time Machine feature, allowing you to see the weather on a specific date decades into the past or future. I spent more time browsing past dates than actually checking the forecast, and if you're a weather junkie, it's worth the $2 download for this feature alone.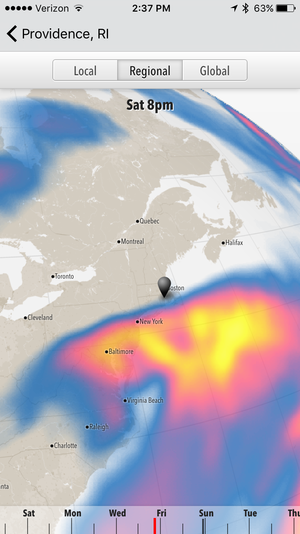 Inside the settings, Forecast Bar lets you customize things like units, language and the look of the icons, and while I wouldn't mind things like a dark mode [Editor's note: dark mode was added via an update that arrived after this review was written] or the ability to change the current conditions image, I was more than content with the options. My only real issue with the app was with the daily summary notification that was supposed to arrive every morning at a time of my choosing. No matter how many times I toggled the "enabled" button or fussed with the notification settings, it refused to appear.
But that was a minor issue compared to the top-notch experience Forecast Bar delivered. If you're a fan of the Mac app, the touch-tooled interface will be a pleasure to use, but even if you're not, Forecast Bar will quickly charm its way into becoming one of your favorite weather apps.
Bottom line
Forecast Bar on the Mac always had the soul of an iOS app, so it's no surprise that it shines on the iPhone.