Apple just reported its financial results for the holiday quarter, which ended Dec. 26, and unsurprisingly, the company posted huge numbers: $18.4 billion in profit on $75.9 billion in revenue. The company sold 74.8 million iPhones, which is slightly less than the 75 million expected from sales of the new iPhone 6s and 6s Plus, though still nothing to shake a stick at. Apple's Q1 is the most profitable quarter any company has ever reported. Ever.
But here's the deal: iPhone sales won't keep climbing forever—though they're still growing, it's at a slower rate than ever before, from 74.5 million units to 74.8 million year-over-year. Apple expects revenue in the current quarter to decline year-over-year, from $58 billion during last year's Q2 to between $50 billion and $53 billion when the quarter ends in March.
The iPad took a huge hit over the holidays—the company sold 16.1 million iPads, down 21 percent from 21.4 million from the first quarter last year, and that even includes early sales of the iPad Pro.
The Mac is also slipping, from 5.5 million units sold last year to 5.3 million this year. Apple's "other products" category, which includes the Apple Watch, is a bright spot: The company made $4.3 million in that category, up from $2.6 million in Q1 2015. That obviously isn't enough to make up for the eventual iPhone revenue decline, but it shows promise—though "other products" also includes Apple TV and Beats.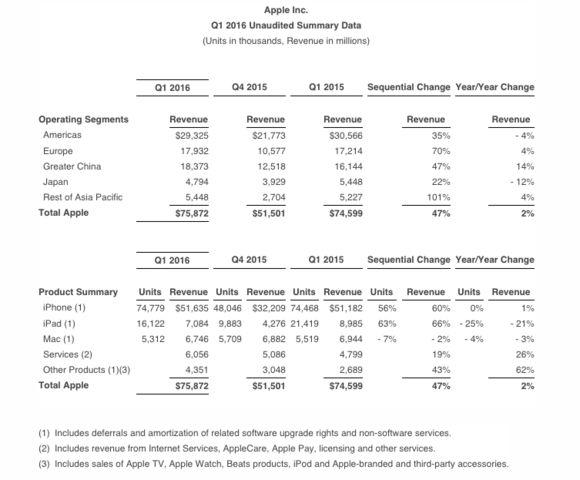 The year ahead
Analysts and investors had a close eye on today's earnings report, though not exactly for the holiday numbers. Instead, they were seeking guidance for 2016, some sort of sign that Apple expects a slowdown—the first time the company expects iPhone sales to decline year-over-year. And that's exactly what they got.
Apple has reportedly cut back on iPhone production, and its Asian suppliers, like chip company TMSC and phone camera lens maker Largan Precision, have downgraded expectations for Q2 revenues. According to a January Reuters report, some suppliers have said that Apple is now only giving orders one month out instead of the standard three months.
Those supplier reports and China's economic slowdown are troubling for people who hold Apple stock or get paid to predict where Apple stock is heading, and have sent Apple shares plummeting 25 percent from their peak—they closed at $99.99 today, down from a high of $134.54 last February.
Tim Cook has said before that China's troubles won't send Apple into a tailspin, though China is a huge part of the company's success—in fiscal 2015, Apple made $58.7 billion in revenue in China alone, an 84 percent jump over the previous quarter. Its growth is strongest in China, where demand for iPhones has been high. And the company is still growing there—sales in Q1 jumped 14 percent year over year.
Apple says currency plays a huge part in the revenue slowdown. The U.S. dollar is particularly strong right now, making every non-U.S. dollar spent worth just 85 cents.
We'll have more news after Apple's earnings call, which ends at 6 p.m. Eastern.