Steven Graeber just upgraded to El Capitan and wants to move his photos from iPhoto to Photos for OS X, but:
Photos gave me an option of 5 different libraries to choose from. Why is there more than one? I have never used multiple libraries. And the dates on these are from times I wasn't using iPhoto at all.
You've got a couple of approaches to solve this.
I'd try to figure out first what's in those libraries, to make sure they aren't holding pictures or video you want.
Quit iPhoto if it's open.
Hold down the Option key.
In the dialog box that appears, select an iPhoto library. If they don't all show up, use Open Other to find them.
See what's in the library and whether it contains anything you're missing.
Repeat steps 1 to 4 for each iPhoto library.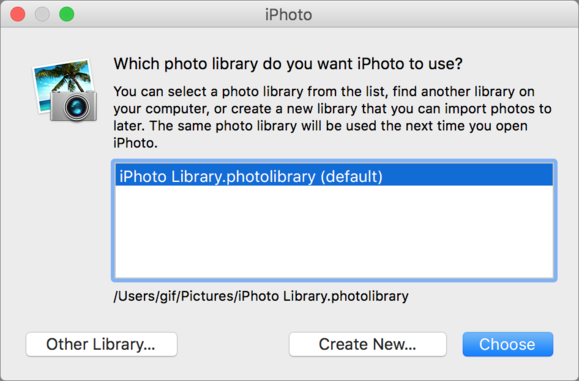 If you find that you have material in each library you want to merge, instead of multiple copies of the same library or empty libraries, you can pick one of the following:
Import each into Photos and maintain multiple Photos libraries.

Pick the biggest iPhoto library and import the entire library into Photos. Then export the media from each of the other iPhoto libraries and import all the media into your master Photos library. (Here's my advice from last year about handling that.)

Spend $30 and get iPhoto Library Manager and PowerPhotos, a bundle that lets you merge iPhoto libraries and Photos libraries, among other advanced tasks, including removing duplicate photos.
Ask Mac 911
We're always looking for problems to solve! Email yours to mac911@macworld.com including screen captures as appropriate. Mac 911 cannot reply to email with troubleshooting advice nor can we publish answers to every question.