These days, keeping up with games can be a full-time job. So how do you separate the signal from the noise, the wheat from the chaff, the Temple Runs from the Temple Jumps? Allow us to help by regularly selecting a game You Should Play.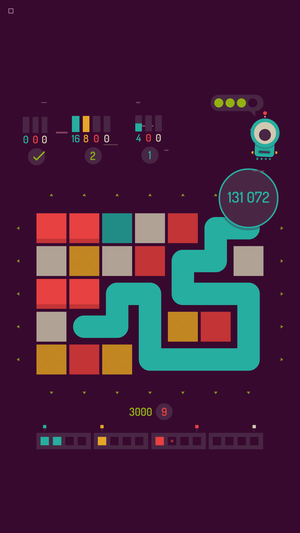 Many people turn to mobile games to fill small pockets of time during their days, which is why fast-paced puzzlers—or ones that limit you to a set amount of moves—tend to rule the App Store charts. But sometimes, it's nice to have a thoughtful, well-crafted puzzle game to really savor, one that challenges you to consider each move before committing to it because the ramifications are significant.
That's part of the reason why a game like Threes! was so instantly enthralling, besides the fact that it was so brilliantly designed. And now Twofold Inc. is here to follow in its grand footsteps. Hailing from the creator of Rymdkapsel—a smart, ultra-minimal take on real-time strategy—this endless puzzler continues that game's low-key design aesthetic while delivering a satisfying, brain-pleasing experience.
Twofold Inc. strikes an ideal middle ground between a color-matching puzzler and the twisting configuration of a Rubik's Cube, and you can't waste a single turn if you want to succeed. Ready to give your mind a fresh workout? Here are three reasons why Twofold Inc. should be your next puzzle obsession.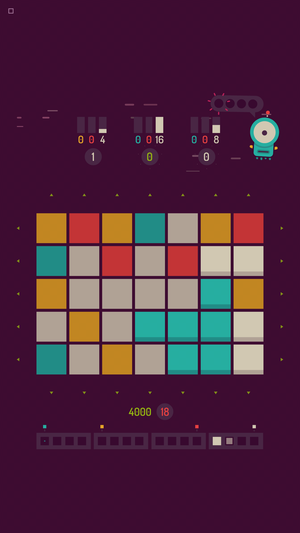 Puzz-worthy construction: Like many of the best puzzlers, Twofold Inc. may look familiar on the surface, but the way its pieces are assembled and intertwine gives off a fresh sensation. It's a game about bringing together like-colored blocks and then drawing a path from one end to the next to clear them from view—and you'll shift entire rows and columns to nudge blocks around the board.
What's the point? Well, you're constantly being fed requests: You need to create a 16 out of white blocks (by clearing four adjacent blocks) within two turns, for example, or a 64 out of yellow blocks (that's six adjacent blocks) within three turns. Ultimately, creating the longest-possible chain isn't all that important: Rather, it's clearing your requests before you run out of turns, otherwise you start losing lives. As such, you'll need to keep making strategic shifts on the board to bring together blocks for when you really need them.
Forethought is crucial: Twofold Inc. is the kind of puzzle game you'll want to obsess over, but also the kind you need to obsess over if you want to dominate the leaderboards. Each turn you take—whether shifting a row or column one step, or clearing a chain of blocks—is not only an opportunity to clear a current request, but also an opportunity to try to set yourself up for the next one. You'll need to think ahead and survey your surroundings to avoid getting stuck with a mess of loose blocks and no quick way to pull them together.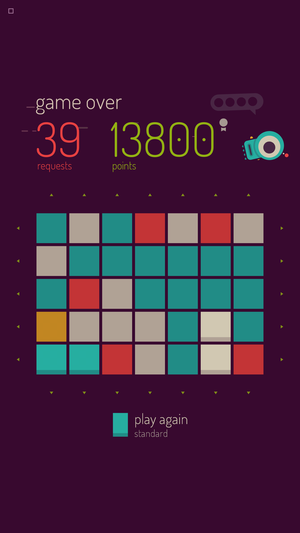 What makes Twofold Inc. particularly challenging is the need draw a complete path through each linked block without crossing back over any. As such, the number of blocks you pull together is just as important as where they're placed on the board, and you won't always have spare turns available to make tweaks before a request is due. Luckily, the game provides a bit of a buffer: As you make chains, you can earn up to a few bonus blocks of each color, which can be dragged onto the board to fix an awkward block set, separate a large cluster of another color's blocks, or expand out a current chain. But that's a short-term fix that doesn't last.
Delightfully designed: Like the earlier Rymdkapsel, Twofold Inc. has a minimal aesthetic: It's not flashy or over the top, but the look is very effective. The cartoonish, one-eyed robot feeding you requests is a nice touch, and there's a nice amount of personality evident in the small animations—it's not altogether dissimilar from Threes! in this regard, actually, although Twofold isn't nearly as bright and chipper.
Add in nice bit of calming, guitar-driven noodling as the backing music and Twofold Inc. sets a lovely tone for a puzzler: One you'll want to play over and over again as you strive to smash your previous top score.
Developer: Grapefrukt Platform: iOS (Universal) Price: $4