Creating and publishing your own ebook is easier than ever before. There are several apps you can use to create your masterpiece—two of which are free—and (happily) there are fewer snafus to watch out for. That said, there are still some details that can trip you up. In this column, you'll learn essential and real world tips for creating ebooks using today's most popular apps.
Provide EPUB and PDF
If you plan to self-publish an ebook—say, rather than being hired to produce one for someone who wants a specific format—provide it in both EPUB and PDF formats. That way your customer gets to pick the format they prefer. In fact, Apple's iBooks Store only accepts ebooks in EPUB and .ibooks (Apple iBooks Author) formats, while Amazon accepts both EPUB and PDF (they convert the EPUB into a Kindle-friendly format). You can also sell EPUB and PDF files through your own sales channel (say, your website or blog) or services such as Tradebit.com, Distribly.com or BookBaby.com.
Pick an app
Happily, all current page layout and publishing programs can output to EPUB and PDF format. This includes Apple's Pages and iBooks Author, as well as Adobe InDesign and QuarkXPress. Each app has its own set of quirks and limitations, so use the one you're most comfortable with.
That said, iBooks Author is a free dedicated and powerful book creation tool, so it sports some super powers the other apps don't have (think glossaries). It includes gorgeous customizable templates (you can buy more from third party sources), plus you can import an existing InDesign or Pages document into it. Alternatively, if you want to design your own layout, consider Apple Pages. It's a free download if you bought your Mac on or after October 21, 2013 (otherwise it's $20) and you can create a ton of other projects with it.

Simple is better, for now
Since EPUB readers (say, iBooks or Kindle) allow the viewer to customize how the book looks (they can change fonts, font sizes, etc.), you have little control over layout. For that reason, it's best to think of your ebook as one long word processing document with pictures pasted into the flow of the text, rather than separate text boxes and pictures that are precisely placed. Unless you're a seasoned EPUB guru, avoid complex layouts and text wrapping around the sides of an image (above and below is okay). Stick with common fonts such as Arial or Helvetica. You can use other fonts, but some ebook readers replace them with basic fonts anyway.
You can create a fixed layout EPUB (fodder for another column), but it has its own set of limitations and, at least as of this writing, it's not compatible with all EPUB readers. And while you can control how a PDF looks, unless you want to maintain two documents for each ebook, it's best to design for the lowest common denominator (EPUB).
Don't use page references
Page numbers in an EPUB are fluid; if the viewer changes fonts, font sizes, or zoom level, the page numbers change, too. For this reason, page references won't work (they work in a PDF but we're designing for the lowest common denominator).
To add a reference to another place in an EPUB, go to that place and, depending on the app, mark it as a bookmark or anchor. Next, return to the place you want to add the reference to, select some text or an image and then add a hyperlink that points to that bookmark or anchor.
Image-related tips
In the early days of EPUB, it was essential to reduce image file sizes before placing them into your document. You also had to ensure the total size of placed images per chapter was below a certain threshold. Thankfully, the apps mentioned earlier do this automatically so you can use high-quality images. However, you'll get better results if you heed these additional tips:
EPUB readers (and most displays) use the sRGB color space so if your images are in another color space (say, Adobe RGB), they may look different in your book. That's why it's important to preview them in sRGB and, if necessary, convert them.

The ideal resolution—the setting that determines pixel density and thus pixel size—for most images is 300 ppi (pixels per inch) saved at the width and height you want to use the image in your book. That way, you place the image into your book at 100 percent and your viewer can zoom in up to 400 percent to see additional details.

If you're saving images in JPEG format, Apple recommends a quality setting of 85. This produces a high-quality file without extra file size fat.

Apple's iBooks Store currently limits the allowable size of each image to 4 million pixels. If you're producing an artsy book, keep this limit in mind.

Apple's iBooks Store also limits the file size of your EPUB to 2GB. That's because EPUB files are often viewed on mobile devices with limited storage space, plus downloading big files can be expensive and frustratingly slow.
Use styles to format text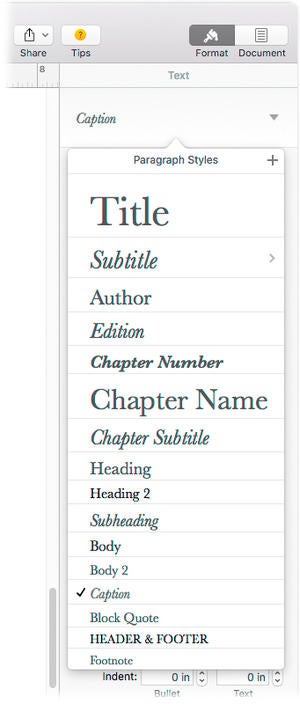 Paragraph Styles (or Style Sheets) are combinations of text attributes that you can save and then use throughout your document. You typically create and assign them using the Styles, Style Sheets or Formatting panel of your publishing app.
EPUB readers use these styles to format text, so be sure to apply a style to every paragraph and use appropriate heading levels (Heading 1, 2, 3, 4, etc.) to differentiate main headings from subheads, and so on.
Make a table of contents
As mentioned earlier, page numbers in an EPUB are fluid so include a table of contents that viewers can use to find specific sections in your book. To generate one, your publishing app uses the paragraph styles (or style sheets) you applied to headings. While you can generate a table of contents at any time, only iBooks Author automatically updates it as you make changes to your book. If you're using another app, update the table of contents right before you export the ebook.
Be careful about promoting other products and books
Neither Apple's iBooks Store nor Amazon.com allow links to competing products or services. If your ebook includes such links, it'll be rejected. To save time, create a different version of your ebook without those links specifically for those services.
Create sample chapters and pages for the iBooks Store
The iBooks Store automatically chooses a chapter that potential buyers can download as a sample, but it's far better to provide your own (else it tends to be the useless front matter of your book). To do it, create a separate file and submit that, too.
The iBooks Store will also highlight up to five pages or spreads from your book if you provide screenshots of them as viewed on an iPad. One more thing: screenshots must be full-sized iPad images in PNG or JPEG format with a size of 1024 by 768 or 2048 by 1536 pixels. For a cleaner look, crop the status bar from your screenshots using an image editor such as Preview or Photoshop, making the final size 1024 by 748 or 2048 by1496 pixels.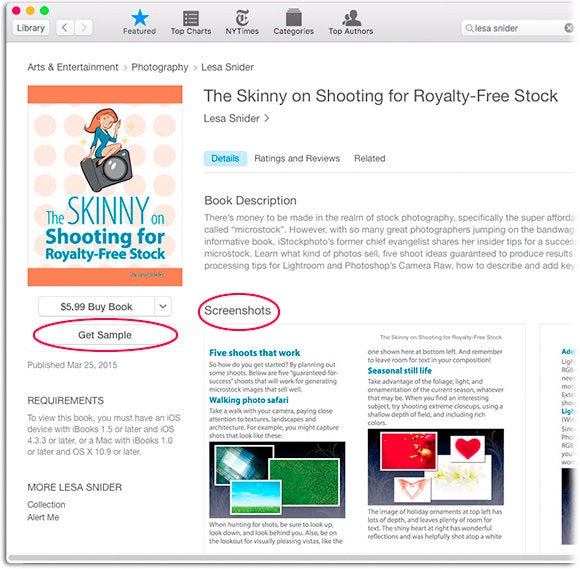 Choose a category
Every ebook distributor requires a category for the subject of your book. Get ahead of the game by visiting one of the following websites and choosing the category that best describes your content:
No ISBN necessary
Every professionally-distributed printed book requires an ISBN (International Standard Book Number), but ebooks don't. Unless you intend to sell your book in printed format, don't bother getting an ISBN.
Choose a price
Because Apple and Amazon can distribute your book worldwide, you get to choose which regions and at what prices. Helpfully, if you set a price in your local currency, they'll suggest reasonable prices for other regions.
Now that you know what to watch out for, go forth and publish! The end result is incredibly fulfilling. Until next time, may the creative force be with you all.