It's been a hectic year-plus for Hipster Whale, the Australian indie studio behind breakout hit game Crossy Road, to say the least. The team released Crossy Road for iOS in November 2014 and it quickly became a free-to-play phenomenon. Before long, the game spread to Android, Windows Phone, and finally Apple TV of late, and now has more than 120 million players after a holiday surge in downloads. You may have even seen the team demo the game during Apple's press event in September 2015.
"It felt like it became a phenomenon pretty quickly, and it's been a really long year—obviously with a lot of up, but it's been so tiring," admits developer Matt Hall, who co-created the game with fellow designer Andy Sum, and collaborated with artist Ben Weatherall on the game's distinctive look. "It's been really good, though."
As we said in our glowing appraisal, Crossy Road is the rare friendly freemium experience: The Frogger-esque endless hopper has no limits on play, lacks aggressive ads, and doesn't poke you constantly to spend money. Instead, the game features an expanding roster of playable characters, which not only give you a unique hero but sometimes change up the look and feel of the environment and reveal new secrets. Most can be earned for free simply by playing regularly, or you can buy them right away if desired.
That model has apparently worked wonders for Hipster Whale, drawing in players en masse and letting the die-hards spend if they please. The studio has only gotten more ambitious with its updates, bringing in new game modes featuring the likes of Pac-Man and Korean rapper PSY, as well as crossover characters from other noteworthy games. And it's just the tip of the iceberg, too.
Building character
As we've mentioned, Crossy Road's cast of characters is part of what makes this game such a joy to play, and that was purely intentional. "When we sat down to design Crossy Road, we thought that characters would be a good way to expand the game and keep it alive. We got excited about that idea," says Hall. And the original release featured a couple of cameos from characters previously seen in other iOS games. "Initially, we did that with games from our friends, like Epoch and Forget-Me-Not at launch," he adds. "They're both Australians and we know them well."
Forget-Me-Not in particular was a little-known, but critically loved puzzle game that hadn't found a wide audience. It also hadn't been updated in years. But once Crossy Road fans saw the character in the game and discovered the connection, Forget-Me-Not's sales picked up. "We felt really good about that," asserts Hall. "The cameos have been probably the most rewarding part, from almost an altruistic standpoint—that people can benefit from our massive success whether they're a small studio or big studio. And they're fun to work on."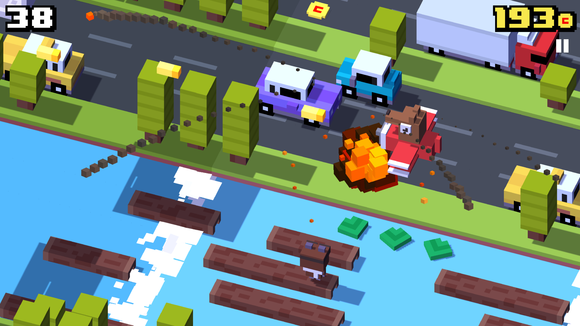 Since then, Crossy Road has seen cameos from other characters as well, including some from Shooty Skies and Land Sliders—both games that Hall is connected to. Shooty Skies, which uses a Crossy Road-like free-to-play model for an addictive aerial shoot-'em-up, hails from Mighty Games, a new studio comprised of Hall, Sum, and collaborators Ben Britten and Matt Ditton. Meanwhile, Hall and Sum have invested in and advise Land Sliders creator Prettygreat, a studio founded by notable ex- Halfbrick developers.
When Hall suggests that featuring other studios' characters in Crossy Road is a means of spreading the love, the notion seems to apply to using his success to fund other games as well, particularly in the Australian game design community.
"A good way of putting it is: When I saw people with big success previously, some people gave back to the community and some people would think, 'This success is mine,'" he observes. "And giving people a leg up is how I wished other people would have behaved when I was not successful. That's been really personally rewarding."
Headline heroes
Beyond adding familiar characters from collaborators, Hipster Whale has also done something unexpected over the past several months: They used Crossy Road as a platform of sorts to enable new kinds of experiences within the game.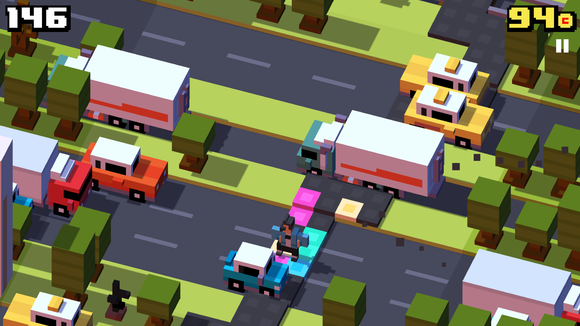 It really started with the Korean update, which they started building after a successful Australian-themed one earlier in 2015. Released in June, the Korean update added a wealth of free unlockable characters, but also a $3 add-on featuring peppy rapper PSY. Remember "Gangnam Style" from 2012? Yeah, that PSY. Rather than simply zip across the streets and rivers like any other hero, PSY's level is a dance mode that challenges you to stay on the neon, flashing panels as you dodge traffic and enjoy one of his trademark backing beats.
"PSY took a really long time, in fact," says Hall, who worked with South Korean employees of Crossy Road's Android publisher Yodo1 to arrange the opportunity. "Trying to organize a partnership with someone like PSY took a long time—and then we wanted to make sure the character was awesome, because we knew we were going to make this a premium character. It took months, really: Months and months and months."
From there, the team worked to bring in a very different kind of icon into Crossy Road: Pac-Man, who Hipster Whale knows very well from developing last year's great Pac-Man 256 for Bandai Namco. As with PSY, Hipster Whale wanted to create a unique experience around Pac-Man using his own legend and history, so they essentially mashed up the two games: You're still hopping between lanes in a very Tron-like setting, but now you're tasked with eating dots, too. And the classic power pellets are still in play.
"With Pac-Man, we knew it had to be about eating dots, of course," says Hall, recalling the prototyping process. "That was the first thing that went in: We put in dots. OK, that feels kind of weird being everywhere; let's narrow them down and get a nice path. And then I guess a power pellet would work, but that's an idea that was much more complicated to execute. Because all of a sudden the character is killing cars, as opposed to the cars killing the character."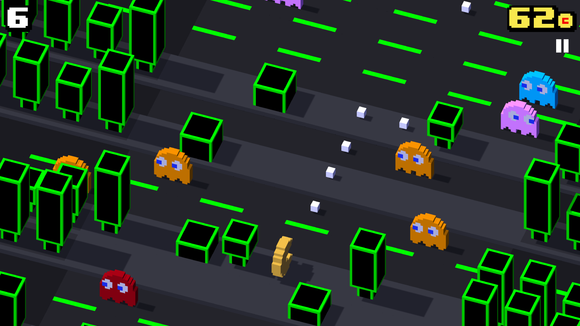 While the synergy between Crossy Road and Pac-Man 256 is on full display, the Pac-Man mode really is a lot of fun and makes sense within the game: Trying to scarf down dots while dodging the familiar ghosts (in place of cars) is a challenging new wrinkle on the experience. And unlike the PSY pack, it's a totally free addition.
More to come
Like the rest of their prototyping efforts, Hall says that he and Sum start with the smallest scope possible for new modes like this and try to get something up and running right away. From there, once the concept is proven to have potential, they polish and polish until it's fun and compelling. "The ideas are nothing and execution is everything," Hall says about Hipster Whale's design ethos.
More recently, Crossy Road saw another noteworthy collaboration with Monument Valley, ustwo's brilliant mobile puzzler. It's not quite as significant a gameplay change like what we saw with PSY or Pac-Man's introduction, but the slight shift in camera perspective (to match the influence) does alter the feel of the game. And above all, it's a beautiful tribute, with heroine Ida and other characters represented well amidst the blocky terrain.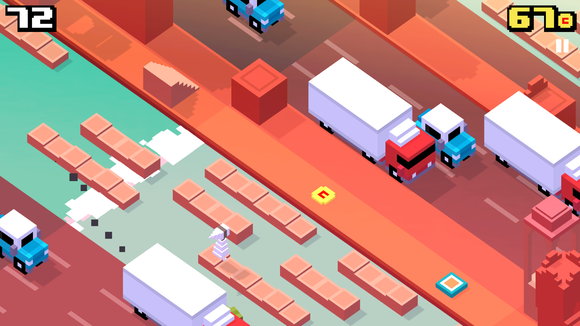 While they're unable to specify what's ahead due to pending agreements, Hall suggests it won't be long before we hear about further significant additions to Crossy Road along the lines of these larger enhancements. "We'll do updates of various scales: Some will be small and some will be big," he says.
All told, the efforts hint at ambitions to do more with the Crossy Road template than simply build out the roster with silly characters every couple of months—entertaining as that has been. And that's very good news for faithful fans still hopping away after all this time.