Apple is hoping to replicate the success of the iPhone by tapping into another reality.
According to a new report in the Financial Times, Apple is secretly building a team of experts to develop the company's virtual and augmented reality efforts. Apple has reportedly being testing a secret VR headset prototype for months now. To be successful, Apple's VR headset would have to rival Facebook's Oculus Rift, HTC's Vive, Samsung's Gear VR, and Microsoft's mixed-reality HoloLens.
Apple has already poached experts formerly working on HoloLens to kickstart this secret initiative, according to the report. And just last week, the company brought onboard a top virtual reality researcher and former director of Virginia Tech's Center for Human-Computer Interaction.
It remains uncertain whether Apple is developing a VR accessory for iPhones or a fully-integrated headset like Oculus Rift or HoloLens. Apple declined to comment on its VR efforts.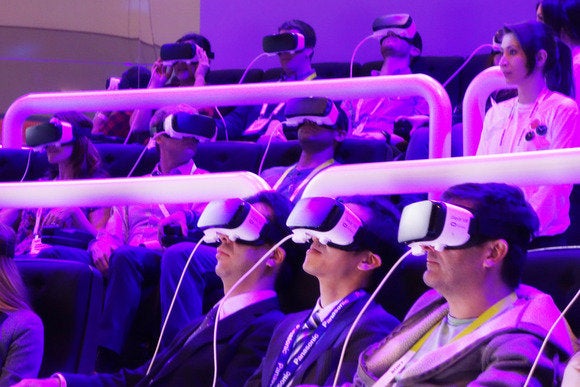 "In terms of virtual reality, uh, no, I don't think it's a niche," Apple CEO Tim Cook said during this week's earnings call. "I think it can be … it's really cool, and has some interesting applications."
Also recently, Apple acquired Flyby Media, a startup that had been working with Google to let smartphones "see" the world around them. Cupertino's virtual and augmented reality efforts can be traced back to 2008, however, when Apple first filed a patent for what looked to be a VR headset exclusively for iPhones.
Why this matters: This isn't the first time that Apple has looked into virtual reality. Apple's interest in VR and AR dates back to the mid-2000's but back then Steve Jobs thought the technology was "immature," according to FT.
The company's efforts into virtual reality technology were reignited by Facebook's purcharse of Oculus Rift in 2014. Now that Microsoft and other smartphone makers like Samsung and HTC are developing their own next-gen headsets, Apple is looking to dive head-first into VR as well.
Apple is reportedly looking to make more high-profile acquisitions in this area, but it's altogether possible that the company decides not to release the headset if it can't get it right.
Last year Cook told The New Yorker that the company's greater goal for wearable technology was to create something that "isn't obnoxious" and that doesn't create "a barrier between you and me."