If there's one thing I can fault iOS for, it's the fact that it isn't always immediately obvious how to do some very basic things. Organizing apps into folders is one such example: Sure, it's super easy to do once you know how to do it, but if you're brand-new to iOS, you could be forgiven for not realizing that the folders feature exists in the first place. But now that you know it's there, here's how to use this handy organizational tool.
First, tap and hold your finger on any home screen icon until the icons all start to wiggle around. (If you have an iPhone 6s, 6s Plus, 7, or 7 Plus, you don't want to press down too hard with your finger, otherwise you may pop open a menu instead, thanks to your phone's 3D Touch feature) Once the icons start wiggling, drag one app icon on top of another for a second or two, then lift your finger: Just like that, you've created a folder.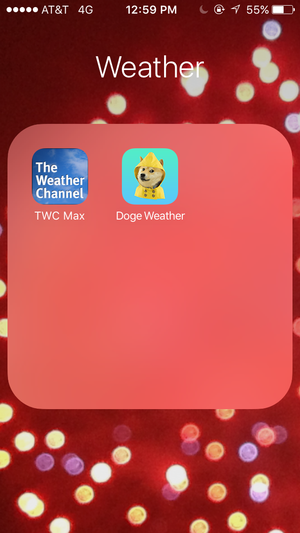 You can rename this folder or drag other icons into it. To name it, tap the default title provided and start typing. Tap the Done key on the keyboard once you're finished. If you want to drag other icons into the folder, tap outside the folder's translucent background box, find another app you want to add to the folder, then drag it over.
To remove a folder, simply drag its contents out of the folder's "box." The folder will disappear once it's completely empty.