There are lots of ways you can manage windows in OS X. You can use Spaces, or you could use multiple displays, and sort your windows on different virtual or physical desktops. But if you don't use either of these methods, you may find that when you have a lot of windows visible on your display, it can be hard to focus.
HazeOver helps you deal with multiple windows by masking the ones that are in the background, putting a sort of translucent curtain behind your frontmost window. Instead of seeing multiple windows with their text and graphics distracting you from your task at hand, HazeOver lets you focus on the app and window you're working in. You can dim your Twitter client, your email app, and Messages, so their changes don't catch your eye when you're browsing the web or writing in a word processor.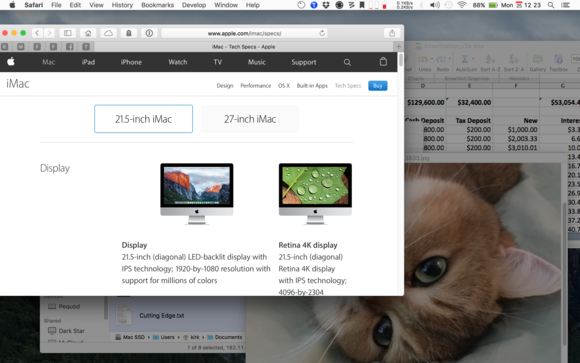 You can change settings from the app's Preferences window, or by clicking its menu bar icon. HazeOver lets you tweak how much it dims your windows: you can choose to slightly soften their brightness, or you can block them out entirely. It also lets you choose how long the fading animation lasts when you switch windows; if it's too short, I find it looks like a flash, so I have it set to 0.40 seconds, which means that the background windows fade away gracefully when I switch.
Another option is to highlight just one window, or all windows of the frontmost app. Depending on how you work, you may want to use the latter. Another option lets you only highlight windows on the active display, if you use more than one. There's a keyboard shortcut to toggle HazeOver's functionality, so if you need to see all your windows for a while, that option is just a keystroke away. (You cannot currently change the keyboard shortcut, but the developer told me that he would be adding that ability to the app's preferences soon.) And if you press the fn key when dragging something from one app to another, HazeOver fades away so you can see all your windows.
Bottom line
When I started using HazeOver, I had no idea how much it would fit into my workflow. I now take it for granted that I can focus more efficiently on a single window, with a slight dimming of those in the background. There's less light beaming from my display, and I find it easier to focus on the window I'm working on more clearly. This is a great app, one that should be a part of every user's toolkit.