These days, keeping up with games can be a full-time job. So how do you separate the signal from the noise, the wheat from the chaff, the Temple Runs from the Temple Jumps? Allow us to help by regularly selecting a game You Should Play.
I've never been a huge fan of Japanese role-playing games (JRPG)—it's just not my favorite genre. But Zodiac: Orcanon Odyssey, the first chapter in a full-scale multi-part game designed for mobile platforms (though it will eventually be released on the PlayStation 4 and the PS Vita), may have changed my mind.
Zodiac: Orcanon Odyssey is a stunning role-playing adventure game with a strategy-based combat system and lots of lore. You start out playing as Cael, a swordsman who joins Arcon City's Borderland Patrol and ends up accidentally interacting with a mysterious Celestial Shard (your typical unknown artifact with mystical powers). You are then thrust into an adventure that involves chasing down kings and battling monsters. Oh, and you're adopted, so there's probably some backstory there involving the mysteries surrounding your birth and whether or not you're the chosen one (you probably are).
If you love JRPGs, or just RPGs in general, Zodiac: Orcanon Odyssey should definitely be on your bucket list. But even if you aren't too into the genre, this game is worth a look—it's seriously gorgeous, with smooth, enjoyable gameplay. Here's why you need to check it out:
Stunning visuals: Zodiac: Orcanon Odyssey's graphics were what first caught my eye as I was browsing the App Store—they're nothing short of breathtaking. Even the game's opening screen is beautifully detailed, with an airy painting of the game's main city and crisp overlaid text.
The game's graphics are a blend of hand-drawn cutscenes and slick modern visuals. The difference is striking (perhaps not in a good way—it's a little jarring).
The story is told mostly through cutscenes, which feature anime-style characters and dialogue (though no voice-acting) written by Kazushige Nojima, who wrote several installments of the Final Fantasy series.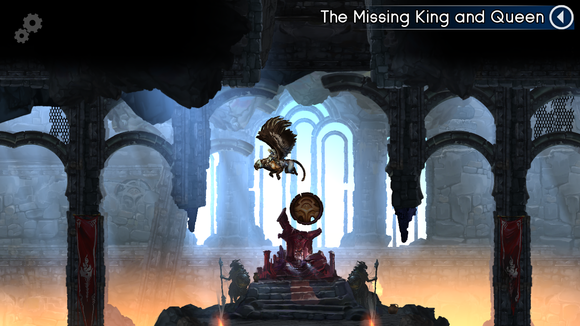 The game itself, however, features artistically-rendered characters and heavily detailed dungeons for the player to explore. This attention to detail doesn't take a toll on performance, either—you'll spend most of your time exploring on a winged mount (a Flyon—a winged sabre-tooth tiger), and movement in all directions is smooth and seamless. The game is set in several realms, all of which are breathtaking. You'll explore bustling urban life (though Arcon City offers primarily menu-based exploration), jungles, deserts, and wetlands, as well as ice castles and actual dungeons.
Its unique, strategy-based combat system: Zodiac: Orcanon Odyssey is the first installment of what will eventually be an "ambitious, full-scale JRPG series," according to development team Kobojo. If you've played JRPGs in the past, you'll be familiar with Orcanon Odyssey's turn-based combat style; if not, you'll learn quickly (it's a forgiving system). As you roam the dungeons of Orcanon Odyssey, you'll come across enemies—shimmering, floating orbs in the air that, when touched, transport you to the battlefield. This is a nice feature, because it lets you avoid enemies if you like (some orbs will chase you down, as you try to slip around them), and it keeps the game running smoothly while still maintaining stunning graphics.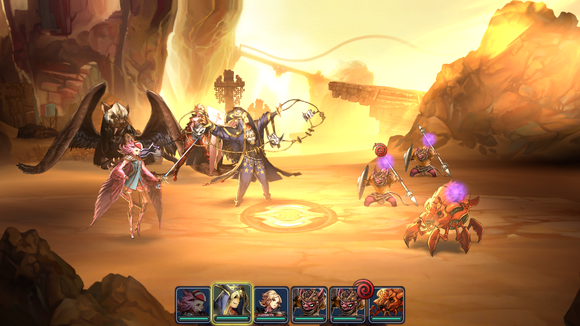 Once you enter the battlefield, the battle is on. At first, you'll just be facing enemies one-on-one, but you'll soon gather allies and so will your enemies. In turn-based combat, you attack… and then the enemy attacks…. and then you attack again… and so forth. You'll usually get to attack first, but some enemies will have built-in advantages that let them switch up the attack order. Because you only get to attack (with each character/ally) once before the enemy has their fair shot, there's already a bit of strategy in play—if there are three enemies, is it better to take out one enemy at a time, or try to hit them all equally? Some characters and enemies will also have special skills that will let them raise their own/their allies' stats or lower their enemies' stats.
What's nice about this game is that there's more strategy—including an extensive skill tree, weapons and armor upgrades, and a crafting system—if you want it, but it's not too much for a mobile game. There's only one armor slot, for example, which allows you to upgrade and craft armor for your characters but doesn't require you to track sixteen different pieces of clothing, including jewelry, for each character on your team. Similarly, the skill trees let you upgrade characters' skills, but do not require you to learn hundreds of new skills and then come up with the perfect build.
As much story as you want: Some people love a good plotline, others just want to kill some baddies and get through the game as quickly as possible—and Zodiac: Orcanon Odyssey is flexible enough to accommodate both styles of gameplay.
Orcanon Odyssey is set in a world rife with problems—specifically, racism and xenophobia. The world features several different races, including the currently-in-power human Hyums, the Valkyrie-warrior Fawlkons, the peaceful water-dwelling Phyltrians, the nature-Shaman Orsas, and the not-so-nice lizard-like Geckals. And most of these races have issues with each other, though we all seem to hate the Geckals the most. As you fly through the world, you'll pass people standing by the wayside—if they're important and can offer you help or a sidequest, they'll have a question mark or an exclamation point over their head. If they're not important, they'll simply have a speech bubble over their head—tap it, and they'll speak to you, or converse with someone standing near them, and you'll get an interesting but unnecessary snippet of storyline and world-building.
If you'd prefer not to know what's going on, that's fine, too—just fly past these randos on the street and ignore them. You can focus on pressing forward and completing your quests, and not be bothered by whether people in Arcon City think the Geckals' polygamist ways are totally shady. During battles, you can also tap on enemies to learn more about them (and view what kinds of temporary bonuses might be affecting their stats), or you can just kill them and be done with it. There's a lot of lore here, and I like that you can explore it if you want—but only if you want.