If you want to buy an app for your Mac today, you can just go to the App Store, click a button and—pausing only to reflect that developers are increasingly abandoning it—within seconds it's there, on your Mac, ready to be used.
Back in the day, though, you either had to trawl through catalogs or, if you were very lucky, get in your car and drive to a store that stocked Mac-compatible software. Or, in the brave new world of 1994, you could slip the above CD-ROM into your Mac—so long as it ran System 7 and had at least 4MB of RAM—and shop from the comfort of your chair. Or hell, if you had a mobile phone and a PowerBook, you could shop from the discomfort of a mountaintop, in a blizzard, in your underwear. It's the future.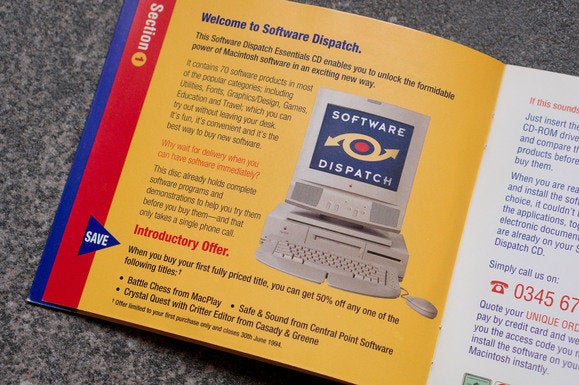 You can browse the catalog of "70 great applications"—sorting by name, company, category or price!!!—and find out more about each one. Some just have a text description of what the app does, some a ropey little thumbnail movie, and some a limited demo so you can try it out for real.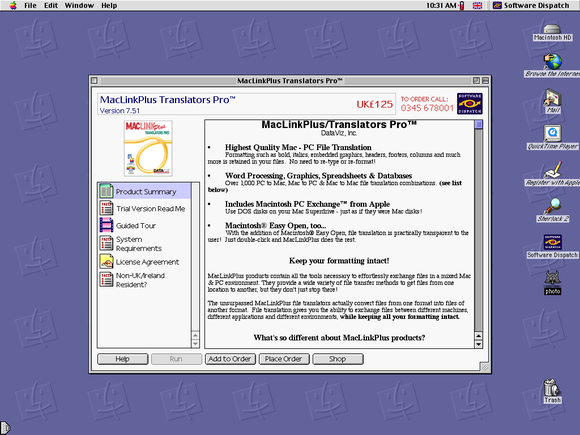 Once you've chosen what apps and games you want to buy, you can place them in a shopping list, then call a toll-free number, read out your order, and get unlock codes for the apps.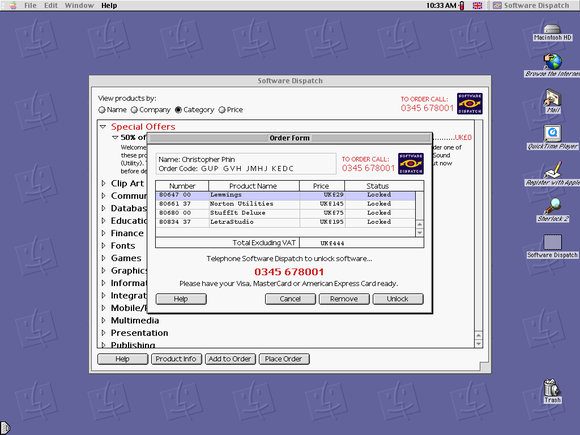 If that still all sounds messily manual and analog to you—even though it's still more convenient than mail order or driving to the mall—there was another, whizzier option: fax.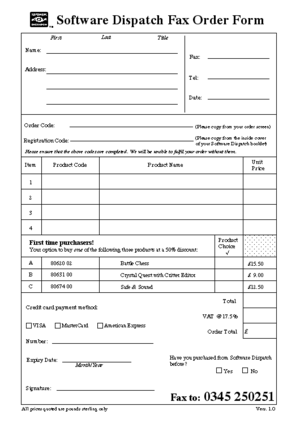 Yup, you could print out this fax order form (saved as a QuickDraw Image) and beam it over the phone lines—or, if you were terribly fancy, fax it direct from your Mac. None of this is actually as silly as my tone might be making it out to be. But it's notable that the idea of unlocking apps instantly—instead of waiting for the postman to deliver big boxes of disks—is spoken of in such excited tones. The ordering system isn't that old fashioned at all when you think about it, but it sounds so peculiarly antiquated to our modern ears.
As well as the CD-ROM itself being an interesting little artifact from computing history, as you go spelunking through its menus you find all sorts of treasures.
There is, for example, a demo of an integrated software suite—word processing, drawing, painting, database, spreadsheet and more—from a famous company. No, I'm not talking ClarisWorks; I'm taking GreatWorks from Symantec.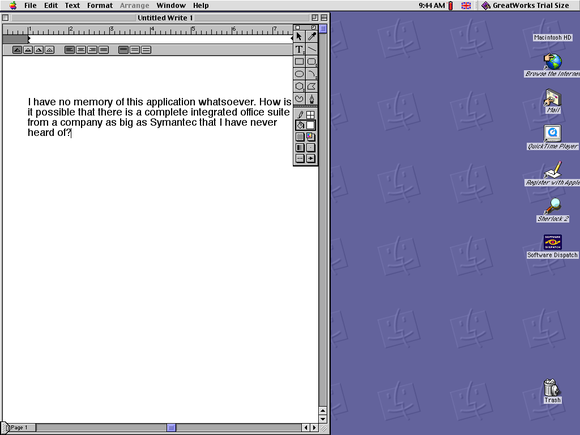 It's entirely possible you know—indeed, would wax lyrical about—this suite, but I confess I'd never heard of it. How is it possible that there's a huge, rich office suite from such a well-known company as Symantec that we've forgotten about? Help me out here: is this a hole in my knowledge or does nobody remember this?
There's MacLinkPlus too, which reminds me of the days when Macs were rare and apps that could open documents from other apps were rarer still. If you wanted to have any chance of sharing files with the majority of the computer-using world, MacLinkPlus was a must-have.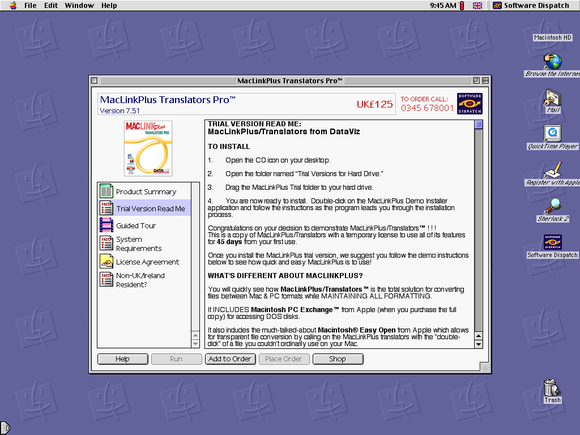 Or note LetraStudio, from the days when expecting an app just to do one thing—manipulate text, in this case—was enough.
It's also cute to look at an interface like this and think about how, in an parallel universe, its arrangement of tools, its icons and other UI decoration might now be the de facto standards for this class of apps, rather than ones from Adobe and Aldus.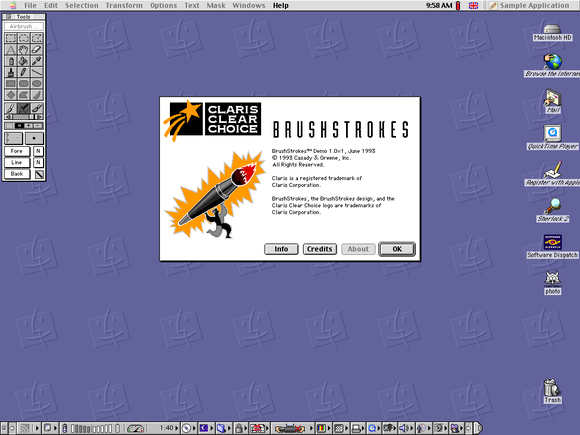 Claris had a standalone painting app? With a VERY EXCITING logo?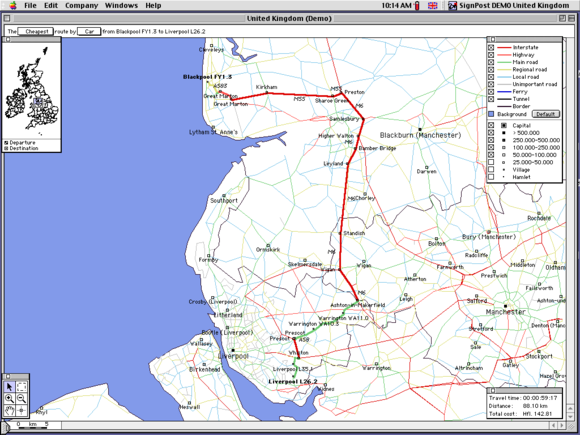 One of the precursors to Google Maps for route planning! And there's a testimonial from Macworld! No, wait, they spelled it MacWorld…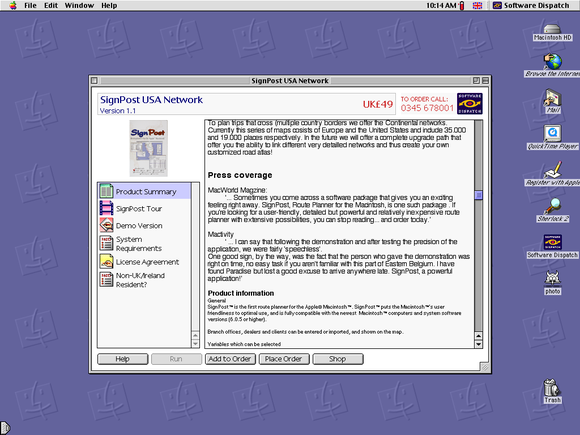 You can also, with Software Dispatch, sign up for a year of telephone support from Apple's Mac HelpLine program—and interestingly, they'll help you not just with Apple hardware and software but with some third-party apps as well. What's especially adorable about the little video clip that accompanies its description on the CD-ROM is not just that it shows a pretty grim-looking call center environment, but also that it proudly shows you the customer relationship manager software they use to track your calls.
Of course there's nothing wrong with that, but it's hard to imagine Apple exposing inside-baseball stuff like that today. (I'd love to hear from folks who worked for the Mac HelpLine—I bet you have some stories to tell! Anonymously, of course!)
I'll leave you with this welcome video, introducing you to the wonders of "going shopping on your Macintosh." If you wish, you can play a drinking game as you watch. (Hard liquor if you're of legal drinking age, Kool-Aid if not.) Take a drink every time you hear or read the word "software", down your drink every time you see a phone, and weep for humanity when the presenter brandishes a phone handset which is clearly not connected to anything.