With all the unsettling, unblinking zeal of a missionary, I want to try to convince you that something which sounds a bit weird is actually a great idea which will completely change your life. I want you to consider using an iPhone as your primary computer when you're traveling, especially on business, only carrying one extra thing with you: a Bluetooth keyboard.
Let me admit up front that you will look a bit peculiar. As you board a train, as you check into a hotel, as you post up at a coffee shop—if all you're carrying is a keyboard, you will attract looks. You could, naturally, carry a bag instead and stash the keyboard in it, but while this makes you look less goggle-eyed crazy, it takes away from one of the main advantages of the iPhone-plus-keyboard setup: traveling light.
Why bother with the keyboard at all? Well, of course, for most of us, we can type faster, more accurately, and more comfortably on a familiar full-sized keyboard than if we're pecking away on an iPhone's screen. And why not just use an iPad with its bigger soft keyboard, or indeed a laptop? Because you don't need them! You probably have your iPhone with you at all times anyway, so if you can then why not use it rather than giving yourself the physical and logistical baggage of carrying another device?
And an iPhone is an astonishingly useful and capable work device. It's always connected (unlike your MacBook), and with a little planning and exploitation of cloud services (unless you have very specific needs) it's likely that you can do far more work on an iPhone, and far more easily, than you might assume.
Indeed, for many of us, the one thing that stops us doing big bouts of focused work on an iPhone—whether that's writing emails, working on documents, even just keeping in touch with the office or friends through iMessage—is that it can be tiresome to write much more than a few tweets on its onscreen keyboard. Hence the Bluetooth keyboard—and I promise you that the first time you try this, as well as feeling a bit conspicuous, you'll be amazed at how productive you'll be on the go.
Pick your keyboard
Let's start with some shopping. If you don't already have a Bluetooth keyboard, you'll need to pick one, and I have some suggestions. (If you do already have one, great, but just note that unless it's one that is designed to be paired to multiple devices—of which more in a moment—and you don't intend to use it full-time with your iPhone, then it will be a bit of a faff as your iPhone and your Mac, say, fight over which of them the keyboard is connected to.)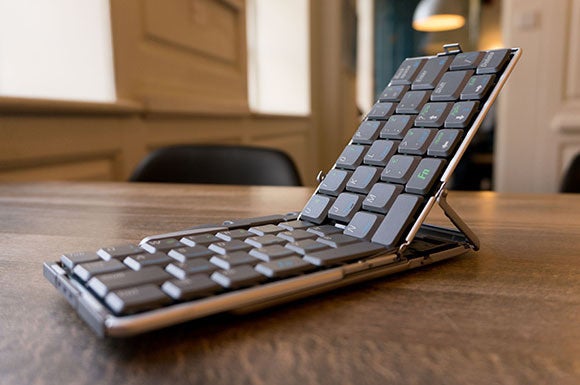 The keyboard I personally tend to use with my iPhone is an ancient model from Think Outside.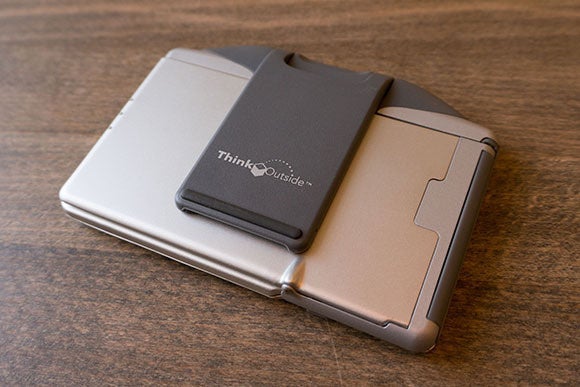 I love it because it folds in half, so you're not walking around with a keyboard like some twenty-first century equivalent of the wandering troubadour; I love it because the keys feel genuinely amazing; and I love it because it's just powered by a couple of AAAs, so I can just pick up a pair of batteries from basically anywhere if I run out of juice. Plus, it has a handy, detachable stand that can hold my iPhone at two angles.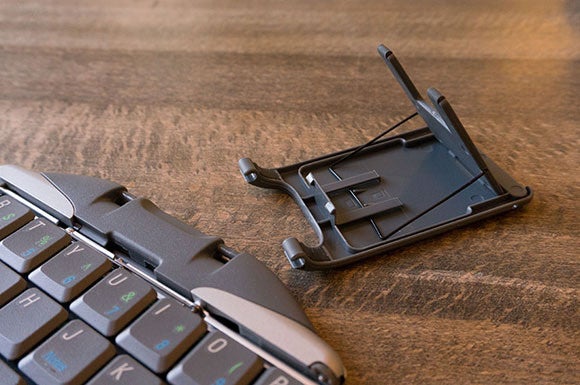 Yeah, it was designed for Pocket PC and Windows Mobile devices, so some of the keys are in weird places or serve no purpose, but it's a small price to pay for such a compact, handy keyboard. The catch is that while you can still buy it today, unless you go second-hand the few remaining new units will set you back nearly $190.
But of course you could go for a more modern and less fussy keyboard. The other one I especially like is the K811 from Logitech, which has great-feeling backlit keys, and can pair with three devices—for me, that means my iPhone, my iPad and my Mac.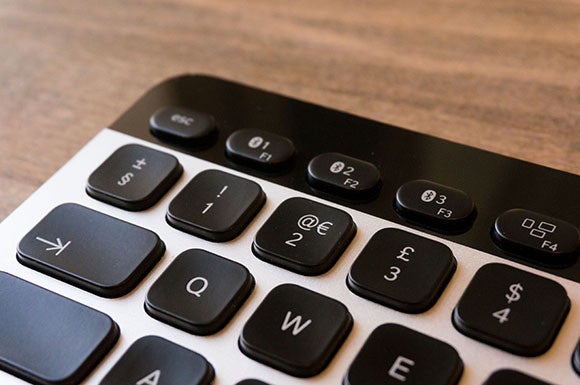 The current equivalent of that in Logitech's line-up is the K380, but you might also consider the K480, which has a little gutter behind the keys in which you can prop up a smartphone or tablet. Or, of course, you can go for the familiarity of one of Apple's aluminum keyboards.
There is another option: Although rarely seen (mostly because with some justification manufacturers think it will only appeal to education buyers), there are keyboards from the likes of Belkin, Griffin, and Kensington that connect not over Bluetooth but via the Lightning or 30-pin port on the bottom of your iPhone. While the cable is a little untidy, it means you don't even have to worry about charging your keyboard, since it draws power from the iPhone directly.
Stand up!
So, you've got your keyboard—now you probably want to prop your iPhone up. If you're working on a plane or train with a seat-back tray in front of you, it's likely that the grippiness of a silicone case from, say, Apple, is enough to stop it from sliding flat if you prop it up leaning against the back of the seat in front of you.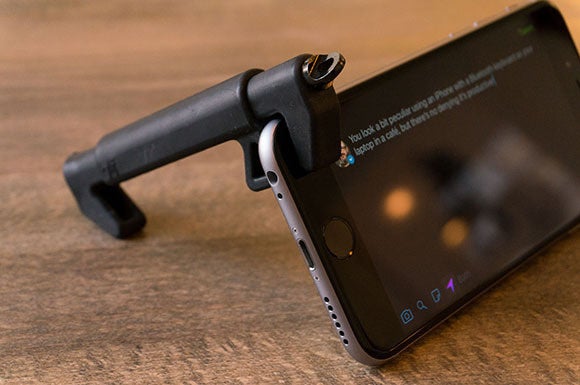 If not, something like a Glif (above) is handy and can be attached to your keychain so you always have it with you.
Indeed, basically any other stand you might have handy will work, such as this one (below) by Twelve South, which, while technically designed for iPads, can be pressed into service for an iPhone.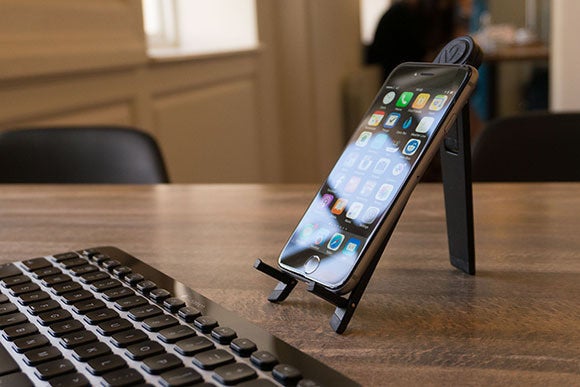 This one is the original Compass, but Twelve South has moved on to the Compass 2 now.
Head in the clouds
You're all set! All you need to do now before you head out the door is make sure you'll be able to access any stuff you'll need to work on as you travel. Usually, this means ensuring documents are stored in the cloud—Dropbox or iCloud, most commonly—but it might mean dropping stuff across to your iPhone via iTunes for some older apps.
One final recommendation: If you're going to be working a lot on your iPhone on the go, you'll quickly burn through the battery. Consider a battery case such as one of Mophie's Juice Packs or Apple's Smart Battery Case.
Converted? Go forth and prosper!