Eddy Cue, Apple's Senior VP of Internet Software and Services, and Craig Federighi, Senior VP of Software Engineering, dropped by The Talk Show with John Gruber on Friday for an hour-long conversation that focused on the quality of Apple's software and services, among other topics. It's worth a listen, but if you're just after the highlights, these are the parts we found the most interesting.
On teasing iOS 9.3 before the public beta
Last year, Apple rolled out a public beta program for iOS 9, in addition to the existing public beta of OS X—Federighi says over a million people are participating altogether. Currently, iOS 9.3 is in public beta, but when it was still only available to developers, Apple made the surprising move of teasing it with a marketing page on Apple.com, introducing features like Night Shift and new tools for educators to manage a classroom full of iPads.
Gruber asked if this was a new direction, talking directly to customers about what's coming down the pipeline, instead of the usual pattern of introducing major iOS releases in the summer at WWDC and releasing them in the fall.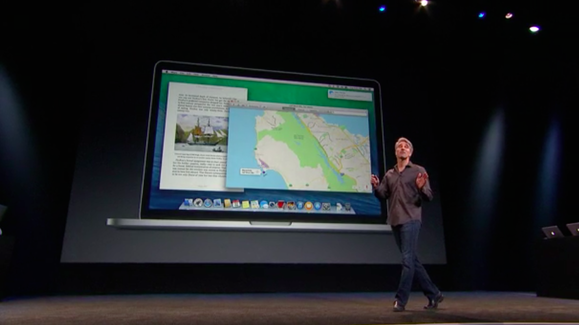 Federighi broke it down like this: WWDC is for "advancing a platform for developers," and when Apple makes big changes aimed at developers in, say, iOS 9.0 or iOS 8.0, it makes sense to advance the platform all at once, hold a conference, release an SDK, and let developers update their apps to be ready for the big rollout.
"But looking at 9.3," Federighi continued, "these are things we wanted to get right out right away to everyone, because we think everyone can enjoy them, and they aren't the kind of things that really impact moving the platform forward for developers."
Some features just aren't ready to go for the initial launch, and Apple does use customer feedback to find out what's missing. For example, iOS 9.3 will let iPad Pro users tap the down arrow on the Smart Keyboard to select items from a Spotlight search. If that seems like an oversight that should have been there all along, well, Federighi and Cue didn't say that it wasn't. "We missed more than one, let me say, so we've been responding to all the great feedback we've gotten on the iPad Pro," Federighi said.
On eating their own dog food
Understandably, Federighi and Cue both admitted being obsessed with running the latest Apple software. Federighi said, "I have four Macs, four iPads, and two phones, and I upgrade them all to the newest build pretty much every day."
Cue sets up all his new hardware himself too, even though Gruber pointed out he's busy enough to delegate that task. Cue relayed an anecdote of recently buying a new iMac from the Apple Online Store, so he could see what the experience is like for customers. Both men said they like running the early versions of the software so they can try the new features their teams are working on, and give lots of feedback.
When Cue ran into a problem installing a new build of OS X on that iMac, in fact, he could tell as a veteran software tester that the bug might be hard to reproduce, plus he was scheduled to take a trip the very next day. "I called Craig up, said have your guys look at it, I think it would be hard to re-create. He said sure, so I put the iMac in my car and drove it over," as in, to Federighi's house. Cue went on his business trip, Federighi's team fixed the problem, and Cue got his iMac back when he returned—kind of like a Genius Bar for the C-suite.
Not even Eddy has a seamless Family Sharing experience
Gruber asked about the last bug they found, and Cue mentioned an odd error on his new Apple TV. "I've got a family plan, Apple Music, the whole thing with everybody," and he decided to purchase a new movie. "So the message comes up on screen, 'Someone in your family has already purchased this. Would you like to buy it again?' Uh…pretty dumb message!"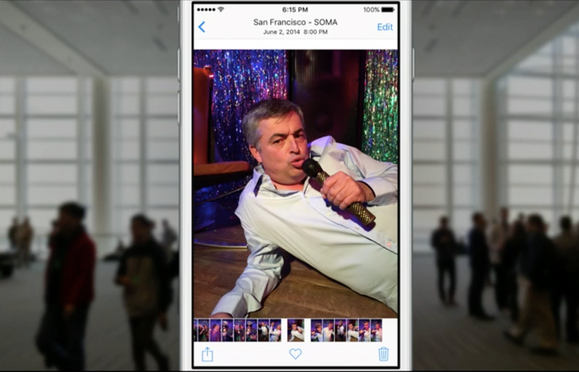 After talking to his team, Cue learned this error was a holdover from before Family Sharing, when the iTunes Store would warn a user who was about to re-purchase something, but still allow them to re-purchase it if they really wanted to. "Before there was a family plan, it would ask you that question, because it's a single user," he explained. "But once you have a family plan, it should just download it. It shouldn't even bother to ask you."
(I'd argue that this error makes no sense if you're single or part of a family, since the Apple TV hasn't stored your purchases locally for years. Any purchase you've ever made should simply stream, and you should never be offered the option to re-purchase, but hopefully that's how they fixed it.)
Siri is extra challenging on the Apple TV
The men also discussed the upcoming tvOS 9.2 release, which will bring Siri search to the App Store, Siri dictation for entering text, conference room display mode (so you don't start every meeting with a view of the top-grossing movies), app folders, and iCloud Photo Library support.
Siri will also supporting two additional languages in tvOS 9.2, French and Spanish, but that still lags far behind the 35 languages Siri supports on iOS. Cue explained why: "Apple TV presents an interesting problem compared to Siri itself, in that a lot of things you search for are not in the native language you're speaking." In other words, a French speaker will very often search for movies and shows with English titles, even if he or she plans to watch them overdubbed or subtitled in French.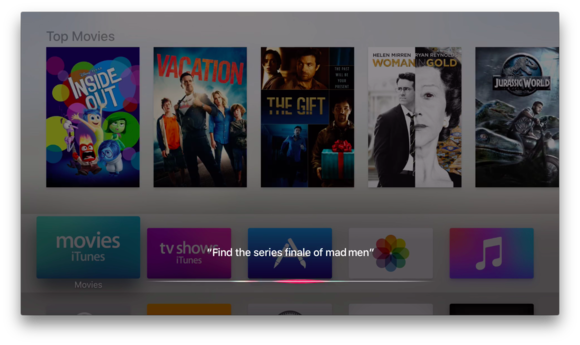 Federighi explained, "Now when you're speaking Spanish, we have to know not just that you're speaking Spanish but when you're talking about They Might Be Giants but pronouncing those words with a Spanish accent. Siri needs to recognize that," correctly parsing English titles next to Spanish nouns and verbs. Federighi praised Apple's machine learning teams for tackling this, saying Siri has improved dramatically thanks to receiving more than a billion requests every week, across all platforms.
More tvOS improvements and a new Remote app
Bluetooth keyboard support is coming back in tvOS 9.2, and the execs seemed to understand why its absence felt like an oversight to some, since the older Apple TV hardware had it. But the analytics showed almost no one used it regularly, so when Apple couldn't get it finished in time, the feature was bumped. Federighi joked that Apple's data showed usage "dropped to almost nothing during WWDC, so pretty much everyone using it was a developer or an Apple employee."
Cue also mentioned a next-gen Remote app, which we've wanted for months, and which will do everything the current Remote app ( supported by tvOS 9.1) does now: namely, let you navigate the Apple TV's menus by swiping and tapping your iPhone's screen, and enter text with the software keyboard.
The new app's big improvements will be to let you use Siri on your phone to communicate with your Apple TV, plus letting your phone act as a second game controller when playing games that use the Siri Remote. "It's really a full replacement," Federighi said. (Dear Apple, please let us browse and purchase new tvOS apps through that same app on our iPhones too—having the Apple TV app store fully confined to the Apple TV itself is a drag.)
Is Apple's software declining? Apple doesn't think so
Gruber mentioned Walt Mossberg's recent column lamenting the state of Apple software—he says of iTunes, for example, "I dread opening the thing." Federighi and Cue responded by saying they take this seriously, while also attempting to minimize the problem as one of scale and amplification: It's not that there are more bugs, just that we hear about them more.
"I know our core software quality has improved over the last five years, and improved significantly," Federighi said, "but the bar just keeps going up." Usage stats prove that people spend more time "interfacing" with their Macs, iPhones, and iPads every year. "Year after year, as our team builds a new phone and thinks, 'How big a battery should we put in this phone?' we have to go back to them and say, 'Guys, actually, you're going to have to up that a good bit because people are using their phones more than ever this year.'"
OK, that's a hardware thing, but the more devices are in use— 1 billion iOS devices around the world—the more people there are to complain about bugs. Federighi: "If you have a billion people running a phone in every corner of their lives, and all these third-party apps and all these countries and all these languages, there are going to be issues. There were always issues, but now these issues are—you have plenty of people who can encounter one here or there. It gets amplified."
Cue backed up Federighi's point about scale with some more stats: Apple has 782 million iCloud users, Apple Music has racked up 11 million subscribers, the iTunes Store and App Store process 750 million transactions a week, and users send 200,000 iMessages a second at the peak.
"We're frustrated of course to hear it overall characterized as this, quality is dropping overall" Federighi continued, "because we know that's not true. But at the same time there's certainly a reality: If people are having these experiences, then there's something we can improve."