Darrell Larson writes in, concerned about his Time Machine backup:
For the last several Mac operating systems, including El Capitan, when I restart my iMac, my Time Machine Backup remains yellow on the desktop and does not turn green. But then one day it turns back to green for no known reason. However, with El Capitan it continues to backup every hour as scheduled.
In other words, everything is working even when it looks like it isn't.
Turns out, this is a very longstanding problem. I can find references to it as far back as 2007 and as recently as a few weeks ago across many forums, including Apple's. From all accounts, it's cosmetic: The default (non-custom) drive icon for Mac volume is orange; when you anoint a volume as a Time Machine destination, it gets a fancy green tone with a Time Machine symbol embossed on it.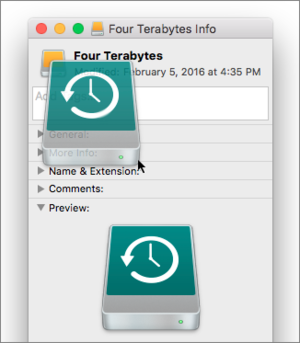 Many users have reported a simple way to fix this permanently if it bugs you, as long as you're sure your backups are working correctly:
Select the drive on the Desktop.
Select File > Get Info.
Reveal the Preview section. It will show the Time Machine drive icon, even when the Finder icon doesn't!
Drag the Preview icon on top of the desktop icon at the top.
Voilá! You have the correct icon.
Of course, in testing this, I managed to make one of my drives permanently have the Time Machine icon in the Finder, even though I reverted and both the Finder icon and the Preview icon in the Get Info window show the yellow drive!
The way to fix that new problem:
In the Finder, choose Finder > Preferences.
In the General tab, uncheck External Disks.
Now check External Disks.
Everything should be back to normal.
(I confess, this question put a paraphrased Beatles' lyric in my head: "We all live in a yellow Time Machine, a yellow Time Machine, a yellow Time Machine.")
Ask Mac 911
We're always looking for problems to solve! Email yours to mac911@macworld.com including screen captures as appropriate. Mac 911 cannot reply to email with troubleshooting advice nor can we publish answers to every question.