I have a couple of printers in my apartment, an old Lexmark mono laser and a slightly less old Canon Pixma MP640 inkjet. I don't think about them much, which is in part because we print things far less frequently than we used to, but it's also because they just work. They're both connected to my home network—the Canon wirelessly and the Lexmark over Ethernet, which does result in the bold interior décor choice of having a hulking great laser printer beside the TV—and when I want to print, I do a quick Command-P and a few seconds later I'm holding anything from a contract to a photo of my daughter to mail for her great-grandma.
In other words, my printers are so reliable and of such high quality that they've ceased to be remarkable. But for this week's Think Retro, I've been reminding myself that things were not always like this. Specifically, I wanted to remember if tri-color printing was as bad as I remembered, so I bought a StyleWriter 1500 on eBay and a new cartridge on Amazon. Spoiler: yes. Yes, tri-color cartridges are as bad as I remember.
A quick recap to explain "tri-color printing": Regardless of whether they're inkjet, laser, wax, or room-sized presses that magazines and newspapers are printed on, almost all printers create colors by mixing cyan, magenta, yellow, and black inks in tiny dots on the page. It's not perfect, but it's pretty damned good, and certainly good enough for most of what we print.
It's no longer unusual for home color inkjet printers to have separate ink tanks for these four different colors. Indeed, many will have two different blacks for text and for images; or light cyan, magenta, or black for even smoother photos. This is a good thing because you only replace, say, the cyan tank when it has run dry.
But back in the early days of color inkjet printing, this was an unimaginable luxury. Instead what you had was one cartridge containing cyan, magenta, and yellow ink, and one containing black ink. If the cyan ran out, even if there was plenty of magenta and yellow, you had to chuck the whole color cartridge. (Or, literally get your hands dirty syringing compatible cyan ink into the exhausted chamber.)
Ah, but, some of my fellow graybeards reading this will be thinking: But in the early early days, you didn't even have a color tank and a black tank. You had a color tank or a black tank.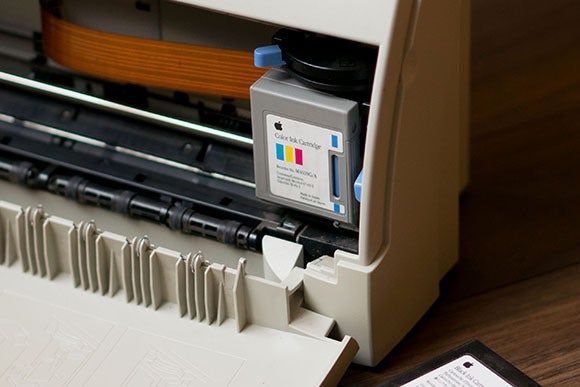 It was this particular pain that I wanted to remind myself of when I bought the StyleWriter 1500. Make no mistake, when it was launched in the mid-'90s, the fact that you could buy a color home printer for—what?—300 bucks was hugely empowering, and I wanted one badly. But "badly," in comparison to a printer today that costs scarcely more than one of the 1500's cartridges did, is indeed how it prints in color.
The problem is not just that the tri-color cartridge it uses can be wasteful, as we've discovered, but that because there's no black ink being used at the same time, images are washed out. Anything that ought to be pure black actually comes out a muddy gray (because that's the best you can do when you mix cyan, magenta, and yellow at full strength), and you burn through the color cartridge at a heart-stopping rate.
Here's a common scenario: a document with some images and some colored headings, but with the main body of the text in regular black. On my StyleWriter, this is what the text looks like.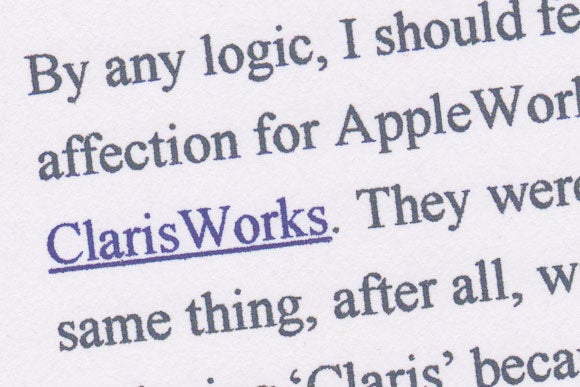 And that's not too bad, you might think, until you compare it to my unexceptional, six year-old Canon Pixma MP640.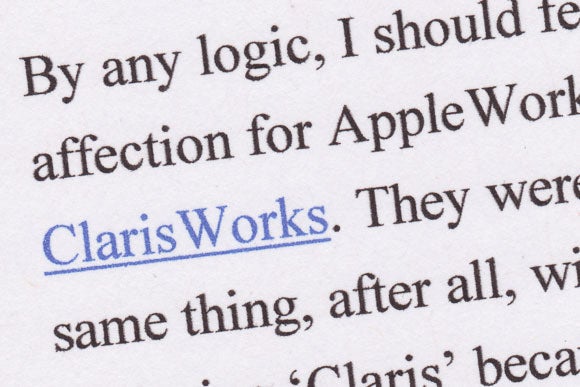 Or indeed to a laser printer. (All of these are on the same crappy 80gsm copy paper.)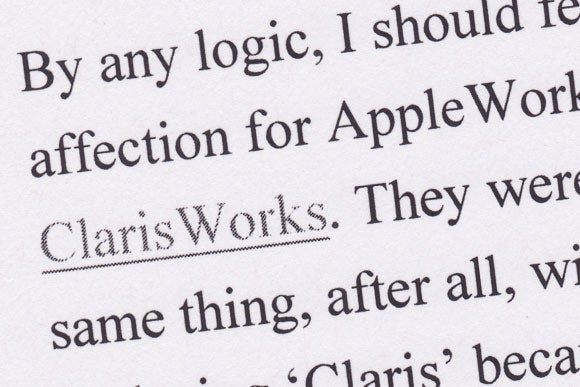 You can crank the quality up on the StyleWriter…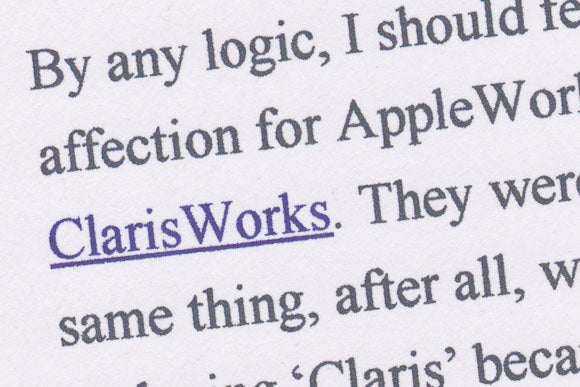 …or down…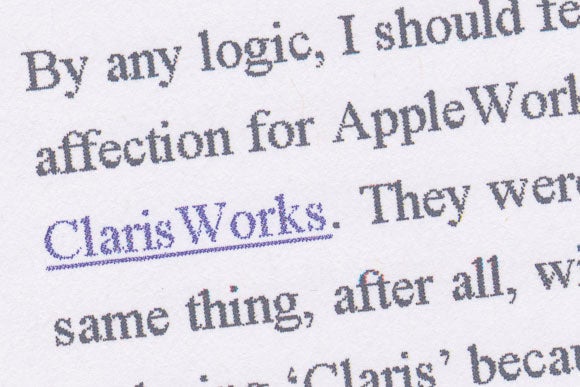 …but while the crispness and denseness changes, you can never solve the problem of that murky text.
So much for text. What about images? Well, here's a photo of my daughter at Christmas. This is the digital file…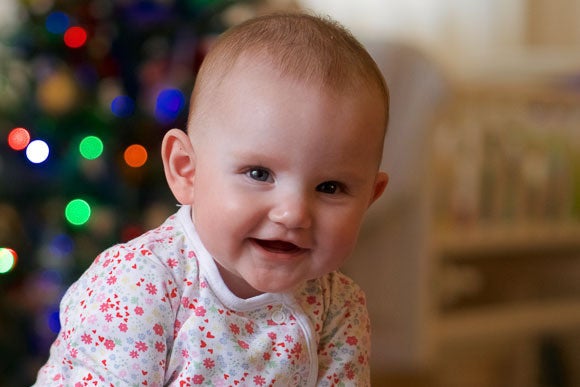 …and this is how the MP640 prints it.
We'd get much better results if we used coated paper, but we're sticking to plain office stock to keep things consistent, and anyway, that's really not bad at all. Shall we see what the StyleWriter 1500 makes of it?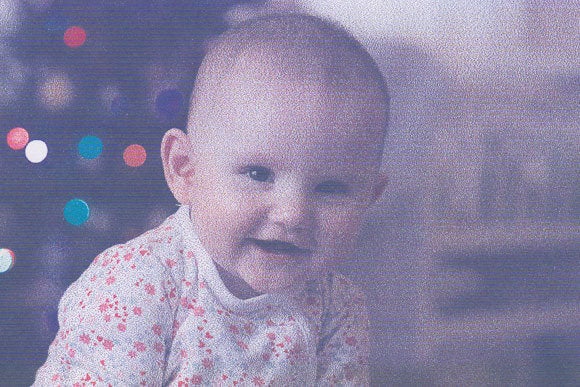 That's… less good. Let's have some fun with an even tougher test for a black-less printer: an image dominated by black. This is a picture from when I visited my brother-in-law in Ōsaka. The digital file…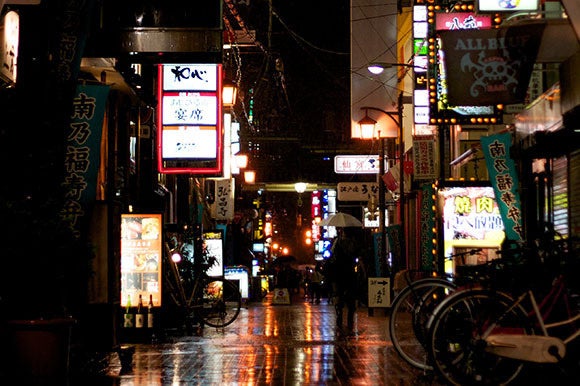 …the MP640…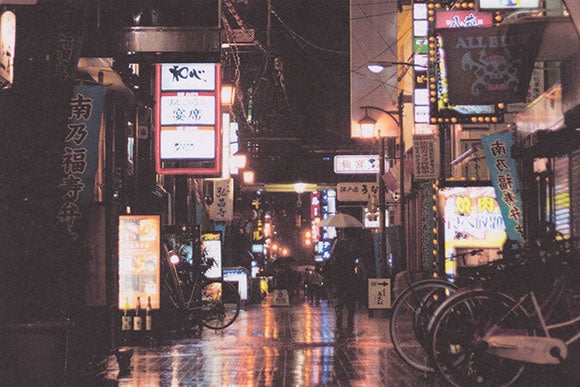 …and the StyleWriter 1500.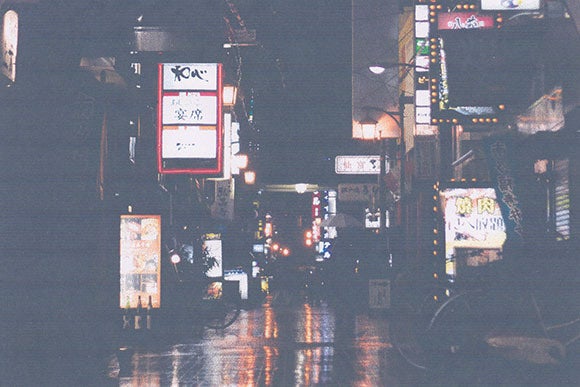 Of course, I have a great deal of fondness for vintage technology, and this entire column is predicated on celebrating the products from Apple's heritage that we hankered after and often couldn't afford when they were first introduced. But while often I look at my Classic II or my iMac G4 or my eMate and wish I could use them more, I will be quite happy if I never use the StyleWriter 1500 again!
Share with us in the comments below your memories of printing, especially the novelty and delight of printing in color, whether using an inkjet, a laser, or even the early color-capable dot-matrix printers!