Editor's note: This article was updated on August 16, 2017 with up-to-date pricing information and app details.
Despite rumors across the years, Apple still hasn't made a virtual reality move of its own. And while Samsung's top phones have the Gear VR headset and some Android phones support Google's Daydream platform, there's nothing of comparable quality for the iPhone.
But there is a lower-end alternative that works across iPhone and Android phones, and it might not cost you much of anything. Google Cardboard is an entry-level take on mobile VR, and it lets you strap your existing phone into a cheap, portable viewer and then pop it on your face. While the experience isn't nearly as immersive or interactive as on those other platforms—let alone PC-based headsets like the Oculus Rift and HTC Vive—it can still provide cool, 360-degree multimedia experiences.
Cardboard's ecosystem isn't as fully formed on iPhone as it is on its original home OS of Android, but there are still plenty of apps available to try. Want to give it a shot? Here's how to get up and running with Google Cardboard.
How it works
Rather than use a dedicated screen and processor, Cardboard relies on an affordable shell with specialized lenses, using your iPhone to do the heavy lifting. Depending on your viewer of choice, the iPhone will either slide or strap in, and then once you fire up a compatible app or game, the image will be split into two halves on the screen.
Stare into the lenses and the two images are combined into a single 3D image, and most Cardboard apps use your phone's gyroscope and accelerometer to let you freely look around the virtual world. Cardboard isn't a hugely interactive platform, so games are pretty simplistic, but it's a great way to view 360-degree videos and photo spheres, along with other visual experiences.
Cardboard first launched in 2014 exclusively for Android, and as user and developer support grew, so too did Google's own focus on the platform. In the summer of 2015, the company released the enhanced 2.0 viewer blueprint and added iOS support, launching the official Cardboard app and letting app makers bring their VR experiences to the App Store.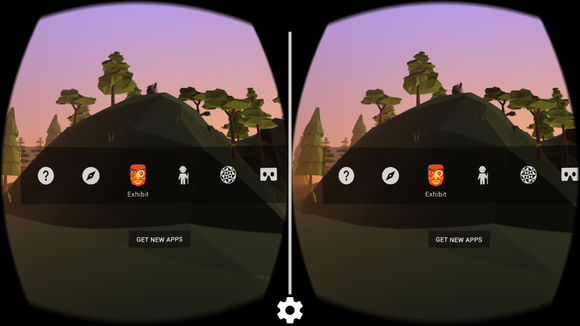 The core Cardboard app isn't required to use a Cardboard viewer—any VR app designed for Cardboard can launch and work independently without Google's main app installed. However, it's a nice introduction to the world of mobile VR and has a handful of neat VR diversions to check out, such as a dazzling kaleidoscope and some 360-degree tours of various locales.
Hardware options
When Google first launched Cardboard, it had a very strong DIY ethos around it—but then a whole community of resellers quickly spawned around the concept, each offering their own commercial take on the viewer. Google didn't make or sell its own retail Cardboard units for some time, but now you can purchase a plain and simple Google Cardboard viewer directly from the Google Store for $15. Yes, it's quite literally made from cardboard.
Don't like the standard model, or want to shop around? Google has also given an official " Works with Google Cardboard" stamp to many manufacturers that make viewers of all sorts.
Companies like Unofficial Cardboard ($14.95), I Am Cardboard ($8), and Knoxlabs ($7) all sell versions that are mostly similar to Google's own blueprint, aside from small differences in build and components—with a couple of those at about half the cost. Each comes with the lenses and a conductive touch button, and they're lightweight and easily customizable. Unofficial Cardboard also has a 2.0 Plus viewer (also now $15) that tweaks the design with adjustable lenses and an optional head strap, and they've added a cheaper, simpler Elite viewer that's priced at $8.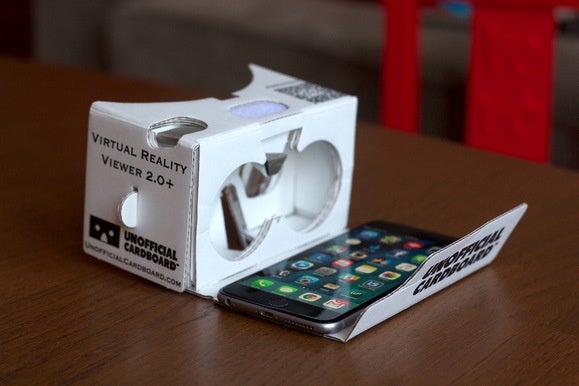 There are also plastic and foam options, some bigger and stronger than the cardboard viewers and others smaller and more portable. Mattel's original View-Master VR ($20) is a neat option: When I wrote about it for our sister site Greenbot, I praised the sturdy build and comfortable fit against your face, although the latch was a little finicky. Holding my heavier iPhone 6s Plus at the time, sadly, the latch was even more prone to popping open. It's still a pretty good option overall, and now there's a refined Deluxe version (also $20) that might be even better.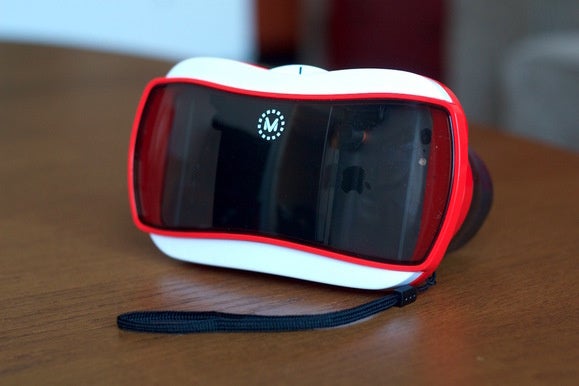 Otherwise, there's the Go4D C1-Glass ($15), which snaps onto your phone, and I Am Cardboard's foldable Pocket VR ($10) viewer. Merge VR's Goggles ($59) are a much sturdier option with a head strap and an extra input button for compatible apps, meanwhile, albeit at a much larger price. We've also seen aluminum and EVA foam versions in the past from various manufacturers, although the models we spotlighted previously are no longer sold.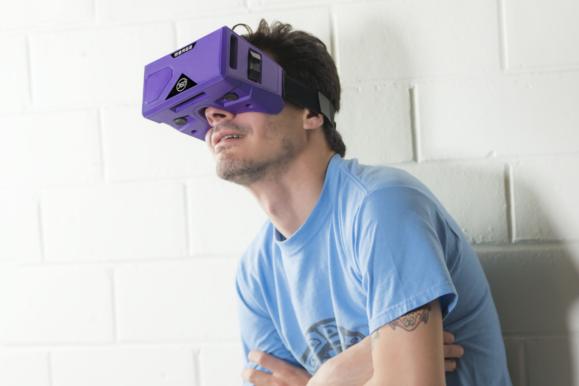 Even with all of those options, you can still make your own: Google provides the plans, although you'll need to track down all of the pieces. Just note that it will take a fair amount of precise cutting to get the viewer into working shape. Still, it could be a fun weekend project.
Lastly, if you don't want to buy a Cardboard viewer but also don't want to make one yourself, keep an eye out for promotional giveaways—they've been common in the past. The New York Times gave out more than a million free viewers to subscribers in 2015, and Verizon also gave away free Star Wars-themed viewers before The Force Awakens came out. Other companies have done similar mass handouts to promote app and media releases, although there's less buzz around low-end VR as of this writing.
Worthwhile apps
Cardboard has been available for iPhone for a shorter span than Android (and didn't start on iOS), so it's not surprising that there are fewer overall apps available. Still, many of the most interesting options are available on the App Store, and nearly everything is free.
Last year, we profiled 11 apps worth a look, many of which are focused on immersive news reports and documentaries, as well as photospheres and other quick diversions. Beyond those, you might also consider Proton Pulse ($3)—a delightful arcade-style brick-breaking game where you use your gaze to control the paddle—as well as Vanguard V (free), a dazzling one-level space shooter demo from the same developer.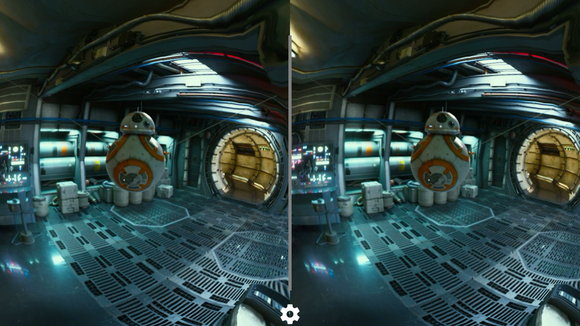 The official Star Wars (free) app also has some amusing shorts inspired by The Force Awakens, while Sisters (free) is an unsettling, albeit brief horror experience. Besides all of those, we recommend hitting the App Store and downloading anything that catches your eye. Again, most Cardboard apps are free and offer compact experiences, so you might as well sample the buffet of VR options.
And be sure to check out the extremely cool Cardboard Camera. Google's own app lets you easily create immersive 3D photospheres from your own surroundings, complete with audio bits to help recreate the sensation of being there. It's perfect for creating a snapshot of a great party or event, or recording your last day in an apartment or home before moving out. It's free, and one of the rare examples of a Cardboard app that actually lets you create something.
More than 10 million Cardboard viewers are out in the world now, which means more and more people are checking it out—and more and more interesting apps and games will hopefully come, too. Now you can jump in yourself and give it a look, but be sure to check back here in the future, as we plan to add more iPhone VR coverage to this hub.