Bev Ager has lost all her yesterdays, and is looking forward to a new tomorrow. She writes:
I upgraded to El Capitan recently and am finding quite a few things have changed and I don't know how to get them back Today, I am writing about missing the "today, yesterday, last week…" on the Finder sidebar. I used that all the time, and I don't see those choices in the Finder Preferences.
These pre-fab options disappeared a couple of releases ago; I assume Apple found that people weren't using them, and you know how it is about simplicity: An unused feature gets the yank. However, it's very easy to restore these along with more baroque options.

In the Finder, choose File > New Smart Folder.
In the upper-right corner, click the + sign.
A row of choices appears. Select Created Date from the first menu, then Yesterday from the menu following the word "is."
Click Save, name it "Yesterday" and leave the Add To Sidebar box checked.
Click Save.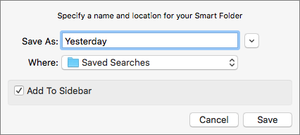 Now that set of matches appears as a smart folder you can click in the sidebar. In this case, I chose Created Date, since that's the most likely criterion you want to find files from yesterday.

If you want to use a different way of determining that something happened to a file or other item, from the first field, select Other, then choose Date Added, Date Last Viewed, Last Modified Date, or other criteria. It can be instructive to try different date selectors to see which one fits best.
For instance, in my default web browser download folder, I now organize items by date added instead of last modified, as it more accurately reflects how I look for items in that folder.
You can add additional criteria to that smart folder, too, if you want to exclude email messages or other items from your yesterdays. In fact, you might say, "Suddenly, there aren't half the matches there used to be."
(Apologies to The Beatles.)
Ask Mac 911
We're always looking for problems to solve! Email yours to mac911@macworld.com including screen captures as appropriate. Mac 911 cannot reply to email with troubleshooting advice nor can we publish answers to every question.