Airfoil 5 is a digital ventriloquist that lets you throw your computer's "voice." The latest version builds on the foundation of letting you take a single app's audio output and route it to one or more places to play it back. It's something like iTunes multi-"speaker" support but with much more control and it works with any application, all while not relying entirely on AirPlay.
Airfoil can target any AirPlay destination, as it's long been able to. In my house, that includes an older and current-generation Apple TV, a Yamaha stereo receiver during a brief period of rudimentary but functional AirPlay support, two computers via Airfoil Satellite (also discussed in this review), and a Jawbone Mini Jambox (via Bluetooth). Airfoil Satellite can stream to iOS and Windows 10 devices and Airfoil Speakers in Android. That's a lot of options.
Airfoil 5 runs on a Mac (or the similarly updated Airfoil 3 for Windows) and can dynamically turn on and off available audio output devices. Every speaker has a separate volume control that lets you balance sound. You can also lock these adjustments to system output, so you can raise and lower all volume by adjusting your OS X's control.
The input to Airfoil 5 can be any running app or, amusingly, any input source. If you've got a microphone, you could use Airfoil 5 as part of a public address system (albeit with some delay). You can also select System Output, the aggregate total of all sound in OS X that's directed to the default audio device, and then distribute that among other speakers and systems.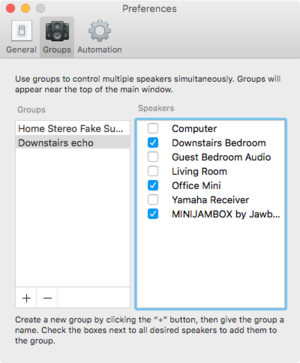 The secret sauce in Airfoil is how it keeps everything in sync: It tries to determine and match latency—the delay between data being sent and played as sound—to the most-lagging device. This generally works, even as it introduces a slight delay whenever you press play, pause, or switch audio inputs. It's worth it to avoid the weird echo effect that otherwise can occur. In testing, it worked like a charm, creating rich, broad sound. Airfoil routes stereo sound by design, although encoded audio (like Dolby Digital) may make it through intact from a source to a destination capable of decoding and playing it as intended. Rogue Amoeba tells me that they don't test for this feature or support it, so don't rely on it.
If you have trouble with a given output's sync, a new Advanced Speaker Options dialog (in the Speakers menu) lets you tweak the delay. That menu also lets you hide speakers that you never want to use with Airfoil, reducing clutter in your output display.
More new features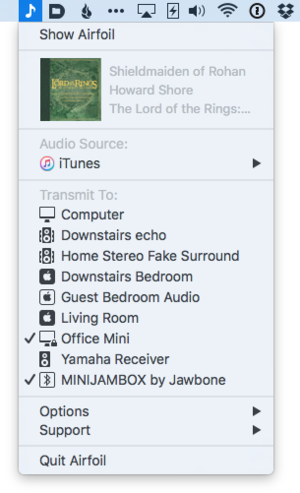 Bluetooth support is new and extremely welcome, given all the Bluetooth-connected speaker and headphone options now available. Any device paired with your Mac can be selected in any combination.
Another useful new feature is Audio Groups, set in Preferences, which lets you name a set of speakers making it just a single click to swap among preset collections.
Yet another set of new features is also in Preferences in the Automation tab. Airfoil can be set to automatically begin transmitting to a selected set of speakers when it's launched, so this is a way to set up your preferences without clicking a thing with Airfoil as an OS X startup item, or whenever you launch Airfoil. The same tab also has an automatic disconnect option which releases remote speakers that can only accept one source at a time after Airfoil has been transmitted silence for a set period of time, which defaults to 5 minutes.
Airfoil Satellite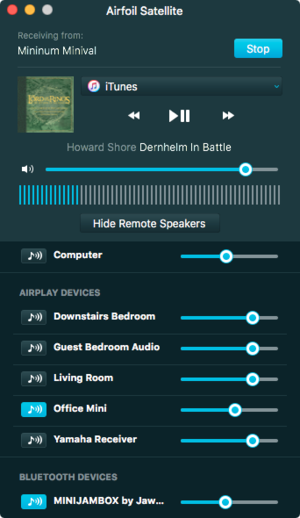 Airfoil works with a refreshed version of its remote speaker software, now called Airfoil Satellite. It's available at no additional cost for OS X, Windows, and iOS. Airfoil Satellite can remotely have Airfoil send it audio if it's not selected on the host machine, and can even remotely control Airfoil with essentially a duplicate of its main control interface. (Both options can be disabled in Airfoil's preferences, too, if you're in a more complicated network environment.)
With iTunes as the audio source, Airfoil Satellite can pause and resume playback, as well as jump back and forth a track. It also displays the now-playing track information.
Airfoil Satellite only works with the latest version of Airfoil. The older Airfoil Speakers software remains available for Android and Linux, and is also free, but can't take advantage of the newer remote control and remote activation options.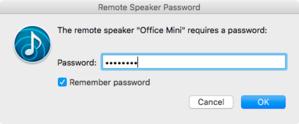 Airfoil 5 is $29, or $40 in a Mac and Windows bundle. Purchasers of Airfoil 4 starting November 1, 2015, receive a free upgrade; contact Rogue Amoeba if email didn't arrive with details. Owners of that release from before that date can pay $15 for the full version. A free trial download works identically to the paid version for 10 minutes and then overlays noise.
Bottom line
As a user of Airfoil for many years, this latest release's new skin certainly makes it seem more up to date, but all the changes beneath the sleeker look make it more useful with a greater variety of audio devices and situations.